16
August
2019
|
09:01 AM
America/New_York
Carilion Women's new treatment program meets pregnant, opioid-dependent patients where they are.
She's struggled with opioid addiction on and off for what seems like forever. She tried to stop using when she was pregnant with her son—and she did for a little while, until the disease reeled her back in. Now she's expecting again, and reluctant to ask for help. Along with the fear of losing custody of her young son and new baby, she has a deep-seated feeling of humiliation. The only thing more shameful than being an addict, she thinks, is being a pregnant one.
Despite the stigma, opioid use in pregnancy is on the rise, with devastating effects. According to the Centers for Disease Control and Prevention, the number of women with an opioid-use disorder at the time of labor and delivery more than quadrupled between 1999 and 2014, reflecting the same pattern of prevalence in the general population.
For Virginians, those statistics hit close to home: Here, the number of infants born with neonatal abstinence syndrome—the withdrawal symptoms that result after a baby has been exposed to opioids in the womb—increased by 11 percent just from 2016 to 2017. The risks of opioid use are clear in new mothers, too. One recent study found that even though opioid overdoses decrease during pregnancy, they rise again during the postpartum period, particularly in the second six months after delivery. Women who do overdose tend to be younger, single, unemployed, less educated, and less likely to have received adequate prenatal care.
Indeed, the judgment surrounding substance-use disorders and pregnancy is especially strong, leading many women with opioid dependency to forgo prenatal care altogether. "Opioid-use disorder is a chronic disease that's really put into focus during pregnancy, when you now have two lives at risk," says Jennifer Wells, M.D., a physician in Carilion Clinic's Department of Psychiatry. "But because of the stigma, women often feel ashamed and unworthy of help."
To address this crisis, Dr. Wells and her colleague Kimberly Simcox, D.O., a physician in Carilion's Department of Obstetrics and Gynecology, have established one of Virginia's first office-based opioid treatment (OBOT) programs specifically for pregnant women. The Roanoke-based program—which opened its doors in February through Carilion Women's—offers medications, counseling, and psychosocial and pregnancy-related support to expectant mothers.
"What makes us unique is that we allow women with an opioid-use disorder to come to a place that provides coordination of care, where the clinicians understand both substance use and pregnancy," says Sarah Dooley, R.N., the program's operations manager.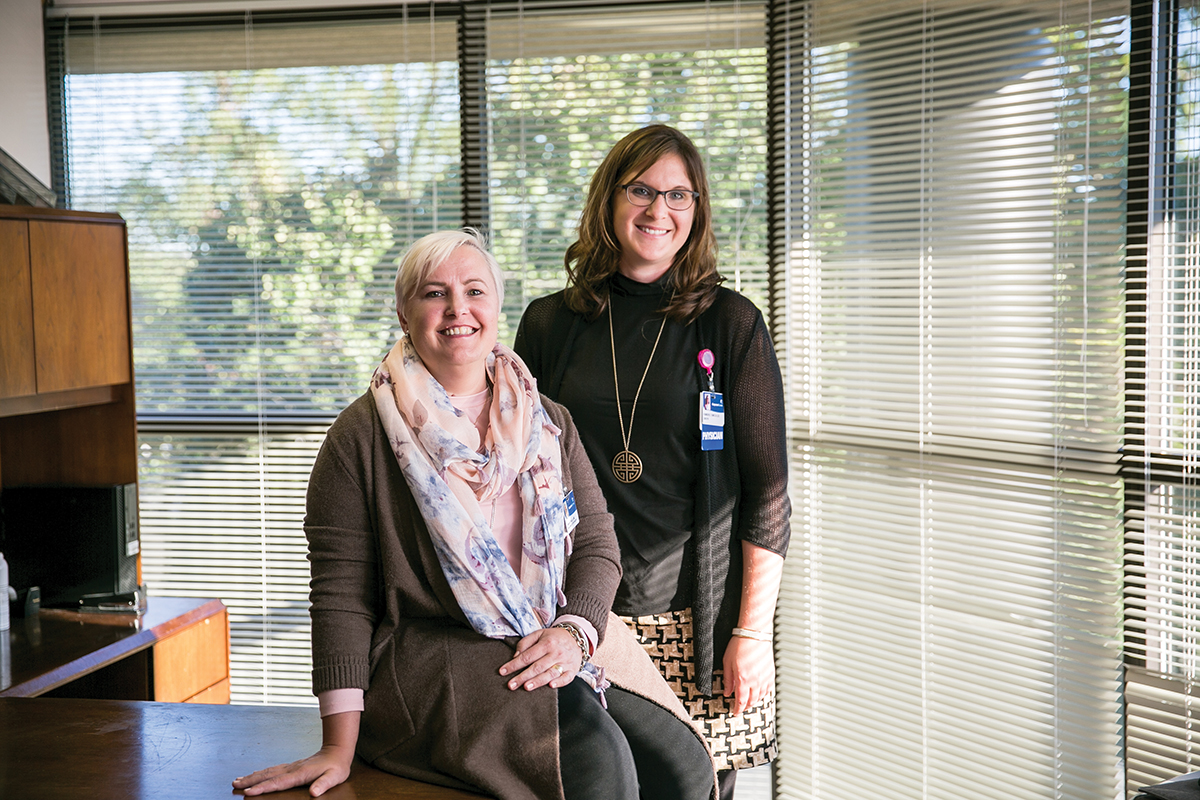 More than Medication
The OBOT model offers medication-assisted therapy (MAT), on-site behavioral health services, and care coordination. This treatment involves behavioral therapy combined with the use of FDA-approved drugs such as buprenorphine, methadone, and naltrexone to address the withdrawal symptoms and cravings that accompany opioids. When administered appropriately, the treatment can help opioid users safely sustain recovery. OBOT clinics integrate MAT into a comprehensive outpatient treatment plan that views opioid-use disorder as a chronic medical condition.
It's an approach that aims to provide collaborative care without the stigma associated with addiction, while giving patients the tools they need to manage their disease. "We should be thinking of opioid-use disorder as we do diabetes or hypertension," says Dr. Simcox. "It should be viewed like any other long-term chronic condition that requires treatment."
Obstetrics-specific OBOT clinics tailor this model to the needs of opioid-dependent pregnant women. Like traditional OBOT programs, they offer MAT, but they also include information aimed at breaking down misconceptions about its use—reliance on medications, for example, doesn't mean just swapping one drug for another. In fact, the American College of Obstetricians and Gynecologists recommends MAT as the preferred treatment for pregnant women.
Compared with MAT, medically supervised opioid withdrawal in expectant mothers is associated with higher relapse rates and worse outcomes, such as preterm birth and miscarriage. "There's this idea that MAT is a crutch, that you're not really in recovery if you're on Suboxone or another medication," says Dr. Wells. "That's primarily a problem of not understanding the brain processes behind addiction. We try to educate women and their families about how critical MAT is for the safety of the fetus and for having a healthier baby—and that's everyone's goal."
To that end, the Carilion Women's OBOT goes beyond medication and counseling to include a spate of services focused on pregnancy and the postpartum period. "We're not just seeing women coming in for medication and therapy, and it's not your typical quick clinic visit," says Leanna Stone, the center's care coordinator, who also provides patients with psychotherapy services.
"It's helping women apply for Medicaid if they need insurance and helping them find food banks if they lack access to good nutrition. We're looking at each patient as a whole person, not just a pregnant woman or a woman with substance-use disorder."
Birth and Beyond
That support continues beyond labor and delivery. Although the program doesn't yet offer obstetric care, its clinicians work closely with patients' obstetricians to ensure a safe and seamless experience.
"Our hope is to bring prenatal care to the program in the near future," says Dr. Wells. "For now, our responsibility is to provide medication, psychological care, and overall support."
The unique experience of the staff—Dr. Wells and Dr. Simcox are among a handful of physicians in the country both trained in obstetrics and board certified in addiction medicine—presents a significant opportunity to address all aspects of support.
"The advantage is that we're knowledgeable about both pregnancy and opioid use, so we can talk to patients and their physicians about pain at delivery, neonatal withdrawal, and other concerns," says Dr. Simcox. "We're coordinating with obstetricians throughout the process so there are no surprises and everyone is aware of the care plan."
They also work closely with Carilion pediatrician Jacinda Hays, D.O., to help prepare mothers for the withdrawal symptoms of neonatal abstinence syndrome—common in infants born to opioid-dependent women. These babies are not born addicted to opioids, but do experience the uncomfortable withdrawal process after birth. Babies diagnosed with neonatal abstinence syndrome are seen by Dr. Hays in a new transitional, low-stimulation nursery housed in Carilion's Mother/Baby Unit. "We talk about how they can console their babies and use skin-to-skin contact, which is the best medicine for newborns," says Dr. Wells. "We try to educate women as early as possible, so they know what to expect." Because the months following childbirth can be particularly dangerous for moms, the OBOT program continues to offer support and resources for at least six weeks after delivery.
"Opioid-dependent women are typically abandoned in the post-pregnancy period, and most cases of overdose occur during this time," explains Dr. Simcox. "We try to follow patients closely after delivery before transitioning them to long-term addiction care."
Growing by Leaps and Bounds
The Carilion Women's OBOT program has grown quickly since its inception. Within two months, the program was already serving about 15 patients at weekly appointments. "We're growing every week, and we expect to expand even more within the next six months," says Dooley, who adds that the plan is to offer prenatal care as well. Some patients come from other local programs, seeking consults.
Others arrive through word of mouth. But physicians play a crucial role in helping pregnant patients find OBOT clinics, too. "Some women come to their OB/GYN terrified that they'll lose custody of their baby or be judged, so they try to hide their opioid-use disorder," says Dr. Wells. "But with sensitive questioning and an open dialogue, they may feel comfortable enough to reveal their disease."
Indeed, the American College of Obstetricians and Gynecologists recommends early universal screening for substance use as part of comprehensive obstetric care, beginning at a woman's first prenatal visit. "We should be asking every patient, 'Can I ask if you're struggling with substance use?'—and then be asking again," says Dr. Simcox. In the past, physicians were hesitant to question their pregnant patients, mainly because they felt they couldn't provide guidance or treatment. Now, the establishment of the Carilion Women's OBOT program gives clinicians the confidence to discuss opioid dependency with their patients.
"Providers used to be afraid to ask patients, 'How can I help?' because they didn't have the answer," says Dr. Wells. "Now they know that there's a place for women to get treatment and support, so they feel more comfortable bringing up the issue." The program, which is only expected to grow over time, already serves as a model that Dr. Simcox and her colleagues hope will be implemented in other areas as well. "We'll be adding more resources as our patient population increases," she says. "It's such a unique opportunity for care."
By Jessica Cerretani