Digestive Care
We offer multidisciplinary care for digestive and pancreatic diseases from a team of highly skilled specialists.
Digestive problems are among the most common reasons people visit their doctor. At Carilion Clinic, our advanced gastroenterology services include evaluating and treating gastric intestinal problems and disorders and diseases of the esophagus, stomach, small intestine, colon, liver, gallbladder and pancreas.
Patients benefit from a comprehensive team of experts who use a patient-focused approach when diagnosing and developing treatment plans based on individual needs. As a destination center for digestive care, we offer access to treatments and management of complex diseases backed by advanced technology, education and clinical research.
Largest referral practice for ERCP and other advanced endoscopic procedures.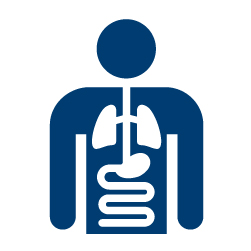 This is a Sub Super Specialty
Off