Our experienced caregivers provide comfort care so that patients and their families can experience the rewarding moments in this part of life's journey. We offer our expertise 24/7 in the hospital and home setting. Our mission is to provide quality and compassionate care to those entrusted to us as we walk their final journey together. 
Display as a single page
Off
Tab
paragraphs
html blurb
When faced with advanced disease or other serious illness, your choices and concerns can be overwhelming. But you don't have to face them alone. We will work with you, your doctor and your loved ones to support you as you make these very personal decisions about your care. With Carilion Clinic Hospice, someone is always available to talk with you about your best options. 
 
Our core hospice care team includes doctors, nurses, nurse practitioners and advanced care specialists. Social service providers, chaplains and volunteers are also here to lend a personal and practical helping hand. We tailor our programs and services to meet each person's unique needs.
We offer: 
Supportive palliative care by an interdisciplinary team 
Scheduled visits and 24-hour, on-call nursing support 
Expert symptom control that emphasizes pain management 
Help in maintaining as much control over the circumstances surrounding the illness as possible 
Guidance for families on how to care for loved ones at home 
A supportive alternative environment when home care is not possible 
Emotional and spiritual care as desired
Community-wide education and consultation programs for patients, families and health care providers 
Bereavement support for families for at least one year following loss of the patient 
We have three locations in Southwest Virginia to meet the needs of you and your family.
Section Title
What Is Carilion Hospice?
Use Section Title As Header
On
html blurb
Watch these videos to learn more about how hospice care works and see the direct impact our care had on a patient and his family.
Use Section Title As Header
On
paragraphs
html blurb
Visit these links to download an advance directive for your state of residence and for additional information about advance directives.
Use Section Title As Header
On
html blurb
These resources can help you navigate the advance care planning process.
Section Title
Helpful Resources
Use Section Title As Header
On
html blurb
Presented by Dr. Brian Unwin, chief of Geriatrics, Hospice and Palliative Medicine, this webinar discussed the values, wishes and goals that emerge when facing a serious illness. Learn how to honor values and wishes--and how to translate them into a plan of care that you and your loved ones deem most essential to decision making. Watch the webinar recording below.
Section Title
Final Wishes Webinar
Use Section Title As Header
On
html blurb
In these videos, Dr. Brian Unwin, Chief, Geriatrics, Hospice and Palliative Medicine, explains what advance care planning is and why an advance directive is important.
Youtube Ids
zEh-lGRIS3M
g951HRoTY7I
5iKI0ZyGiYk
Use Section Title As Header
On
html blurb
Wishes: A Gift of Decisions on End of Life 
This guide for planners and caregivers includes helpful information and resources pertaining to hospice, end-of-life care and arranging your affairs. The guide includes: 
Features on Hospice and Caregiving 101
Helping children cope with death
Medical choices at end of life
Funeral planning
Legal preparations
You may view the entire magazine by clicking here.
Image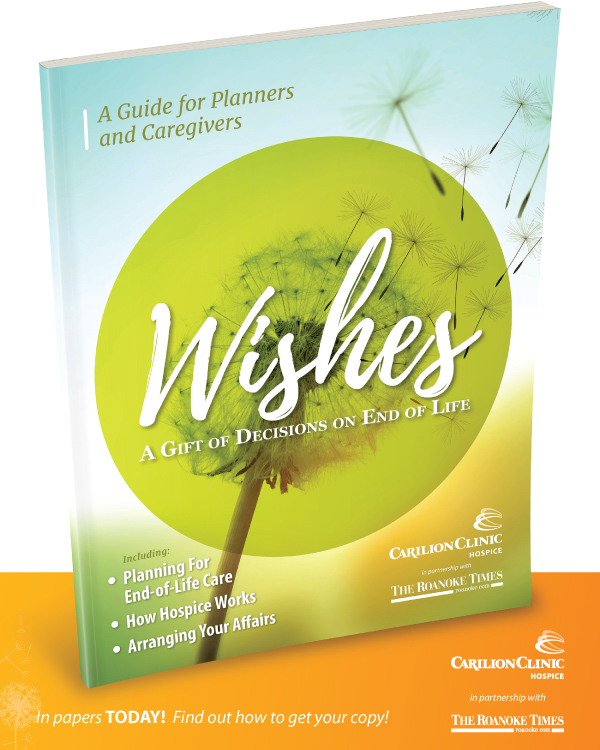 Section Title
Wishes Publication
Use Section Title As Header
On
Tab Name
Advance Care Planning Resources
paragraphs
html blurb
In addition to 24/7 hospice care, we offer the following programs and services to support patients and families throughout the entire journey. 
Complementary Therapies 
Patient comfort is our primary consideration. We use traditional pain and stress relief techniques and offer a variety of less conventional therapies. Physically, these techniques promote comfort, reduce stress and encourage relaxation. Emotionally, they improve inner peace and cultivate a stronger sense of purpose. Our complementary therapies vary by location and may include: 
Massage 
Music therapy provided by board-certified music therapists 
Pet therapy 
Integrative therapies such as hypnotherapy, healing touch and guided imagery
Palliative Care 
Palliative medicine can help relieve the persistent pain, suffering and stress resulting from a serious illness or medical condition. If palliative care is right for you, our care team will work with your doctor to help you reach your goals—whether they include treatment, healing and curing or simply comfort and symptom relief. This special type of care can help most when it's started earlier in the progression of an illness. Some conditions helped by palliative include: 
AIDS 
Alzheimer's disease 
Amyotrophic lateral sclerosis (ALS) 
Cancer
Cardiac disease 
Kidney failure 
Multiple sclerosis 
Respiratory disease  
Pediatric Hospice Care 
Carilion Clinic Hospice provides compassionate, skilled care to children of all ages faced with life-limiting illness. Our specially trained staff understand the unique needs of caring for a child in palliative/hospice service, and we offer support and comfort to the child as well as family and caregivers. To speak with someone about pediatric hospice services available through Carilion Clinic Hospice, please call 540-224-4800.
Section Title
Programs and Services
Use Section Title As Header
Off
Tab Name
Programs and Services
paragraphs
html blurb
We use the latest technologies to support you during care and improve your quality of life at home.  
Integrated Medical Record 
We share an integrated medical record with Carilion providers, Carilion offices and Carilion hospitals to promote continuity of care throughout your time with us. We can quickly and efficiently communicate with your providers as your needs change, view updates to your treatment plan and coordinate care in an expedited manner. 
Personal Response System 
We are proud to partner with Philips Lifeline, a personal response system that helps seniors get the help they need in case of any emergency. The Lifeline Medical Alert service provides fast, easy access to a trained response associate 24 hours a day, 365 days a year. Lifeline offers a range of choices to help patients maintain their independence.  
Whether you need the go-anywhere protection of GoSafe, the automatic fall detection of Phillips Lifeline with autoalert or the peace of mind offered by HomeSafe, Carilion Clinic Hospice has you covered. Lifeline offers: 
Peace of mind for patients and families 
Support when no one else can be there, 24 hours a day 
Prompt help at the push of a button 
The ability for patients to safely remain at home with HomeSafe 
The ability to leave home with peace of mind with GoSafe 
For more information on our personal emergency services, call Philips Lifeline at 800-533-8954, extension 54345 to speak to a Carilion Clinic account representative.
Section Title
Technology Support
Use Section Title As Header
Off
Tab Name
Technology Support
paragraphs
html blurb
When a person you love passes on, it's common to feel depressed, lose the will to carry on with normal activities or distract yourself by staying busy so you don't have to face your grief. Our bereavement programs help families through the extended period that follows a loss. We can assist with memorial services and funerals and offer one-on-one counseling, including home visits. Carilion Clinic Hospice offers bereavement support services for at least one year following the death of a patient. 
Family Treasures 
Family Treasures provides ways for Carilion Clinic Hospice patients to tell their life story in their own words as a gift for their loved ones. Our guide helps patients decide which aspect their life they want to focus on; then a specially trained volunteer will interview the patient and skillfully work to craft their story into a lasting memory. Some options include: 
Oral history: unedited audio or video interview or transcript 
Audio memoir: combines multiple interviews with narration 
Video memoir: video interviews, photos, home movies and music 
Legacy book: photographs, documents and nostalgia items 
Portrait, photo essay or photo collage 
Legacy letters to loved ones 
Recipe collection 
Six-word memoir 
Grief Support Groups 
Coordinated by caring Carilion Clinic Hospice professionals, our grief support outreach efforts bring together people who have lost loved ones. Groups meet at scheduled times in each of our hospice communities. Our goal is to offer support, guidance and understanding to help you cope with your loss. We can also provide grief support at job sites, schools or other organizations on request. Learn more by contacting the Carilion Clinic Hospice location closest to you. 
Soul Survivors  
Soul Survivors is a bereavement support group for youth and their caregivers, guardians or parents. The program provides a caring, safe environment where participants are free to explore their feelings and concerns with others their age who know what it's like to have experienced a death of someone they love. Together, participants will learn that grief is not a process of forgetting, but remembering with less pain. They will: 
Share memories, explore feelings and remember loved ones through creative activities 
Focus on the needs of mourning, with activities such as coloring books for younger participants and private journals for older youths  
Share a light meal with other participating families
Register or refer a child in need by calling 800-422-8482. 
Special Counseling 
Carilion Clinic Hospice offers special counseling sessions and support groups at job sites or at school locations following a loss. We also share educational presentations throughout the year on topics such as coping with grief during the holidays. We can schedule these in the workplace or at a school by request.
Section Title
Bereavement
Use Section Title As Header
Off
paragraphs
html blurb
Carilion Clinic Hospice is proud to partner with and offer We Honor Veterans, a program of the National Hospice and Palliative Care Organization (NHPCO), run in collaboration with the U.S. Department of Veterans Affairs (VA). We Honor Veterans works with partners like us to help provide for the unique hospice needs veterans often have.  
A quarter of those diagnosed with a terminal illness have served in our armed forces. We consider it an honor and privilege to support veterans at this time in their lives. As part of the We Honor Veterans program, our staff members visit each veteran on Veterans Day, personally offering their thanks for the veteran's service and sacrifice to our country. Other program components include honoring or pinning our veteran patients, holding memorial or honorary services, participating in local Veterans Day parades and other activities, hosting dances to highlight our veteran program and more.
Section Title
Honoring Veterans
Use Section Title As Header
Off
Tab Name
Honoring Veterans
paragraphs
html blurb
Volunteers are the heart of hospice care. Our volunteers visit patients, provide support and companionship, and share interests, hobbies and recreational activities according to his or her own personal skills, interests and time. Some are available to simply listen, hold a hand, prepare a light meal or run an errand. Our volunteers may provide continuing support to families during bereavement as well. We also seek volunteers to assist with office responsibilities and community events. Please call us at 540-266-6000 or 800-964-9300 if you are interested in learning more about this uniquely rewarding volunteer opportunity 
End-of-Life Doula Program 
Our end-of-life doula program is offered by specially trained hospice volunteers who provide support, resources, education and friendship. The end-of-life doula works in tandem with the hospice team to attain specific goals—managing physical symptoms, deepening a sense of spirituality and enhancing a greater sense of well-being—while decreasing emotional distress. The end-of-life doula accompanies the dying person and their loved ones through the final months, weeks and days of life by conducting life review and engaging in deep, active listening. Doulas also assist with legacy work, another important component of honoring a sacred dying process.  
Legacy work may include: 
Writing letters to loved ones 
Making memory photo books 
Recording audio interviews  
Creating memory baskets 
Creating a vigil plan, or blueprint for the last days that reflects the patient's wishes  
The end-of-life doula program complements and enhances our mission to provide quality and compassionate care to those entrusted to us as we walk their final journey together.
Section Title
Volunteering With Hospice
Use Section Title As Header
Off
Tab Name
Volunteering With Hospice
paragraphs
html blurb
We have three locations within our service area to meet the needs of you and your family.
Use Section Title As Header
Off
Hero Image Categories
Non-Surgical
Hero Image Selection
Option 1