Fellowship Director, Child & Adolescent Psychiatry
Dr. Adams serves as the division director of child and adolescent psychiatry at Carilion Clinic Virginia Tech School of Medicine. She also serves as the training director for the child and adolescent psychiatry fellowship. Dr. Adams completed her medical school, psychiatry residency, and a child and adolescent psychiatry fellowship at the University of North Carolina, Chapel Hill. <br/><br/>

In addition to her work in administration and graduate medical education, Dr. Adams serves on the Learning Environment Advocacy Committee at the VT-Carilion School of medicine, and works with medical students, residents, fellows, and faculty to foster excellence in the learning environment. She has a strong commitment to training and education and is grateful for the opportunity to participate in medical education.
I work with children and families to encourage healthy development. I may suggest therapies, medication, or both. Caring for children involves the family, and I strive to engage families in treatment planning.
In Practice Since
Mon Jan 01 00:00:00 EST 2007
Affiliations
Carilion Clinic
VTC Affiliate
Medical Education
University of North Carolina at Chapel Hill
Certifications
American Board of Psychiatry & Neurology (Child Psychiatry)
Schools
University of North Carolina
Residencies
University of North Carolina Hospitals
University of North Carolina
Interests
Autism
Attention-deficit/hyperactivity disorder (ADHD)
Anxiety disorders
Obsessive compulsive disorder (OCD)
Mood disorders
Learning disorders
Accepts Mychart Appointments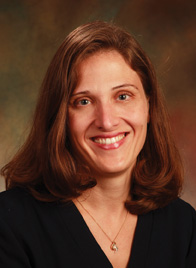 Accepts New Clients
false
Accepts MyChart Appointments
false
Accepts New Appointments
false
Offers Virtual Visits
Yes