Monica Garin-Laflam, M.D., has recently joined Carilion Clinic Childrens Hospital (CCCH) in Roanoke, Va.<br/><br/>

She received her Bachelor of Arts with Honors from Dartmouth College. Her Doctor of Medicine degree was awarded with Honors Distinction from the University of Miami School of Medicine for basic science research completed during her training.<br/><br/>

Dr. Garin-Laflams pediatric internship and residency were completed at the Holtz Center at the University of Miami/Jackson Memorial Hospital in Miami, FL. From there she pursued her Pediatric Gastroenterology fellowship at Cincinnati Childrens Hospital Medical Center (CCHMC). She completed an additional year of training as an Advanced Research Fellow.<br/><br/>

She has participated as co/sub investigator during her fellowship training for several NIH funded research grants. She was awarded an individual research training grant during her tenure at CCHMC.<br/><br/>

Dr. Garin-Laflam is currently an Associate Professor at Virginia Tech-Carilion School of Medicine. She is the Director of Pediatric IBD program.<br/><br/>

With her recruitment to CCCH, she serves as the principal investigator with her other division members participating as co-investigators for the National Database Collaborative Study for Pediatric Inflammatory Bowel Disease known as Improve Care Now. This quality care initiatives goal is to maximize the care that is provided to our pediatric patients with IBD. The population it is focused to serve encompasses roughly 200 patients.
Addressing the needs of our patients with gastrointestinal disease with both care and compassion is a top priority in my practice.
In Practice Since
Mon Jan 01 00:00:00 EST 2007
Procedures Performed
Colonoscopy
Esophagogastroduodenoscopy
Liver biopsy
Affiliations
Carilion Clinic
VTC Affiliate
Medical Education
University Miami School of Medicine
Certifications
American Board of Pediatrics (Gastroenterology)
American Board of Pediatrics
Schools
University Miami School of Medicine
Internships
Jackson Memorial Hospital
Residencies
Jackson Memorial Hospital
Fellowships
Cincinnati Children's Hospital Medical Center
Interests
Pediatric Inflammatory Bowel Disease
Pediatric digestive disorders
Accepts Mychart Appointments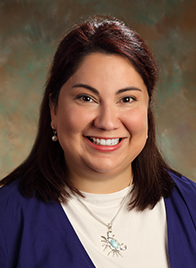 Accepts MyChart Appointments
true
Accepts New Appointments
false
Explained Clearly Slug
Explained Clearly
Explained Clearly Rating
4.5
Listened Carefully Slug
Listened Carefully
Listened Carefully Rating
4.4
Easy Instructions Slug
Easy Instructions
Easy Instructions Rating
4.5
Knew History Slug
Knew Medical History
Showed Respect Slug
Showed Respect
Showed Respect Rating
4.6
Spent Enough Time Slug
Spent Enough Time
Spent Enough Time Rating
4.7