Dr. Khalid completed medical school at Aga Khan University, Karachi, Pakistan. After graduation from medical school, she worked for over a year in medical education in Pakistan, where she was involved in faculty development, curriculum development and improving the quality and effectiveness of teaching. <br/><br/>
In 2015, she joined the General Psychiatry residency program at University at Buffalo. During residency, Dr. Khalid developed various neuroscience education sessions and was involved in teaching medical students and residents, as a member of the Medical Educator Track. She was also the outpatient chief during residency and implemented various quality improvement measures. During residency, she won numerous service-based and educational awards and was inducted in the Gold Humanism Honor Society in 2017. After completion of residency, she continued to train further in Child and Adolescent Psychiatry at University at Buffalo, where she also served as Chief Fellow. <br/><br/>
Currently, she works as an inpatient and pediatric consult-liaison psychiatrist at Carilion Clinic and is an Assistant Professor at Virginia Tech Carilion School of Medicine, Department of Psychiatry and Behavioral Medicine.
It is my privilege to serve patients and families, providing empathic, evidence-based and patient centered care. I aim to provide care in a holistic manner and collaborate with other providers, looking at factors that contribute to illness, foster resilience and the interconnection of physical illness and psychiatric struggles.
Affiliations
Carilion Clinic
VTC Affiliate
Medical Education
Aga Khan Med. Col., Aga Khan Univ.
Certifications
American Board of Psychiatry & Neurology (Psychiatry)
American Board of Psychiatry & Neurology (Child Psychiatry)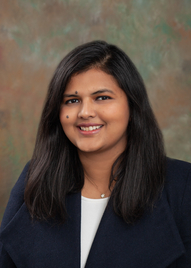 Accepts New Clients
false
Accepts MyChart Appointments
false
Accepts New Appointments
false