Section Chief, Orthopaedic Spine
Dr. Jonathan Carmouche is a graduate of The George Washington University School of Medicine. He completed his residency in general and Orthopaedic Surgery at The University of Rochester School of Medicine and Dentistry in Rochester, NY. He completed two fellowships. The first was in Musculoskeletal Research at the Center for Musculoskeletal Research at the University of Rochester. This was followed by a fellowship in Adult and Pediatric Scoliosis and Spinal Surgery at the Twin Cities Spine Center, in Minneapolis, Minnesota.<br/><br/>

Dr. Carmouche currently serves as the Section Chief of Spine and Pediatrics for the Department of Orthopaedic Surgery at Carilion Clinic. He serves on the faculty at the Virginia Tech School of Medicine as an assistant professor of Orthopaedic Surgery and is the Assistant Director of Graduate and Undergraduate Orthopaedic Medical Education. In addition, he is an Associate Clinical Professor of Orthopaedic Surgery at the University of Virginia, School of Medicine. He is an active member of several orthopaedic, Spine and medical societies, serving on local and national committees.<br/><br/>

Dr Carmouche helped to establish and directs the Carilion Clinic Orthopaedics-Musculoskeletal Education and Research Center (CCO-MERC). The group was established to organize and facilitate interdisciplinary research for faculty as well as students at VTCSOM.<br/><br/>

His practice emphasizes minimally invasive spine surgery including spine fusions, decompressions, and revision surgeries. In addition, he has special interest in and focuses on cervical spine reconstructions and complicated pediatric and adult scoliosis and spine deformity surgery.<br/><br/>

Dr. Carmouche and his wife have four children and have lived in Roanoke since 2007.
I believe that every patient and every case is unique, and I strive to provide the highest quality personalized and patient-focused care in the least invasive way available.
In Practice Since
Mon Jan 01 00:00:00 EST 2007
Procedures Performed
Anterior cervical discectomy with fusion
Complicated revision reconstructions
Laminoplasty
Motion preservation surgery-total disc replacement
Scoliosis and kyphosis corrections
Spinal decompressions/discectomy
Spinal osteotomies and vertebral column resection
Spine deformity corrections
Spine fusions (minimally invasive)
Spondylolisthesis corrections/fusions
Affiliations
Carilion Clinic
VTC Affiliate
Medical Education
George Washington University
Schools
George Washington University
Internships
University of Rochester/Strong Memorial Hospital
Residencies
University of Rochester/Strong Memorial Hospital
Interests
Cervical herniated disc
Cervical myelopathy and stenosis
Failed prior spine surgery (revision surgery)
Flat back syndrome
Herniated disc
Kyphosis
Scoliosis (adult and pediatric)
Spinal deformity surgery
Spinal stenosis (pinched nerve)
Spondylolysis/spondylolisthesis
Accepts Mychart Appointments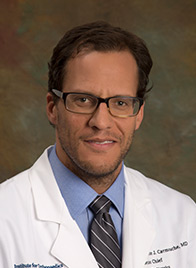 Accepts MyChart Appointments
false
Accepts New Appointments
false
Explained Clearly Slug
Explained Clearly
Explained Clearly Rating
4.8
Listened Carefully Slug
Listened Carefully
Listened Carefully Rating
4.8
Easy Instructions Slug
Easy Instructions
Easy Instructions Rating
4.8
Knew History Slug
Knew Medical History
Showed Respect Slug
Showed Respect
Showed Respect Rating
4.9
Spent Enough Time Slug
Spent Enough Time
Spent Enough Time Rating
4.8