Chief, Medical Genetics & Dysmorphology
Dr. Emily Doherty grew up in Northern Virginia and graduated from medical school at the University of Virginia. She completed a categorical pediatrics residency at Children's National Medical Center in Washington, DC and passed the Board certification exam in Pediatrics. Next, she completed a medical genetics fellowship at the National Human Genome Research Institute at the National Institutes of Health in Bethesda, MD and passed the Board certification exam in Clinical Genetics. After graduation, Dr. Doherty relocated to the Roanoke area and started working for Carilion in 2006. She is an associate professor of Pediatrics at the VTC School of Medicine. She describes her current practice as "everything genetic that's not covered by Carilion's Maternal-Fetal Medicine or Cancer Genetics programs". <br/><br/>

Outside the office, she enjoys hiking and attending Roanoke Symphony Orchestra concerts with her family.
Our goal is to help those with a genetic disorder live as normal a life as possible.
In Practice Since
Sat Jan 01 00:00:00 EST 2005
Procedures Performed
Enzyme infusion therapy for lysosomal storage dis.
Affiliations
Carilion Clinic
VTC Affiliate
Undergraduate Education
College of William & Mary
Internships
Children's National Health System
Residencies
Children's National Health System
Fellowships
National Institutes of Health - Clinical Center
Interests
Birth defects
Children with special needs
Chromosome disorders
Clinical genetics
Down syndrome
Mental retardation
Neurofibromatosis
Lysosomal storage disorders
Marfan syndrome
Intellectual disability and autism
Accepts Mychart Appointments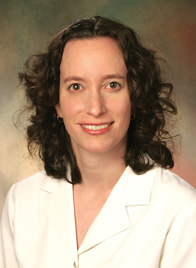 Accepts MyChart Appointments
false
Accepts New Appointments
false
Explained Clearly Slug
Explained Clearly
Explained Clearly Rating
4.5
Listened Carefully Slug
Listened Carefully
Listened Carefully Rating
4.6
Easy Instructions Slug
Easy Instructions
Easy Instructions Rating
4.5
Knew History Slug
Knew Medical History
Showed Respect Slug
Showed Respect
Showed Respect Rating
4.6
Spent Enough Time Slug
Spent Enough Time
Spent Enough Time Rating
4.6