Center for Simulation, Research and Patient Safety
Our Mission is to improve the health of the communities we serve. We do this by using the full spectrum of clinical simulation in trainings and assessment. We provide experiential learning opportunities for health care providers. We optimize process improvements prior to implementation within the organization. Education and clinical science simulation-based research is for the benefit of our patients.
540-855-6860
HTML Block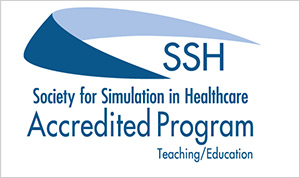 Carilion Clinic's Center for Simulation, Research and Patient Safety is accredited in teaching and education by the Society for Simulation in Healthcare. CSRPS receives exemplary marks for its focus on the patient experience and commitment to community engagement.
Our Vision
We will improve the delivery of health care for our patients by providing high quality simulation experiences for learners through integrated education, clinical practice improvement and research.
Learners
Residents, nurses, medical students, physicians, advanced care providers, physician assistants nurse practitioners, and allied health professionals.
Training Scenarios/Procedures
Code blue simulations, OB/GYN, pediatric/neonatal, labor/delivery, procedural sedation, new hire nurse training, nurse residency program, teamwork/communication, multidisciplinary, emergency medicine, surgical, and air ambulance.
Activity Request Form
Interested in building a simulation-based training? We can help you build your learning objectives, define equipment needs and design effective scenarios to meet those needs.
Get Started

Experience the Simlabs in 360°
Our 13,000 square foot facility offers the most advanced simulation-based training opportunities. We invite you to experience our sim center labs in 360. For optimal viewing, click and drag to tour the space and become part of the simulation.
Program Page Form
Contact Emails
erwhitney@carilionclinic.org
Checkbox Label
Yes, send me future communications.
Form Title
Support CSRPS Through Carilion Clinic Foundation
Grid Video
Landing Page Video Grid YouTube ID
fasB840XJGg
Description
Supports competencies necessary for professional practice in the clinical environment from IV and central line insertion to FLS laparoscopic trainers.
Image

Landing Page Video Grid YouTube ID
6FWpovvAPIw
Description
Features OR specific equipment such as a Berchtold boom, a laparoscopic training tower, operating table, multiple widescreen monitors, pan-tilt zoom cameras an anesthesia machine.
Image

Landing Page Video Grid YouTube ID
K1d812LiT4U
Title
Mother/Baby-Pediatric Simulation
Description
Offers obstetric, neonatal and pediatric training scenarios with high fidelity simulators that provide the ability to mimic physiological conditions.
Image

Landing Page Video Grid YouTube ID
sn01XgrtCsc
Description
Enables multidisciplinary team participation in training and patient scenarios where all aspects of patient care can be observed.
Image

Landing Page Video Grid YouTube ID
wkwZsRTt244
Description
An ambulance with all the bells and whistles that an active ambulance would have which enables our students and EMS/patient transport providers to practice without real patients.
Image

Landing Page Video Grid YouTube ID
--CcdC9oFi8
Title
Adaptive Patient Room
Description
Provides the ability to perform simulations ranging from medication administration and basic patient care to cardiac emergencies and other complex scenarios.
Image

Secondary HTML Blocks
By the Numbers
CSRPS is directly impacting quality and patient care by incorporating numerous models and simulations. The simulation center is able to service a wide variety of educational levels that may include physicians, residents, medical students, nurses, and allied health care personnel or multidisciplinary teams.
5,804

Learners vs. 3,268 in FY 2018

10

High Fidelity Patient Simulators

60

Minimally Invasive Surgical Task Trainers

6

Surgical Task Trainers

115

Course Offerings
Meet Our Team
Our approach to simulation based education and research requires a multidisciplinary, expert team. Our experienced simulation educators and technical experts are dedicated to ensuring an excellent simulation experience.
Meet Our Team
Human Factors
We offer services in study/protocol design, data collection instrument design, implementation of study protocols, data analysis, and dissemination of results in peer-reviewed publications. Our current research portfolio is clinically focused, ultimately benefiting both patients and caregivers.
Take Me There
Subnav
Training Options
Activity Request Form
Experience It
By the Numbers
Our Team
Support CSRPS
Enable Spanish translations
Off