Dr. Ryan Putnam is a fellowship-trained orthopedic foot and ankle surgeon that specializes in adult reconstruction. He has 11 years of clinical practice experience in both private practice and hospital-based practice. Dr. Putnam has worked extensively with industry having trained both podiatrists and orthopedic surgeons nationally on the Lapiplasty procedure over the past 4 years. He loves the variety of pathologies that present in the foot and ankle and the creativity and attention to detail that is required to provide excellent outcomes. <br/><br/>

When not caring for his patients, Dr. Putnam is happily married to an amazing wife and the father of 3 beautiful young children. They love the outdoors and the water. He is an avid fisherman and fly-fishing enthusiast, having travelled throughout the U.S. to various fishing destinations.
Patient satisfaction drives my desire to match clinical outcomes with patient expectations through thorough communication and execution of planning and resources. I utilize non-surgical modalities as much as possible to manage problems with low risk and stay abreast of latest technologies and changes in the field.
Procedures Performed
Total ankle replacement, ankle fusion
Lapiplasty bunion correction
Traditional bunion correction
Arthrodesis/fusion great toe
Hammertoe correction
Ankle ligament reconstruction, ankle arthroscopy
Flatfoot correction
Arthrodesis/fusion joints in foot/ankle
Fracture repair of foot/ankle
Neuroma excision
Tendon debridement, repair, transfer
Medical Education
University of Arizona College of Medicine
Certifications
American Board of Orthopaedic Surgery
Internships
University of Vermont College of Medicine
Residencies
University of Vermont College of Medicine
Interests
Arthritis/synovitis of foot and ankle
Peroneal/Achilles tendon disorders
Tendonitis, tendinosis, tears
Bunions and hammertoes
Flatfoot disorders
Posterior tibial tendon insufficiency
Charcot deformity from diabetes/neuropathy
Neuromas
Osteochondral lesions of the talus
Fractures/dislocations of the foot/ankle
Sports injuries (sprains, strains)
Contractures of tendons
Dropfoot (consequences of neurologic disorders)
Revision surgery
Second opinions, workers compensation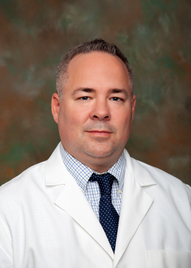 Accepts MyChart Appointments
true
Accepts New Appointments
true
Offers Virtual Visits
Yes