Michael O'Malley, M.D. received his B.A. degree in Economics from Colgate University where he was a member of their Division 1 hockey program. Upon graduation, he continued to play hockey at the minor professional level in both the East Coast Hockey League and Central Hockey League. He then decided to pursue a career in medicine, completing both a Post-Baccalaureate Premedical Program and Master's in Healthcare Management Systems at Duquesne University. His received his doctorate of medicine from Temple University where he graduated with honors and inducted into the Alpha Omega Alpha Society. Here he was awarded the prestigious John W. Lachman Orthopaedic Award. He completed his orthopedic residency training at the University of Connecticut Health Center, where at its completion he received the Cavazos Award, "given yearly to the person who most closely exemplifies an outstanding, well rounded resident, mentor, and role model." He then completed subspecialty fellowship training in sports medicine at the Mayo Clinic. Here he helped serve as team physician for the Minnesota Timberwolves and Minnesota Twins. He continues to serve as team physician or the USA Hockey National Team Development Program. Prior to arriving in Roanoke, Dr O'Malley was in private practice in Portland, Maine where he continued to serve athletes at the high school, collegiate, and professional levels, including Bowdoin College Athletics and the Maine Mariners of the East Coast Hockey League.
<br>
Dr. O'Malley's interests include minimally invasive arthroscopic surgical techniques for complex injuries of the knee, shoulder, and elbow, as well as general fracture care and joint replacement of the shoulder. Particular areas of interest include multiligamentous knee injuries, cartilage injuries with a focus on joint preservation, orthobiologics and regenerative medicine, lower extremity corrective osteotomy, rotator cuff disease, and shoulder instability. He has been involved in numerous journal and textbook publications on several topics in orthopedic surgery and sports medicine. He is a member of the American Academy of Orthopaedic Surgeons (AAOS), the Arthroscopy Association of North America (AANA), the American Orthopaedic Society for Sports Medicine (AOSSM), the American Orthopaedic Association (AOA) Emerging Leaders Program, and the Virginia Orthopaedic Society (VOS).
<br>
Dr. O'Malley is married, and has three children. He enjoys running, biking, playing hockey and spending time with his family.
Procedures Performed
Clavicle - fracture repair (open/closed)
Elbow - arthroscopy (scope)
Elbow - fracture repair
Elbow - Ligament reconstruction/Tommy John surgery
Elbow - tendon repair/biceps/triceps
Elbow - ulna transposition
Knee - ACL reconstruction, primary and revision
Knee - arthroscopy (scope)
Knee - fracture repair
Knee - ligament reconstruction-ACL/PCL/Collateral
Knee - meniscal repair
Knee - meniscectomy
Knee - ultra-sound guided injections
Lower extremity corrective osteotomy
Shoulder - acromioclavicular repair/reconstruction
Shoulder - arthroscopy (scope)
Shoulder - capsule reconstruction
Shoulder - fracture repair
Shoulder - joint replacement (partial and total)
Shoulder - joint replacement (reverse total)
Shoulder - reconstruction for instability & labral
Shoulder - rotator cuff repair
Shoulder - ultra-sound guided injections
Stress - fracture repair
Affiliations
Carilion Clinic
VTC Affiliate
Graduate Education
Duquesne University of The Holy Spirit
Certifications
American Board of Orthopaedic Surgery
Internships
University of Connecticut Health Center
Residencies
University of Connecticut Health Center
Interests
Ankle - Achilles tendinitis
Ankle - sprains and strains
Clavicle - fractures (collar-bone)
Compartment syndrome
Elbow - biceps, injury/tear
Elbow - bursitis
Elbow - dislocations
Elbow - fractures
Elbow - injuries
Elbow - nerve entrapment
Elbow - sprains and strains
Elbow - tendinopathy
Elbow - tennis and golfers
Elbow pain - activity related injuries/conditions
Knee - anterior cruciate ligament (ACL) tears
Knee - bursitis
Knee - fractures
Knee - instability or dislocation
Knee - ligament injury or tear
Knee - meniscal tears or injuries
Knee - sprains and strains
Knee - tendon ruptures
Knee pain - acute and/or activity related injuries
Other fractures (leg, finger, knee cap)
Separations/dislocations (any body part)
Shoulder - arthritis
Shoulder - biceps, injury/tear
Shoulder - bursitis
Shoulder - dislocations
Shoulder - fractures
Shoulder - impingement
Shoulder - instability or dislocation
Shoulder - labral tear
Shoulder - rotator cuff injuries or disease
Shoulder - sprains and strains
Shoulder AC joint (injury or arthritis)
Shoulder pain - activity related injuries
Stress - fractures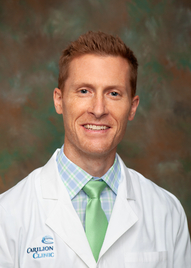 Accepts MyChart Appointments
true
Accepts New Appointments
true
Explained Clearly Slug
Explained Clearly
Explained Clearly Rating
4.8
Listened Carefully Slug
Listened Carefully
Listened Carefully Rating
4.9
Easy Instructions Slug
Easy Instructions
Easy Instructions Rating
4.8
Knew History Slug
Knew Medical History
Showed Respect Slug
Showed Respect
Showed Respect Rating
4.8
Spent Enough Time Slug
Spent Enough Time
Spent Enough Time Rating
4.6
Offers Virtual Visits
Yes