As a native of Florida, John Martino, M.D. spent much of his youth in Florida but also moved around the world with his parents who served in the Air Force. He attended the University of Florida, studying mechanical engineering in college. He remained at the University of Florida for medical school before spending a year in Sacramento, CA as a general surgery intern. He then completed his orthopedic residency at the University of Missouri - Columbia in Columbia, MO. Next, he came to Carilion Clinic for his fellowship in Adult Reconstruction, learning surgical techniques that would be required for the most difficult hip and knee replacement cases. After fellowship, he spent two years in private practice in Bristol, TN, before deciding to return to Carilion Clinic as a surgeon and educator. <br>

He is board-certified in orthopedic surgery and is a member of the American Academy of Orthopedic Surgery (AAOS) and the American Association of Hip and Knee Surgeons (AAHKS). <br>

He and his wife, Tracy, have two children - a daughter, Riley, and a son, Colton. Tracy is a Physician Assistant specializing in orthopedics. In his spare time, he enjoys hiking, camping, brewing beer, being a pilot, and skiing.
My goal is to treat every patient the way I would want my own family treated- honestly, openly, fairly, and expertly.
Procedures Performed
Anterior approach hip replacement
Hip revision surgery
Partial knee joint replacement
Knee revision surgery
Open reduction/internal fixation- lower extremity
Total hip joint replacement
Core decompression of the hip
Hemiarthroplasty of the hip
Knee arthroscopy
Total knee joint replacement
Affiliations
Carilion Clinic
VTC Affiliate
Internships
University of California Davis
Residencies
University of Missouri - Columbia Medical Center
Fellowships
Virginia Tech Carilion School of Medicine
Interests
Arthritis
Congenital hip deformities
Congenital knee deformities
Degenerative joint disease
Hip abnormalities
Knee abnormalities
Osteonecrosis
Meniscal tears of the knee
Periprosthetic joint infection
Periprosthetic fracture
Anteromedial knee osteoarthritis
Lower extremity fractures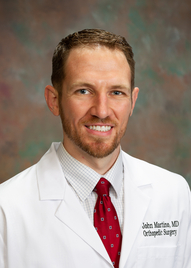 Accepts MyChart Appointments
true
Accepts New Appointments
true
Explained Clearly Slug
Explained Clearly
Explained Clearly Rating
4.8
Listened Carefully Slug
Listened Carefully
Listened Carefully Rating
4.9
Easy Instructions Slug
Easy Instructions
Easy Instructions Rating
4.9
Knew History Slug
Knew Medical History
Showed Respect Slug
Showed Respect
Showed Respect Rating
4.9
Spent Enough Time Slug
Spent Enough Time
Spent Enough Time Rating
4.9
Offers Virtual Visits
Yes