Dr. Berzingi is a graduate of the University of Baghdad, College of Medicine, 1988. He completed his Internal Medicine residency at the University of Saladin in Erbil, Iraq and Prince George's Hospital Center in Cheverly, Maryland. After completing a general cardiology fellowship at West Virginia University in Morgantown, WV and an Interventional Cardiology fellowship at Virginia Commonwealth University- Medical College of Virginia in Richmond, VA, he accepted a faculty position at West Virginia University in Morgantown, WV from 2012-2020.
Currently, he is employed as an interventional cardiologist and an Associate Professor of Medicine in the General Cardiology and Interventional Cardiology Fellowship Programs at Carilion Clinic's Cardiovascular Institute in Roanoke, VA. He is the western regional medical director for VHAC (Virginia Heart Attack Coalition). He is a member of the International Committee of SCAI, a published author in peer reviewed journals, an investigator in high risk PCI, acute myocardial infarction and cardiogenic shock. He has served on the ABIM's Standard Setting Committee for the Maintenance of certification exam of interventional cardiology (2017), and on the international committee of SCAI (2018-2021) and made presentations internationally in Istanbul, Turkey Sept 2019; and Cairo, Egypt Nov 2019.
The scope of his practice is mostly clinically indicated and complex percutaneous coronary interventions, including: diagnostic coronary angiography; left heart Cath, right heart Cath, Swan Ganz Cath; temporary pacemaker; coronary angioplasty and stent; intracoronary imaging with IVUS and OCT; intracoronary physiology with iFR and FFR; coronary atherectomy with rotational atherectomy and orbital atherectomy; intracoronary laser; use of Impella device for hemodynamic support; ultrasound guidance and micro-puncture needle for access; radial artery access for PCI; large bore access and closure; pericardiocentesis; use of intracoronary stent graft and coils; PCI of high risk lesions to include left main, bifurcation lesions, and chronic total inclusions.
Medicine is an art, fundamental to the practice is to listen and understand. Apply science to make a plan, then share the plan. From my heart to your heart, with absolute care.
Procedures Performed
Coronary angiography
Heart catherization
Percutaneous coronary intervention and stenting
Hydrodynamic support devices
Intravascular imaging
Intravascular ultrasound (IVUS) and OCT
Intravascular atherectomy
Rotational and orbital atherectomy
Intravascular Physiology (FFR, IFR)
Hemodynamic support devices
Intra-aortic ballon pump therapy (IABP)
Percutaneious VAD's
Pericardiocentesis using ultrasound guidance
Pericardiocentesis using micropuncture needle
Medical Education
University of Baghdad - College of Medicine
Certifications
American Board of Internal Medicine (Interventional Card)
American Board of Internal Medicine (Cardiovascular Disease)
American Board of Internal Medicine
Internships
Erbil Teaching Hospital
Prince George's Hospital Center
Residencies
Rizgary Teaching Hospital
Prince George's Hospital Center
Fellowships
West Virginia University School of Medicine
Virginia Commonwealth University
Washington Hospital Center
Interests
Acute myocardial infarction
Cardiogenic shock
Coronary artery disease
Hypertension
High cholesterol
Heart failure or cardiomyopathies
Pericarditis and pericardial effusion
Valvular heart disease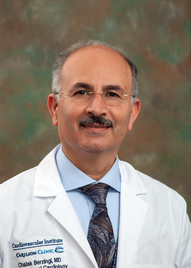 Accepts MyChart Appointments
true
Accepts New Appointments
true
Explained Clearly Slug
Explained Clearly
Explained Clearly Rating
4.7
Listened Carefully Slug
Listened Carefully
Listened Carefully Rating
4.9
Easy Instructions Slug
Easy Instructions
Easy Instructions Rating
4.9
Knew History Slug
Knew Medical History
Showed Respect Slug
Showed Respect
Showed Respect Rating
4.9
Spent Enough Time Slug
Spent Enough Time
Spent Enough Time Rating
4.8