Clinical Trials Research Director
Dr. Kablinger has conducted over 160 trials as PI or sub-investigator for industry, academic centers and NIMH. Areas of research and clinical responsibilities have been in the areas of psychosis, mood disorders and substance abuse. She has been a Psychiatry Program Director for 15 years, mentoring undergraduate students, graduate level residents and junior faculty in patient care, education, and research. As Professor and Director of Clinical Trials Research in the Department of Psychiatry and Behavioral Medicine, she now devotes her academic role in expanding, mentoring and teaching clinical research within Carilion Clinic, the Virginia Tech Carilion School of Medicine and the Virginia Tech Carilion Research Institute. Her clinical expertise lies in treatment-resistant mood disorders and consultations for medication regimens.
Psychiatric care of the individual should be holistic in approach: biological, psychological, social and spiritual. Participation and education in clinical research makes a healthcare provider a better clinician and ensures that the medical field continues to advance. Patient volunteers in research studies are heroes.
In Practice Since
Fri Jan 01 00:00:00 EST 1999
Procedures Performed
Pharmacogenetic testing
Psychiatric consultations for primary care patient
Clinical trials
Affiliations
Carilion Clinic
VTC Affiliate
Medical Education
RFSOM/Chicago Medical School
Certifications
American Board of Psychiatry & Neurology (Psychiatry)
Schools
RFSOM/Chicago Medical School
Internships
RFSOM/Chicago Medical School
Interests
Major depressive disorder
Treatment-resistant depressive disorder
Refractory depressive disorder
Bipolar disorder
Anxiety Disorders
Mood disorders due to general medical illness
Anxiety disorders due to general medical illness
Accepts Mychart Appointments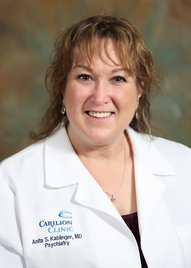 Accepts New Clients
false
Accepts MyChart Appointments
false
Accepts New Appointments
false
Offers Virtual Visits
Yes