Staff Photo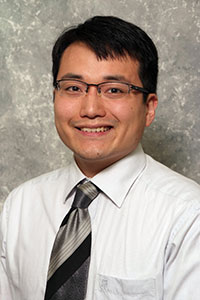 Post Graduate Year
Graduated
Medical School Graduating Year
2018
Testimonial
I was a resident at Virginia Tech Carilion Clinic and fast-tracked into the Virginia Tech Carilion Clinic Child and Adolescent Psychiatry Fellowship program. Over the last 5 years, our fellowship program has experienced many positive changes that have made my stay here a very enjoyable and productive one.
Our director, Dr. Felicity Adams, is one of the most supportive directors I ever had and is a very nice person. I can contact her at any time, and she is always open to feedback/suggestions.
Dr. Wilson is excellent at helping people get their research projects established and published. In my experience, all the Child and Adolescent Psychiatry staff have been very approachable and can be reached easily as well.
Our program is quite literally connected with the community and is well respected. I can't tell you how many times I have been told how important our job is in this area. I also have been encouraged by my preceptors to be heavily involved with AACAP. Our proximity to Washington, D.C., a local Amtrak train station, and our convenient regional airport makes it easy to attend the annual AACAP conference and AACAP advocacy legislative conference.
There is a good quality of life in Roanoke. There is an active movement towards improving the health of the city, which includes expanding the parkways, increasing access to organic foods and expanding community fitness programs.
I run half-marathons and focus on living healthier because I live here. Before, I could run maybe 3 miles max, and used to hate it, but now, I find running to be one of my favorite activities as the community programs have allowed me to meet many people in the community. We have the "Toughest Road Marathon" known as the "Blue Ridge Marathon" right in our own backyard. I recommend people living here run it at least once just to say they did it.
The Blue Ridge Parkway is also easily accessible and there are many gorgeous places to hike or kayak within short driving/walking distance. There are many festivals during the non-winter months. We also have a vibrant salsa dancing community called "Salsa Noke," with some very good dancers willing to teach others how to dance.
Our mindfulness/meditation/yoga community is continuing to grow and incorporate itself into the hospital and community. I can go on and on about the various surprises that are in Roanoke (e.g., the world's largest Magic the Gathering card gaming store is in Roanoke and hosts some very well attended FNM/pre-release/standard showdown events that have people driving 3 hours away to come here). 
I want to say that living in Roanoke is a wonderful experience and the structure of the community allowed me to make more friends from different walks of life than anywhere else I have been.
Richard D. Ha
Child & Adolescent Psychiatry
Virginia Tech Carilion Clinic
PGY-5 Psychiatry Fellow