Dr. Wolfe earned his undergraduate and medical degrees from the University of Virginia before completing an internship in general surgery and his residency in orthopaedic surgery at Tulane University School of Medicine and Affiliated Hospitals. Dr. Wolfes fellowships included orthopaedic oncology at Massachusetts General Hospital and Childrens Hospital, pediatric orthopaedics at Childrens HospitalNew Orleans and orthopaedic biomaterials research at Tulane University School of Medicine.<br/><br/>

Dr. Wolfe has also held academic appointments at Tulane University Medical Center, the University of Virginia School of Medicine and the Virginia Tech Carilion School of Medicine. Dr. Wolfe joined Carilion Clinic in 2005.<br/><br/>

Dr. Wolfes clinical expertise includes primary and revision hip and knee replacement and musculoskeletal oncology. Dr. Wolfe is certified by the American Board of Orthopaedic Surgery.
I am excited every day about the opportunity to help people maintain their mobility and independence.
In Practice Since
Wed Jan 01 00:00:00 EST 1997
Procedures Performed
Anterior approach hip replacement
Bone tumor surgery (adults)
Knee arthroscopy
Knee replacement (partial and total)
Revision hip replacement
Revision knee replacement
Soft tissue tumor surgery (adults)
Treatment of bone infections
Treatment of implant infections
Affiliations
Carilion Clinic
VTC Affiliate
Internships
Tulane University School of Medicine
Residencies
Tulane University School of Medicine
Fellowships
Massachusetts General Hospital
Children's Hospital
Interests
Bone infections
Bone tumors (adults)
Hip arthritis
Implant infections
Knee arthritis
Soft tissue tumors (adults)
Accepts Mychart Appointments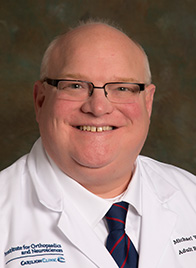 Accepts MyChart Appointments
true
Accepts New Appointments
true
Explained Clearly Slug
Explained Clearly
Explained Clearly Rating
4.9
Listened Carefully Slug
Listened Carefully
Listened Carefully Rating
4.8
Easy Instructions Slug
Easy Instructions
Easy Instructions Rating
4.9
Knew History Slug
Knew Medical History
Showed Respect Slug
Showed Respect
Showed Respect Rating
4.9
Spent Enough Time Slug
Spent Enough Time
Spent Enough Time Rating
4.8