Dr. Mandy Atkinson is an Air Force brat, living in fifteen different states, and even Guam, before graduating from high school. She continued to move during her medical training, going to Eastern Virginia Medical School, then on to Ohio State for her pediatric residency, and then to Memphis, Tennessee where she did her pediatric hematology/oncology fellowship training at St. Jude Children's Research Hospital. She spent five years practicing at Albany Medical Center in NY before settling down in southwestern Virginia in 2005 when she started practicing at Carilion Children's. <br/><br/>

Dr. Atkinson has a heart for children with cancer and sickle cell disease and believes in treating the whole family, because everyone is affected by these diagnoses. She takes the trust her families place in her very seriously and considers it a privilege to play a small part in their lives. When asked what she likes the most about her job, she explains that mostly it is the relationships she develops with her patients and families, but she also likes that she gets to do critical care, primary care, procedures, and contribute to the exciting world of pediatric cancer research. She served as the Principal Investigator for the Children's Oncology Group for 13 years. She is an Associate Professor of Pediatrics at VTCSOM and is active in teaching. She makes it a point to learn something every day and tries to pass that philosophy on to our medical students and residents. <br/><br/>

In her spare time, she is an active pastor's wife and she and her husband, Myron, enjoy country life with their six donkeys, three dogs, three cats and flock of chickens.
"The best way to find yourself is to lose yourself in the service of others." Mahatma Gandhi
In Practice Since
Thu Jan 06 00:00:00 EST 2000
Affiliations
Carilion Clinic
VTC Affiliate
Medical Education
Eastern Virginia Medical School
Undergraduate Education
California State University, Fresno
Schools
Eastern Virginia Medical School
Residencies
Nationwide Children's Hospital
Accepts Mychart Appointments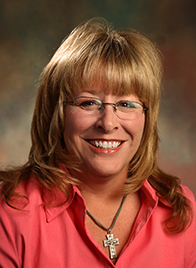 Accepts MyChart Appointments
true
Accepts New Appointments
false
Explained Clearly Slug
Explained Clearly
Explained Clearly Rating
4.9
Listened Carefully Slug
Listened Carefully
Listened Carefully Rating
5
Easy Instructions Slug
Easy Instructions
Easy Instructions Rating
5
Knew History Slug
Knew Medical History
Showed Respect Slug
Showed Respect
Spent Enough Time Slug
Spent Enough Time
Spent Enough Time Rating
4.9