David was admitted in 1972 to the Temple University School of Medicine in Philadelphia, the first time in modern medical education that a sightless person was admitted into a medical school. Dave graduated from medical school in 1976 and completed his psychiatric residency training program at the University of Pennsylvania. Opportunities resulted such as an autobiography, White Coat, White Cane, and a movie called "Journey from Darkness."<br/><br/>

Following a brief stay on the faculty of the U of Pennsylvania, Dave entered private practice in Roanoke, VA where he has been in practice for 38 years. He now serves on the faculty of the Virginia Tech Carilion School of Medicine as an Associate Professor and is the lead physician in Carilion's office-based opioid treatment program in the Adult Outpatient Psychiatry division at Carilion Clinic. As a faculty member he assumes teaching, mentoring, clinical supervision and research responsibilities. Dave has a particular passion for the treatment of addiction, having been sub-boarded in Addiction Psychiatry and Addiction Medicine and waivered as a buprenorphine provider for the past twelve years. Dave has led the creation of the office-based opioid treatment program at Carilion Clinic and champions integrating comprehensive and compassionate care for his patients struggling with opioid use disorders.
Most recently, Dave was appointed to the Governor's Advisory Commission on the Opioid and Addiction Crisis. Dave has conducted research on the benefits of the use of buprenorphine on pregnant patients' compliance with prenatal care, as well as a quality improvement study on the factors that predict retention in his buprenorphine treatment program -presented at an international conference in Madrid, Spain. Dave has been a Master Trainer on Addiction Disease Management for the Virginia Department of Health and convenes statewide ECHO grand rounds on the best practices of office-based opioid use disorder treatment. Dave is a Distinguished Fellow of the American Psychiatric Association, the American Society of Addiction Medicine and is a member of the honorary medical society of Alpha Omega Alpha. Dave has served his community in a number of roles including past-Chairman of Mental Health America of the Roanoke Valley and completed a term of office on the Virginia State Board of Mental Health , Mental Retardation and Substance Abuse Services. David has been a national consultant on the inclusion of the disabled in health care careers. He has served as Chairman of the Board of New Vision that makes printed and/or electronic information accessible to the visually impaired. He is married to Dr. Cheri W Hartman. His hobbies include reading, playing the guitar, swimming, model trains, and playing with the grandkids.
"What it takes is imagination!" Dr. Charles Schepens, eye surgeon and World War II hero; founder-Research Institute of Mass. Eye & Ear; Harvard Medical School. David W. Hartman's philosophy: Everyone has a disability. Those who are most disabled don't know what their disabilities; those who are least disabled are those who can turn their disabilities into advantages. Imagine what you CAN do!
In Practice Since
Fri Jan 01 00:00:00 EST 1982
Affiliations
Carilion Clinic
VTC Affiliate
Medical Education
Temple University School of Medicine
Certifications
Addiction Medicine
American Board of Psychiatry & Neurology (Psychiatry)
Schools
Temple University School of Medicine
Internships
Temple University Hospital
Residencies
UNIVERSITY OF PENNSYLVANIA HEALTH SYSTEM
Interests
Anxiety disorders
Opioid Use Disorder
Alcohol Use Disorder
Mood disorders
Psychosis
Accepts Mychart Appointments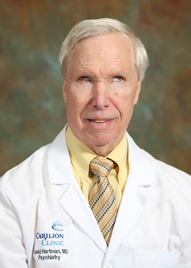 Accepts New Clients
false
Accepts MyChart Appointments
false
Accepts New Appointments
false
Offers Virtual Visits
Yes