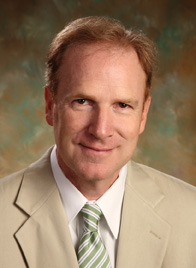 Gary R. Simonds, M.D., Chief of Neurosurgery
Dr. Simonds grew up in New Jersey and in England. He was a biochemistry major at Dartmouth College in New Hampshire where he played rugby and soccer and was Director of the NCAA Volunteers For Youth Big Brother/Sister program. He went on to attend UMDNJ Rutgers Medical School in New Jersey as a recipient of an Army HPSP Scholarship and was commissioned as a Second Lieutenant in the United States Army Reserves. At Rutgers, he was first in his class and was inducted into the AOA National Medical Honor Society as a third year student. During medical school, he married his wife, Cindy, an occupational therapist.
Dr. Simonds next enrolled in a seven-year neurosurgery residency training program at the world renown Walter Reed Army Medical Center, in Washington D.C. During this time he also trained at Children's Hospital of Philadelphia, the Maryland Shock Trauma Center in Baltimore, the Armed Forces Institute of Pathology, and the Walter Reed Army Institute of Research. He also spent a year as a guest researcher at the National Institutes of Health, investigating transplantation therapy for Parkinson's disease. He earned a residency diploma in neurosurgery in 1991, and an additional fellowship diploma in medical research in 1988.
Dr. Simonds then practiced as an active duty Army neurosurgeon at Fitzsimons Army Medical Center in Denver and then back at Walter Reed Army Medical Center. In addition to a very heavy clinical practice, he was active in the training of neurosurgical residents, residents from multiple other surgical and medical specialties, and medical students as an assistant professor of surgery at the Uniformed Services University of Health Sciences. During his military tenure he was decorated on several occasions for excellence in research and in medical care. Medals included the Army Achievement Medal, the Army Commendation Medal, and the Army Meritorious Service Medal.
In 1995 Dr. Simonds left active duty military service and joined the neurosurgery service at Geisinger Medical Clinic and Janet Weiss Children's Hospital in Pennsylvania. The practice cared for thousands of patients with neurosurgical problems ranging from brain tumors, aneurysms, degenerative spines, severe head injuries, spina bifida, and much more. During his eight years at Geisinger, Dr. Simonds was very active in resident and medical student education, and made multiple national presentations. Many of his pediatric patients were featured as 'Miracle Children' in the Children's Miracle Network Telethon campaigns. He started a surgical epilepsy program, and a surgical chronic pain program, and expanded the center's capabilities in brain tumor surgery, functional neurosurgery, complex spine surgery, and skull base surgery. He also found the time to coach several youth soccer teams, and play on a team himself.
In 2003 Dr. Simonds and his family resettled in the beautiful Roanoke Valley of Virginia. There, with former Geisinger partner Dr. Zev Elias, he helped initiate Carilion Clinic Neurosurgery- a full service collaborative and integrated neurosurgical team. During his tenure as chief of the program, Dr. Simonds helped create a nine surgeon and nine physician assistant department, bring state-of-the-art stereotactic radiosurgery (CyberKnife) to the region, provide full time across the board (pediatric and adult, emergent and routine) neurosurgical coverage to the region, and develop and run a residency training program for future neurosurgeons. As before, he helped develop a practice that encompasses the full breadth of neurosurgery, caring for adult and pediatric patients of all complexities at Carilion Clinic.
A captivating and electrifying speaker, Dr. Simonds regularly gives talks and lectures to local staff physicians and residents of various specialties, nursing groups, community organizations, and students at Virginia Tech- Carilion School of Medicine, Virginia College of Osteopathic Medicine, and Jefferson College of Health Sciences [2]. Dr. Simonds is also very active in national neurosurgical organizations, particularly the Council of State Neurosurgical Societies- an organization that focuses on the social and ethical aspects of neurosurgical practice. He is now very actively collaborating with researchers from VTCRI and Virginia Tech College of Neurosciences to help advance care of neurological diseases. He also serves on several Carilion committees focusing on the advancement of integrated quality medical care to the region. His competitive soccer days are over, but Dr. Simonds enjoys rowing and playing guitar and banjo in his free time.
Through his years of training and professional practice at both prestigious and intensely busy institutions, Dr. Simonds has acquired a huge volume of clinical and operative experience. Known as a caring and down-to-earth physician, Dr. Simonds also carries tremendous neurosurgical expertise. Since training, Dr. Simonds has personally performed more than 12,000 procedures. There are very few neurosurgeons in the country who share Dr. Simonds' breadth and depth of surgical experience. His subspecialty interests and expertise include pediatric neurosurgery, brain and spinal cord tumor surgery, and epilepsy surgery. He also has vast experience in the treatment of degenerative spine disease, spinal fractures, head injuries, and chronic pain. Dr. Simonds also has initiated multiple research projects to help advance the science of neurosurgery.
Dr. Simonds has special interests in Ethics in Neurosurgery and in physician mental wellness. He has collaborated with renown expert Dr. Wayne Sotile to create a wellness and resiliency program at Carilion and to publish a book on the subject – Building Resilience in Neurosurgical Residents. They are actively working on a similar book for all medical training and on a related website and podcasts.
Dr. Simonds is also back in school pursuing a Master's degree in Healthcare Delivery Science at Dartmouth College to help improve overall healthcare in Southwest Virginia.