Profile Photo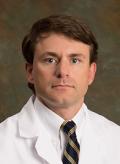 License Type
(DPM) Doctor of Podiatric Medicine
Conditions Treated and Interests
Achilles tendon injuries
Ankle arthritis
Ankle fractures
Bunion
Diabetic foot ulcerations
Foot arthritis
Foot fractures
Hammertoes
Ingrown Toenails
Certifications
Podiatric Surgery
Reconstruction RearFoot and Ankle Surgery
Internships
John Peter Smith Hospital
Residencies
John Peter Smith Hospital
Personal Bio
J. Randolph Clements, M.D., joined Carilion Clinic in 2005. He earned his medical degree from Temple University and his internship and residency at John Peter Smith Hospital in Fort Worth, Texas.
He specializes in foot and ankle reconstruction, diabetic foot and foot and ankle trauma.
Dr. Clements is certified in foot and ankle reconstructive rearfoot and ankle surgery, and has received the President's Award from the Virginia Podiatric Medical Association. Dr. Clements also teaches at the Virginia Tech Carilion School of Medicine [7].
Providing quality care to the community is the most gratifying part of Dr. Clements' work. Outside of the office, he enjoys flying airplanes and spending time with his wife and three children.