Is Fellowship Accredited
Off
Hero Image Categories
Building
Hero Image Selection
Option 3
Summary
Our focus is on training pediatricians who will be ready for general practice or fellowship training. We have six residents per year, which allows for individual attention to each resident's educational needs and professional goals.
About the Residency or Fellowship
Virginia Tech Carilion Partnership
Residents have the opportunity to work closely with the students and research scientists from the Virginia Tech Carilion School of Medicine and Fralin Biomedical Research Institute at VTC. The public-private partnership leverages Virginia Tech's world-class strength in basic sciences, bioinformatics and engineering with Carilion Clinic's highly experienced medical staff and rich history in medical education.
Mission Goals Strengths
As a program, we endeavor to uphold the mission of Carilion Clinic to improve the health of the communities we serve by training excellent pediatricians. Our goals align with Carilion Clinic's core values of Collaboration, Courage, Commitment, Compassion and Curiosity.  
Collaboration: At Carilion Children's, our patients are not treated by a doctor, but by an interdisciplinary team of experts who work together to provide the best possible care to reach the best possible outcomes. Our program develops pediatricians who value interprofessional collaboration and team-based patient care that includes patients and their families as part of the team. 
Courage: We train pediatricians who have the courage to practice in an ever-changing world, who have the fortitude to represent and protect their patients' best interests, and who uphold our oath to "do no harm." 

Commitment: We are committed to training residents who are not only knowledgeable about pediatric medicine, but who are skilled in practicing medicine in a humanistic and family-centered manner that recognizes the individual experiences, needs and beliefs of our patients. We are also committed to providing a safe and inclusive learning environment that respects the diverse backgrounds of our residents, faculty, and students, and we value the role that these experiences play in creating outstanding physicians. 

Compassion: As pediatric physicians, we practice with the utmost compassion for our patients and families. We are privileged to be entrusted with their care throughout their lives and, particularly, in some of their hardest times.  

Curiosity: We believe that curiosity is a key part of training successful pediatricians. We encourage our residents to embrace their curiosity in their daily care by looking at patients and problems holistically, and to nurture it further through taking advantage of the research opportunities available in the hospital and in partnership with Virginia Tech.  
We are seeking applicants who identify with and embody these values. If you feel that you connect with these values, we encourage you to consider becoming a team member in our program. 
Message From Leadership
Welcome to the Carilion Virginia Tech Pediatric Residency! Our program offers a robust clinical experience from a wide socioeconomic and cultural catchment area, while being situated in a beautiful mountain community in southwest Virginia. We are proud to prepare our residents for careers in primary care pediatrics as well as for fellowships across the disciplines. Our small program allows for individualized learning plans that are supported within our own medical community and contain the freedom to explore away electives when auditioning for or exploring fellowship opportunities. We are proud to have a family feel to our program while also offering excellent patient care experiences. Carilion Clinic is a world-class employer, and our faculty and residents benefit from numerous offerings such as our TEACH academy, where a vigorous curriculum supports our teaching skills and knowledge. We are proud of our alumni and current residents, and we are excited to continue building on to this legacy with our next class!
Message From Leadership Image
Department Specs
Carilion Children's is the only dedicated children's hospital in southwest Virginia and serves a referral population of 1 million people. Carilion Clinic is a not-for-profit institution which serves a large rural population as well as urban, suburban and refugee communities.

The pediatric units are composed of a 24-bed pediatric ward, 8-bed PICU, 60-bed NICU and a dedicated pediatric emergency department. Our patients benefit from the services of a pediatric and neonatal transport team, pediatric therapies, seven primary care clinics and over 20 subspecialty clinics as detailed below.

The Carilion Clinic - Virginia Tech Carilion School of Medicine Pediatric Residency program is accredited by the American Council for Graduate Medical Education. We also participate in the National Residency Matching Program.
Dept Spec Program Size
Class size: 6
Current residents: 17 (5/6/6)
Dept Spec Subspecialties
Adolescent Medicine
Anesthesiology
Cardiology
Developmental Pedatrics
Endocrine
Gastroenterology
Genetics
Hematology/Oncology
Neonatology
Nephrology
Neurology
Neurosurgery
Ophthalmology
Orthopedics
Otolaryngology
Pediatric Critical Care Medicine
Physical Therapy/Occupational Therapy/Speech-Language Pathology
Psychiatry/Psychology
Pulmonology
Dept Spec Population Served
Catchment area is 1 million people
Urban, rural, suburban and refugee
Dept Spec Teaching Opportunities
Residents will teach M3, M4 and PA students on all inpatient rotations.
Residents will teach M3 and M4 students in outpatient general and subspecialty clinics. TEACH (Teaching Excellence Academy for Collabotative Healthcare)
Residents lead teaching conferences every Tuesday and Friday.
Opportunities to present scholarly work at local, regional, state and national conferences.
TEACH (Teaching Excellence Academy for Collaborative Healthcare)
Dept Spec Volunteer Opportunities
Read, Feed and Grow
Camp Too Sweet Diabetes Camp
Asthma Camp
Carilion Children's Family Camp
Bradley Free Clinic
Local sports physicals
Dept Spec Quick Facts
We have a total of 68 faculty, with 53 core faculty. Our faculty have fellowship training in:
- Adult Congenital Heart Disease
- Clinical Genetics
- Developmental-Behavioral Pediatrics
- Electroencephalography
- Neonatology
- Neonatal-Perinatal Medicine
- Pediatric Cardiology
- Pediatric Critical Care
- Pediatric Endocrinology
- Pediatric Gastroenterology
- Pediatric Hematology/Oncology
- Pediatric Nephrology
- Pediatric Neurology
- Pediatric Pulmonology
- Pediatric Rheumatology
Graduates from our program have completed fellowships in:
- Cardiology
- Child Neurology
- Global Health
- Hematology/Oncology
- Neonatology
- Palliative Care
- Pediatric Emergency Medicine
- Pediatric Rheumatology
Gallery Images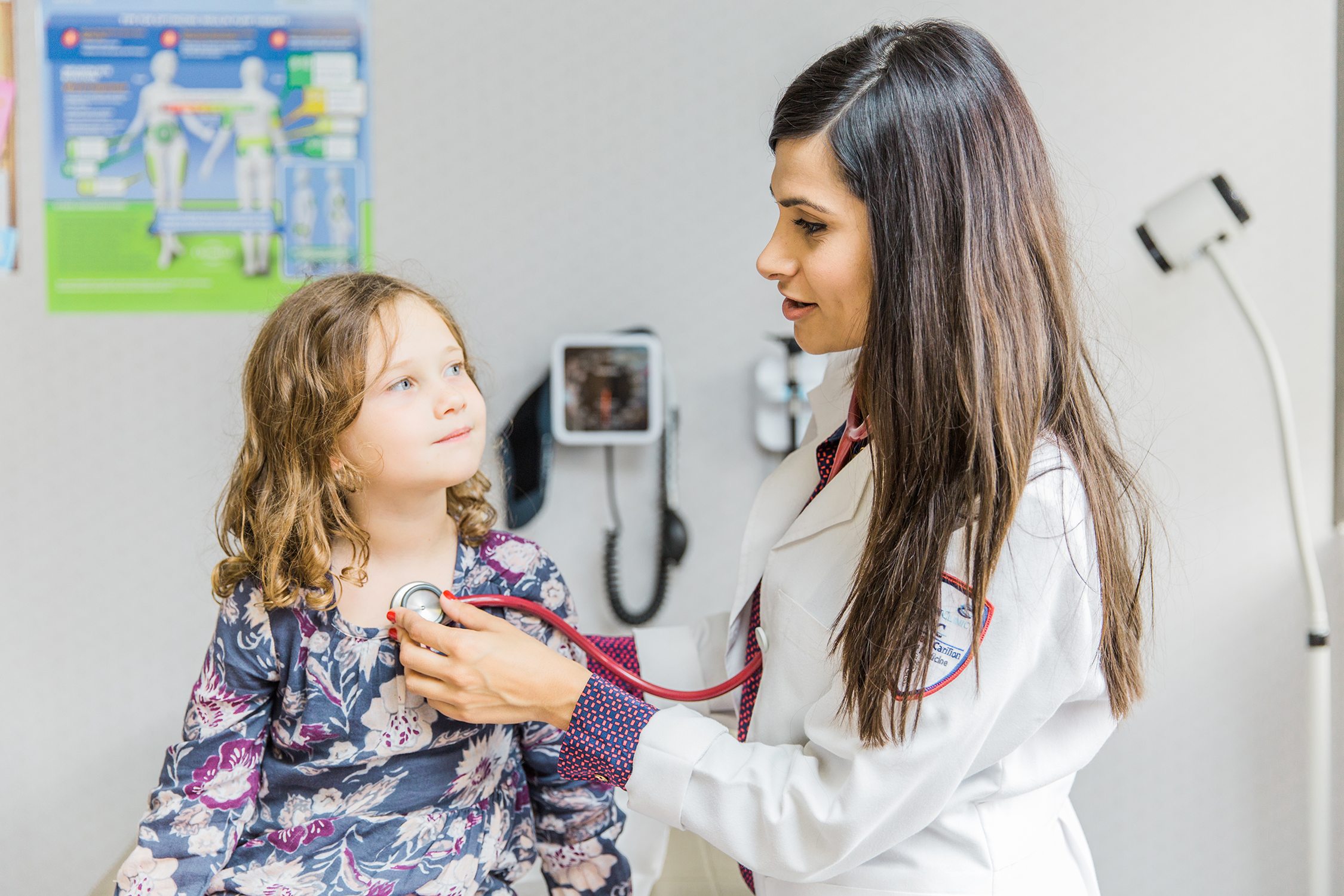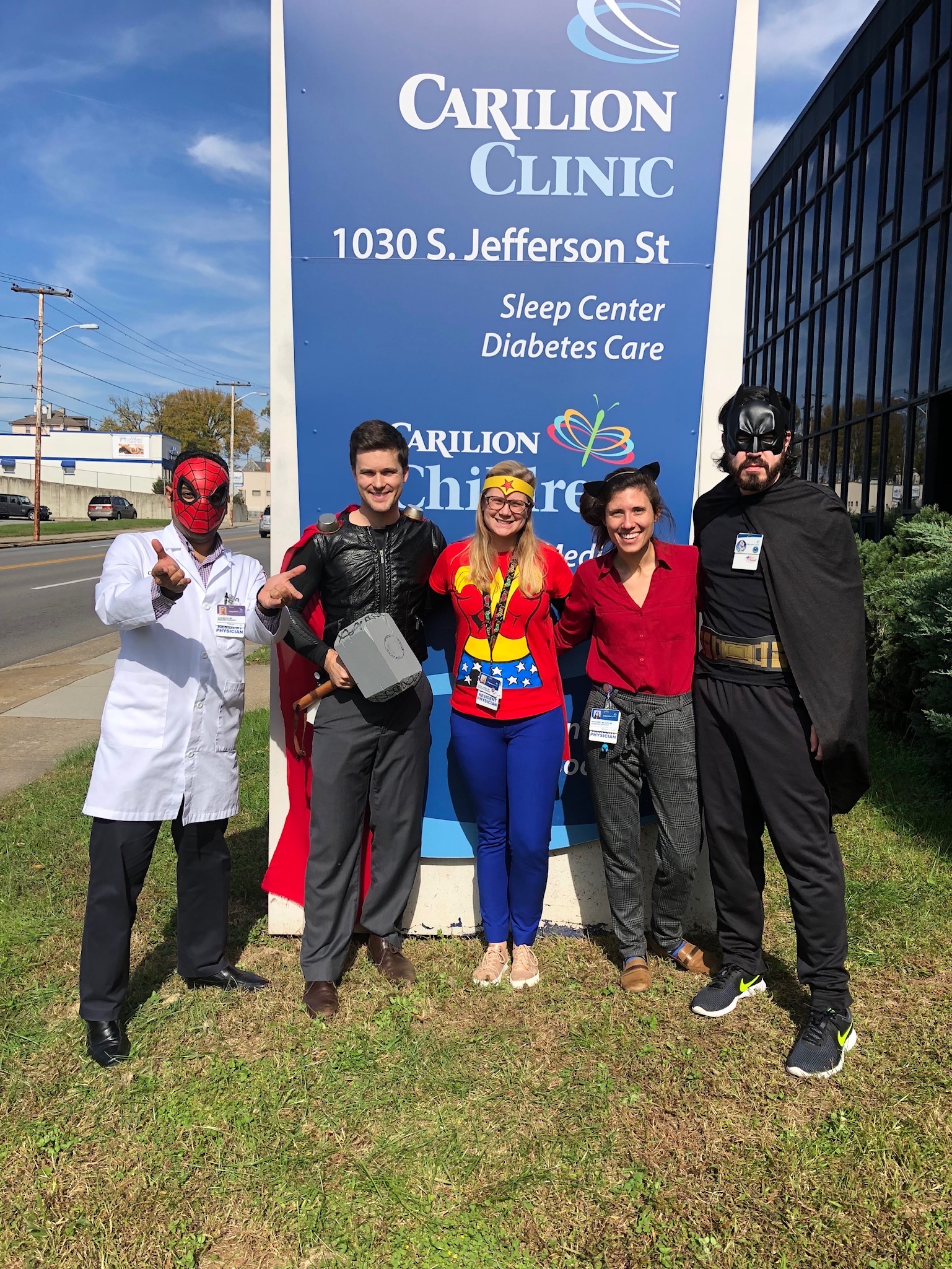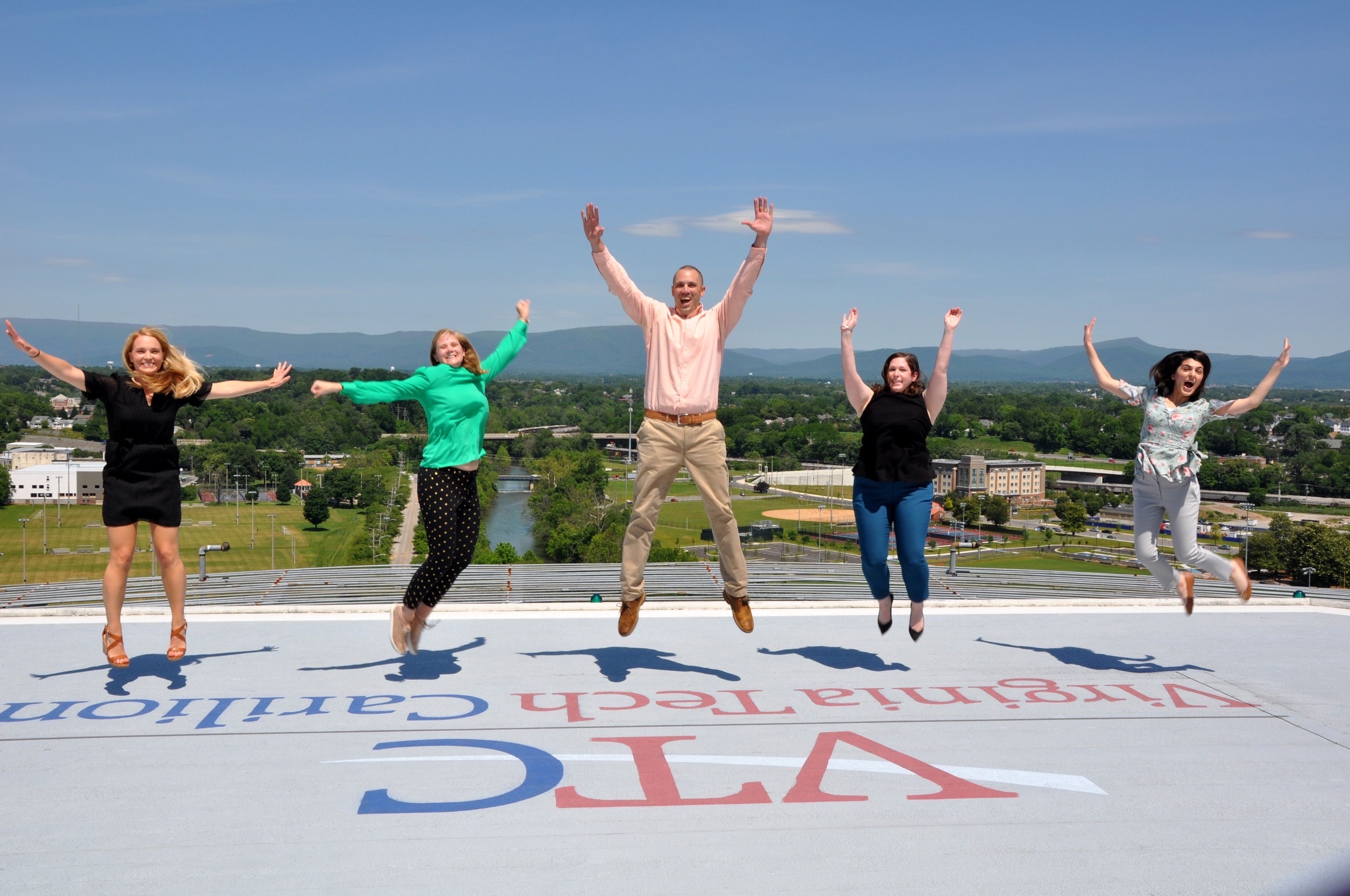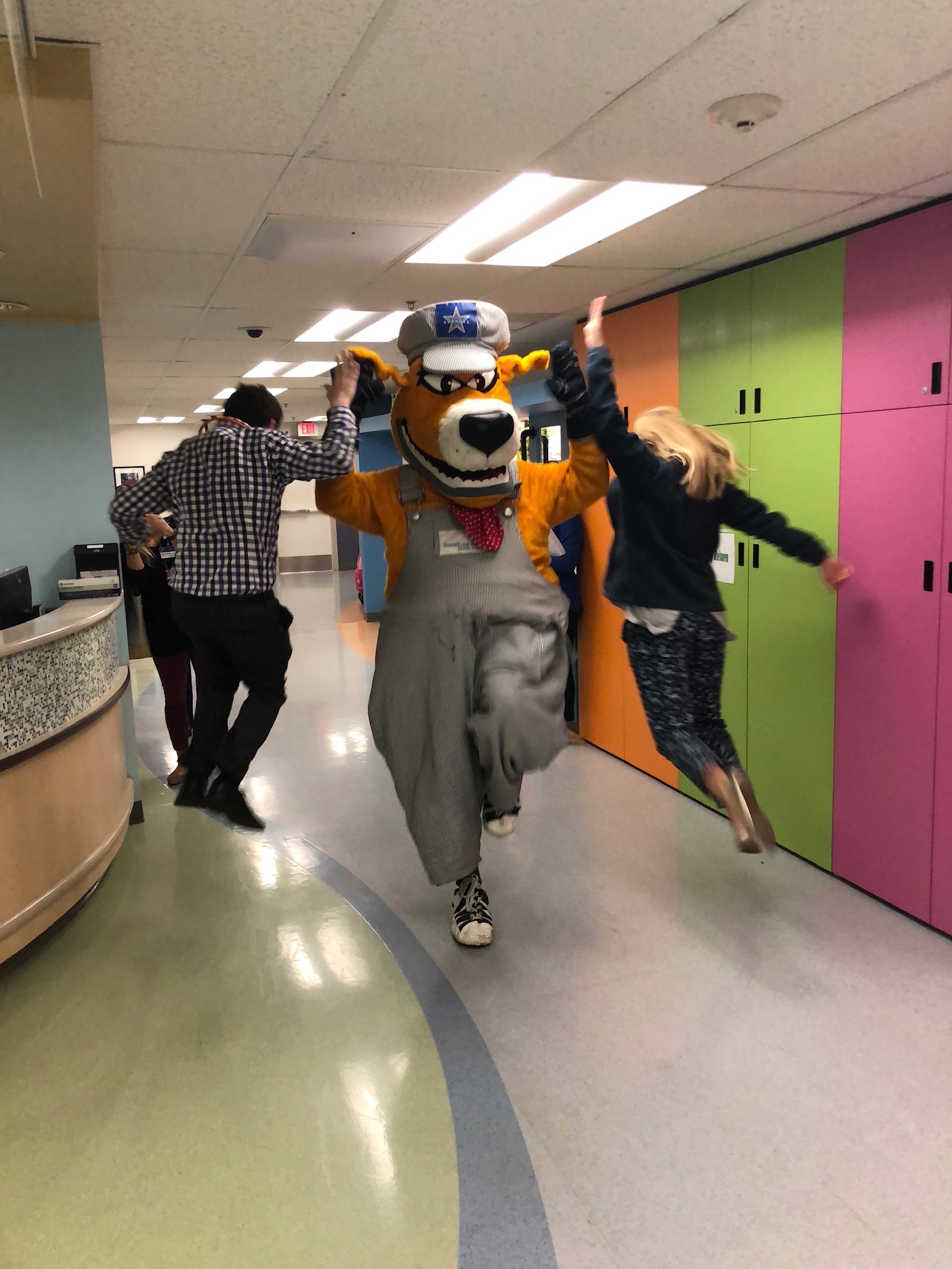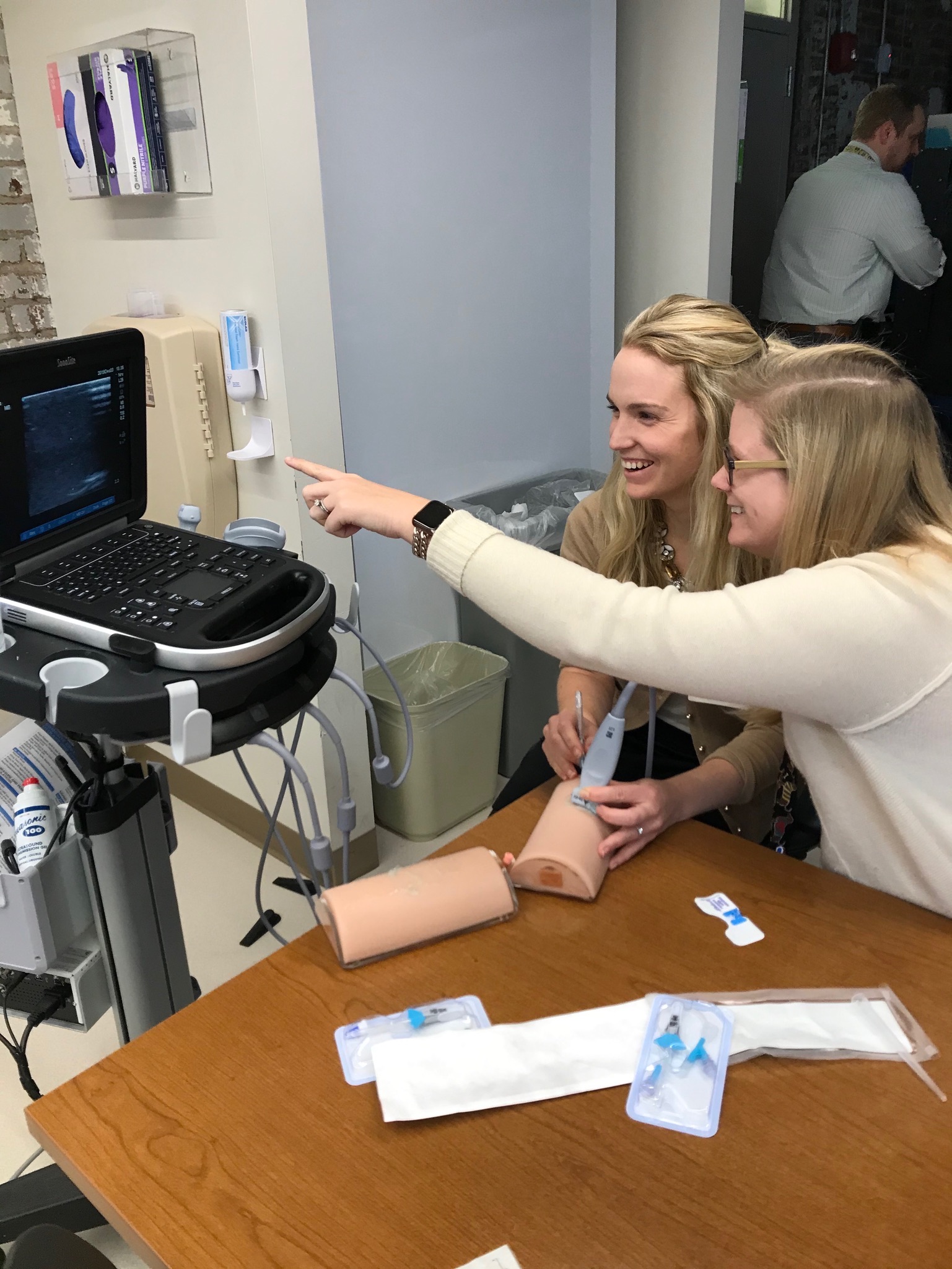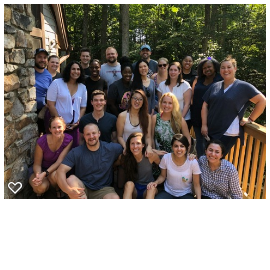 Overview
Welcome to the Pediatric Residency program at Carilion Clinic! At Carilion Children's, our patients and community are family, making the training of compassionate and competent pediatricians our top priority. Our location in the foothills of the beautiful Blue Ridge Mountains of southwest Virginia gives our residents the unique opportunity to serve the urban communities of Roanoke, as well as the surrounding rural and refugee populations.
As a program, we are deeply committed to the professional and personal growth of our residents. Our comprehensive curriculum aims to prepare excellent pediatricians who are competitive candidates if pursing fellowship and confident in entering practice following graduation. We strive to address the growing challenges facing pediatric physicians, and as such, have emphasized patient advocacy, quality improvement and mental health as key aspects of our training. Carilion Children's partnership with the Virginia Tech Carilion School of Medicine allows residents to collaborate with other professionals on world-class research opportunities. 
Pediatric Residency is a small program at Carilion Children's and we value the close-knit relationship between our residents, faculty and staff, who work together to provide excellent care to our patients. We recognize the stressors of training and practicing medicine, particularly as it has changed since the start of 2020, and the toll that it can take on resident health and well-being. Accordingly, we are dedicated to providing a safe and welcoming learning environment that promotes and protects resident wellness.  
We hope you will take some time to look at all our program has to offer, and we look forward to meeting our applicants this year. If you have any questions, please feel free to reach out to us directly through our program manager, Michelle Botelho, at mbrevia@carilionclinic.org. 
How to Apply
Admission Requirements
We are looking for candidates with excellent oral and written communication skills who will demonstrate dedication to the holistic care of our patients and their families.
To apply, please submit:
USMLE Step 1 or COMLEX Step 1 Score

MSPE or Dean's letter

Medical school transcript

Three letters of recommendation. At least one must be from a pediatrician, and we recommend that at least two be from an academic center.
If you are an international graduate, we require at least six months of direct patient care experience in the U.S., Canadian or British systems and ECFMG certification, if applicable. J-1 visas are sponsored (not H-1).
All application materials must be submitted through the Electronic Residency Application Service (ERAS). Applications will not be accepted via fax, mail or email.
Contact
We look forward to speaking with you further about our program. For more information, please contact: 
Michelle Botelho
Senior Residency Program Manager
Virginia Tech Carilion Pediatric Residency
4348 Electric Road
Roanoke, VA 24018
540-769-0763
mbrevia@carilionclinic.org
Interview Day
We know that your interviews this year aren't going to be what you had expected all this time, and it's not what we anticipated either! We're working to build an interactive, informative and fun interview day for all our candidates. Check back soon for more details on what to expect! 
Curriculum
Curriculum
Our curriculum is designed to complement our residents' clinical learning and to provide a more in-depth review of subjects included in the 25 content domains specified by the American Board of Pediatrics (ABP). Our residents have an academic half day on Tuesday afternoons from 12:30 – 5 p.m., and they are protected from all clinical duties during that time. The didactic curriculum is presented on a rotating 18-month schedule to ensure that all topics are covered with repeated sessions on high yield material.  
In addition, Carilion Children's offers several other resident and faculty led lectures on a regularly scheduled basis. These conferences include: 
Morning Report – Tuesday and Friday from 7:30 – 8 a.m. 
Case of the Week – Tuesdays from 12:30 – 1:15 p.m.
Journal Club – 4th Tuesday of the month from 12:30 – 1:30 p.m. 
Board Review – Wednesdays from 7:30 – 8:30 a.m. 
Grand Rounds – Thursdays from 7:30 – 8:30 a.m.  
NICU Journal Club – monthly 
Pediatric Psychiatry Conference – monthly 
Pediatric – Emergency Medicine Grand Rounds – quarterly
As part of our development of residents as teachers, residents on inpatient rotations are responsible for presenting our interactive morning reports. Other conferences that residents lead as part of their teaching development include (by year): 
PGY-1: Case of the Week (1-2/year), Journal Club (1), Pediatric Psychiatry Conference (1)
PGY-2: Case of the week (2-3/year), Journal Club (1) 
PGY-3: Case of the week (1-2/year), NICU Journal Club (1), Grand Rounds (1), Pediatric/EM Grand Rounds (1) 
Schedule and Tracks
Schedule Blocks
Schedule
Below you'll find tables detailing required rotations and electives by academic year. For electives in specialties that we do not have available, we work with our residents to arrange for away rotations so they can have the rounded academic experience they are seeking. Our residents have also created their own electives in the past, some of which have become program favorites! For example, our Transport rotation where they work with the Neonatal and Pediatric Transport Team.  
Our program recognizes the importance of patient access to reliable mental health services, and the growing need for primary care physicians to be able to provide these services. As such, all residents are required to complete inpatient and outpatient child psychiatry rotations prior to graduation. 
Schedule Tables
Rotation Blocks By Year

| | Inpatient Wards | PICU | NICU | ED | General Pediatrics | Additional Required Rotations | Elective Blocks |
| --- | --- | --- | --- | --- | --- | --- | --- |
| PGY-1 | 4.5 | 0 | 1 | 1 | 1 (Foundational Outpatient) | Nursery; Community Advocacy; Inpatient Child Psychiatry; Surgery | 1.5 |
| PGY-2 | 2-3 | 1-2 | 1 | 1 | 1 (Acute Care) | Adolescent Medicine; Developmental Pediatrics | 4 |
| PGY-3 | 2-3 | 1-2 | 1 | 1 | 1 (Community Practice) | Outpatient Child Psychiatry | 5 |
Electives (Available All Years)
Electives (Available All Years)
Cardiology; Endocrinology; ENT; Gastroenterology; Genetics; Hematology/Oncology; Nephrology; Neurology; Orthopedics; Pediatric Therapies; Palliative; Pulmonology; Rural Medicine
Electives (Available to PGY-2s and PGY-3s)
Adolescent Medicine; Anesthesiology; Community Hospitalist; Nursery; Planned Parenthood; Research; Surgery (inpatient or outpatient); Transport
Residency Life
Gallery Images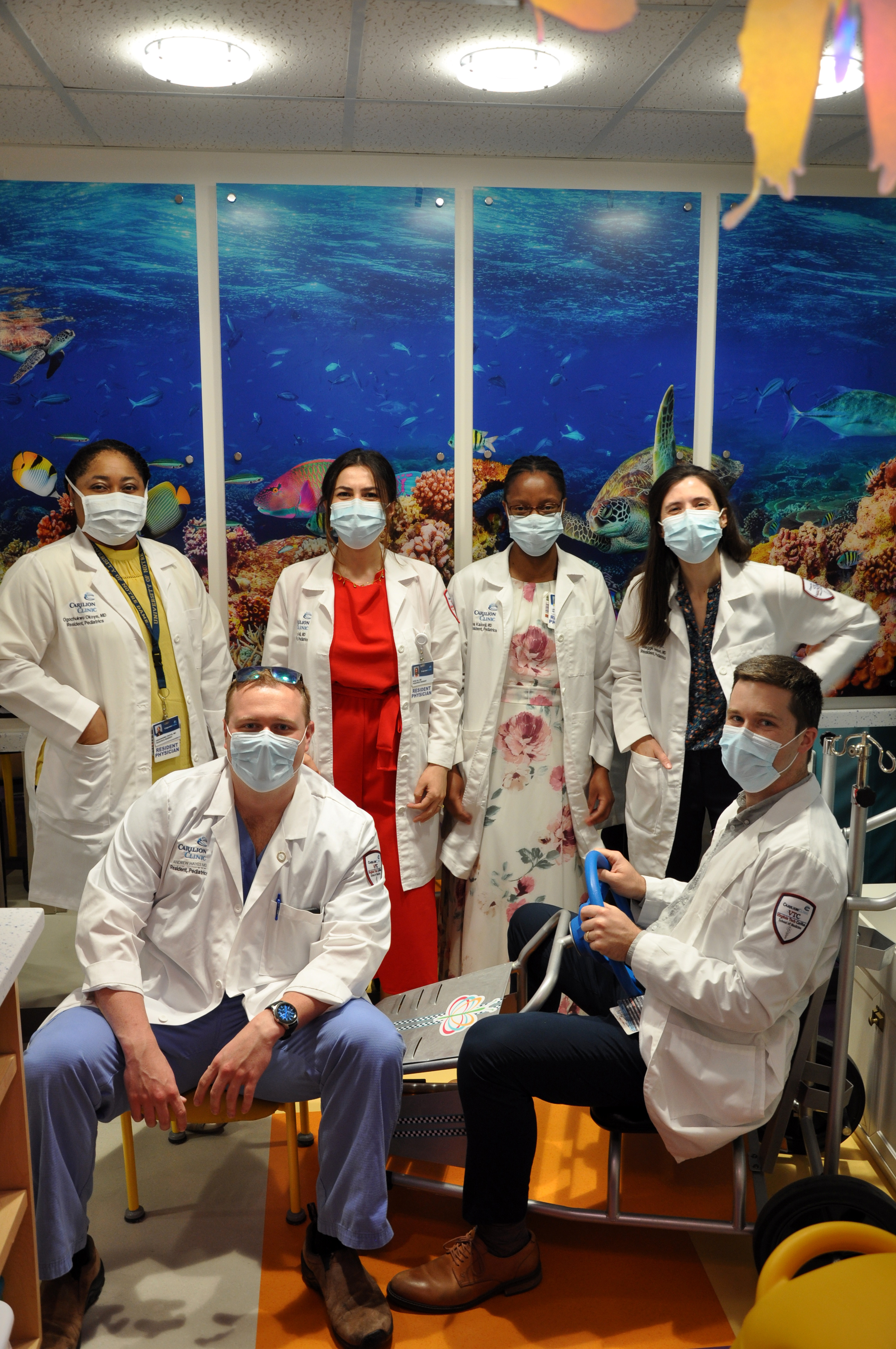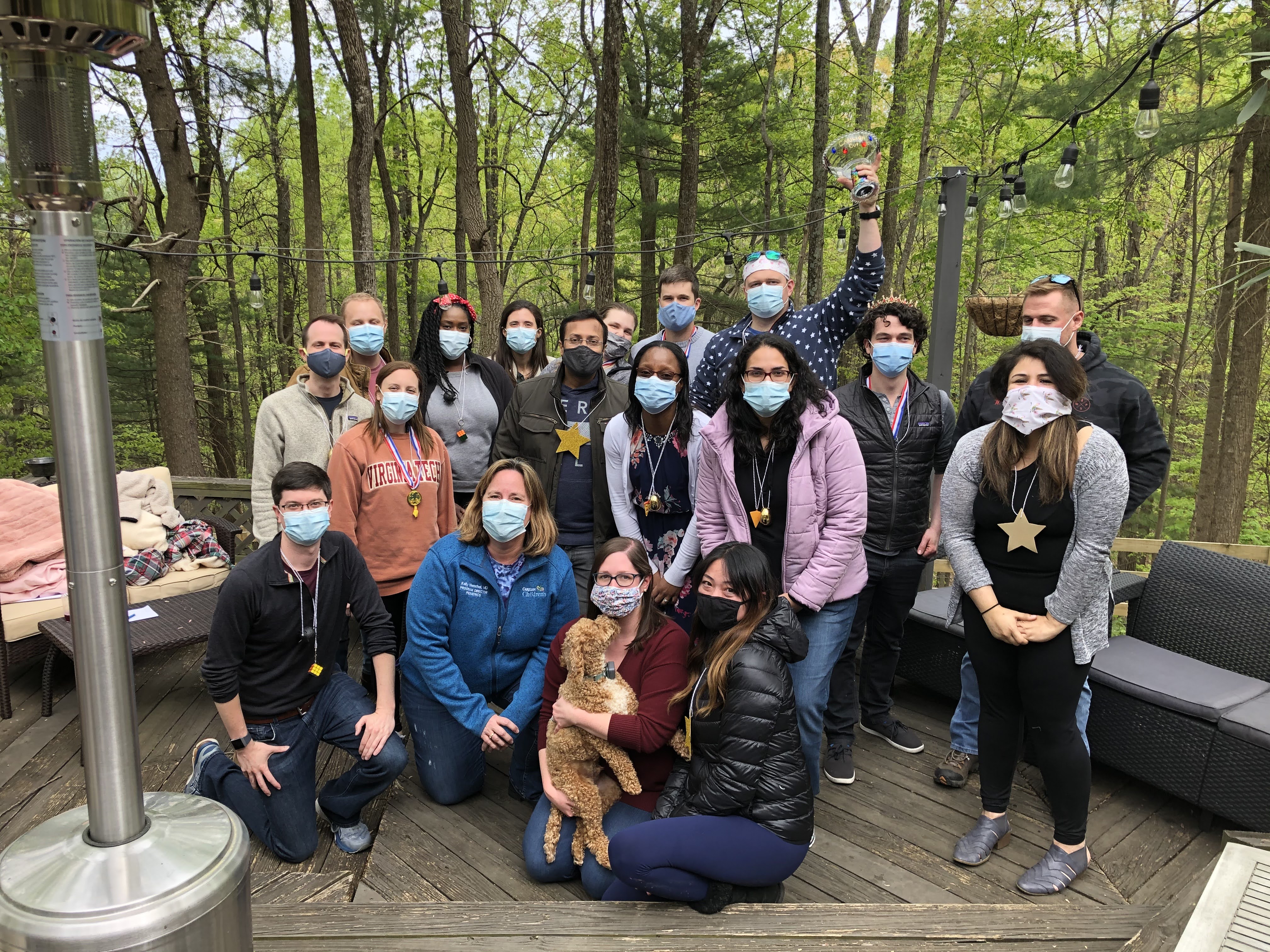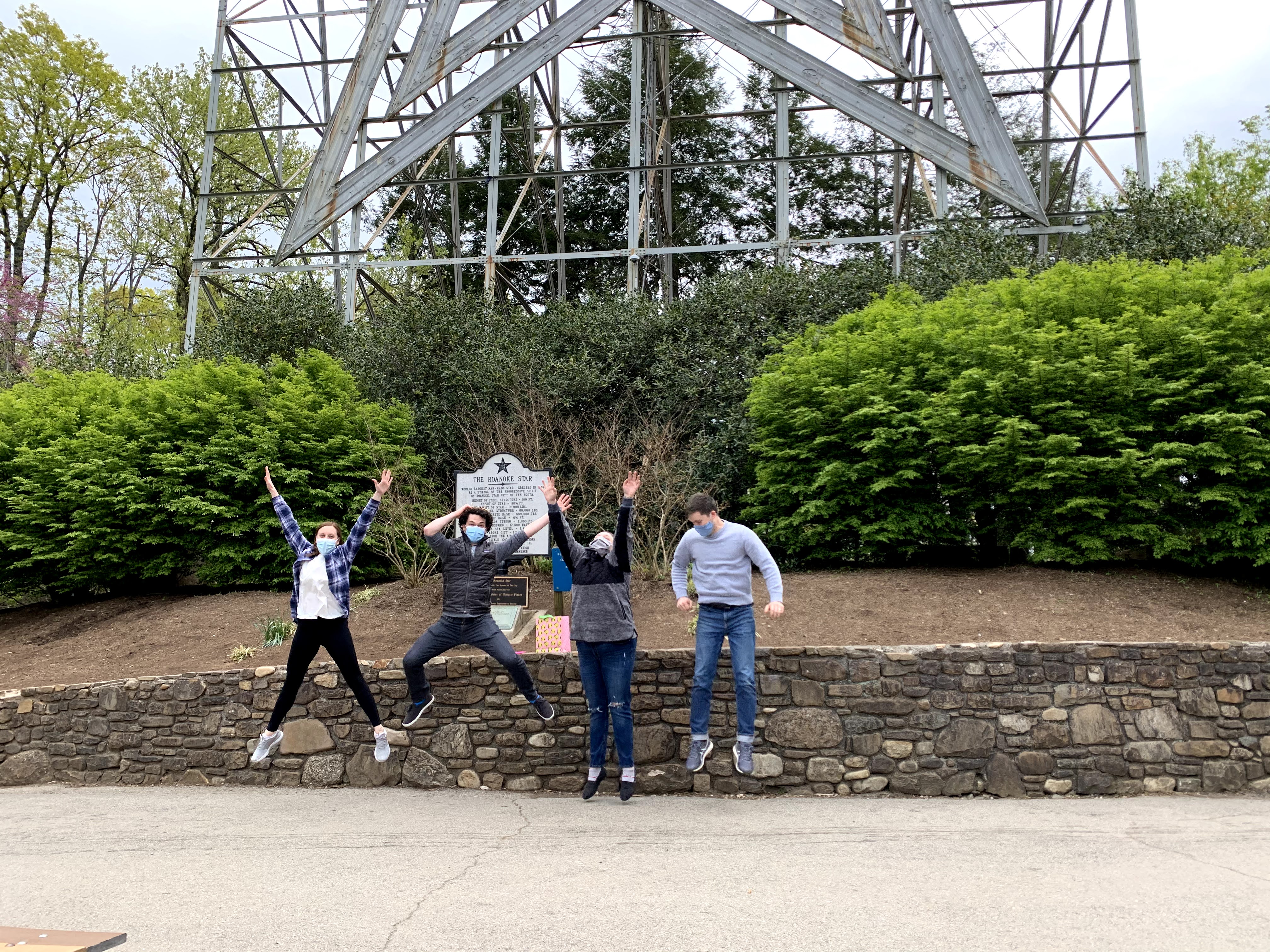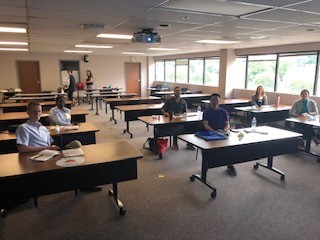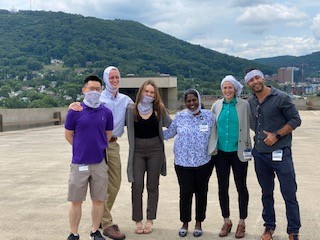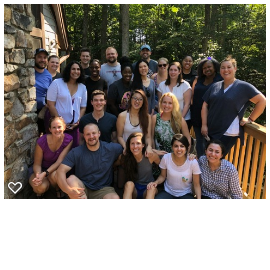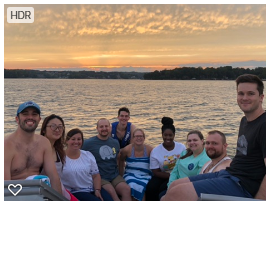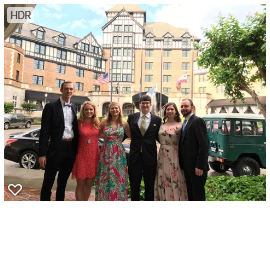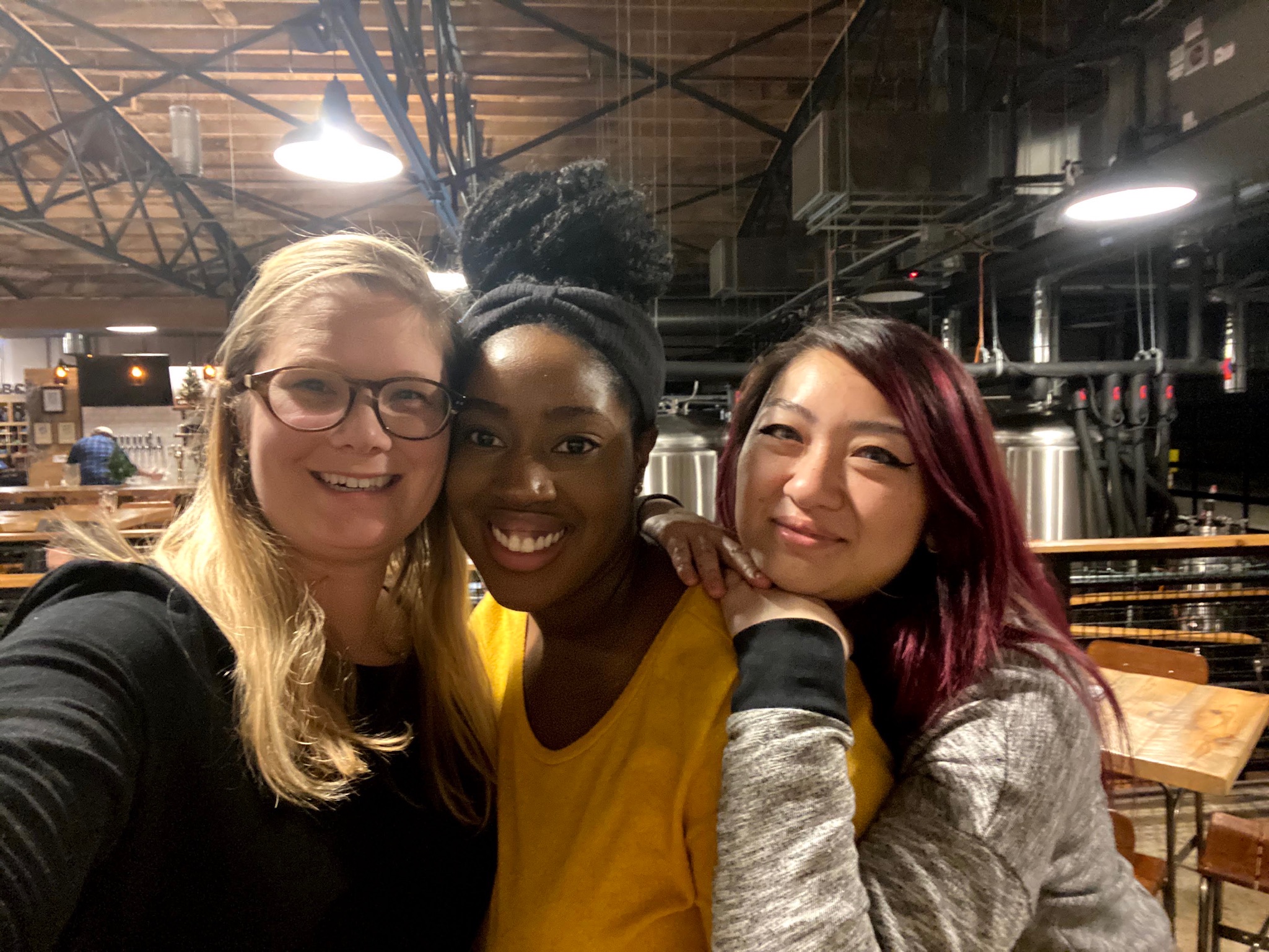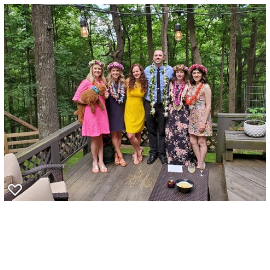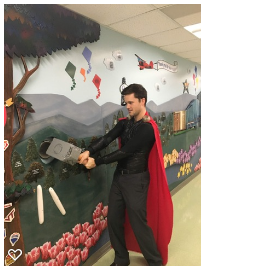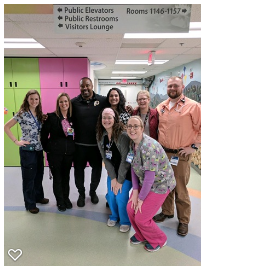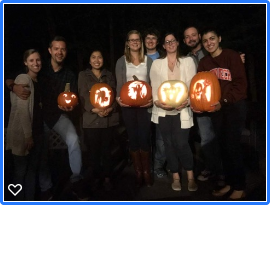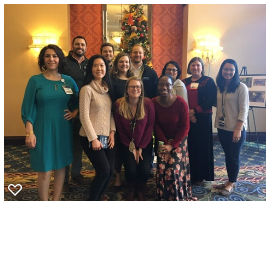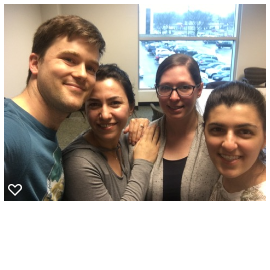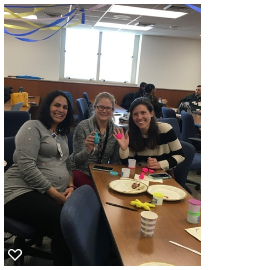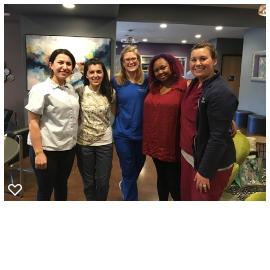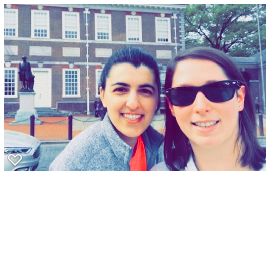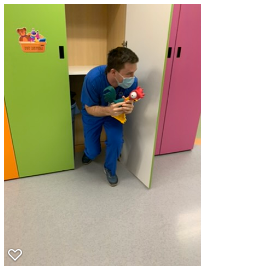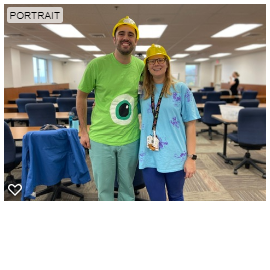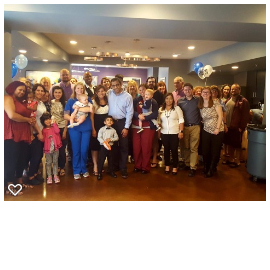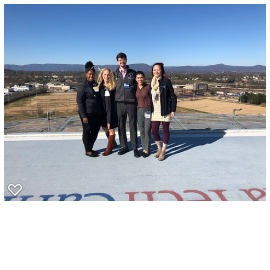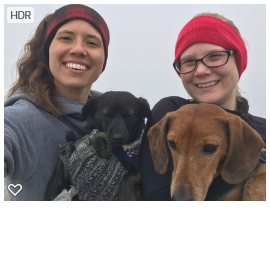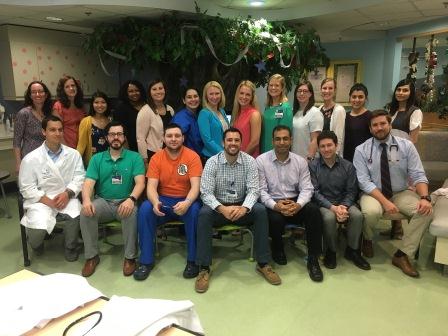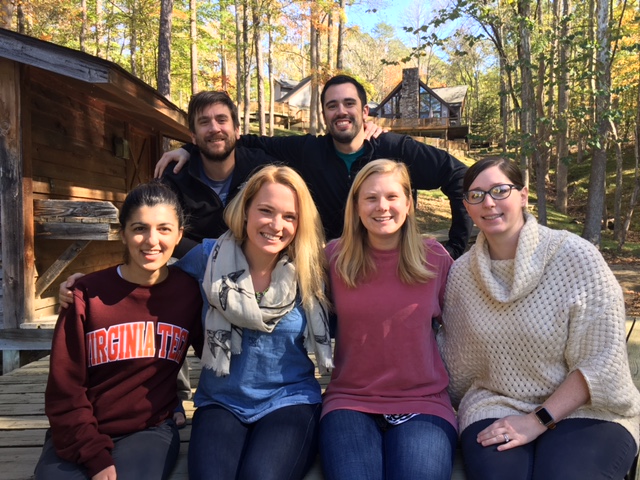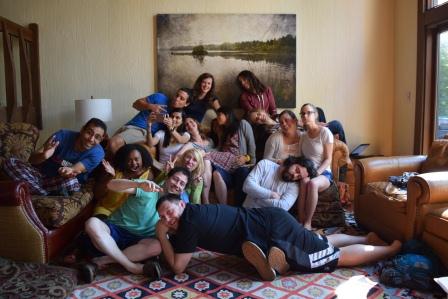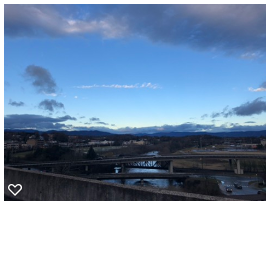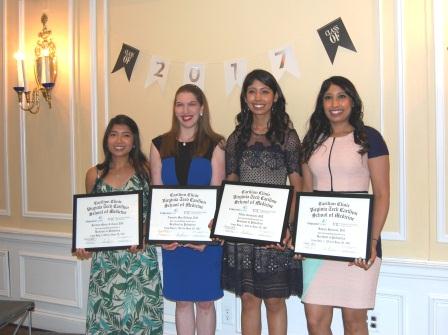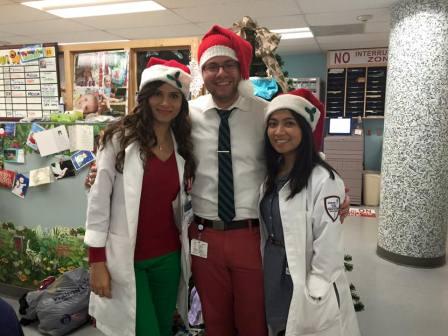 Chief Resident Intro
As the Pediatric 3rd Year Chiefs 2021-22, Olivia and I want to welcome you and thank you for your interest in our program! 
While you are all hurriedly attending to ERAS applications and trying to figure out how to make your impression (virtually!) on programs, we hope you know that we are all facing the same challenges! Looking back, it's hard to imagine navigating the process of residency match during such an unprecedented time, and for that, we say congratulations to all of you for having the strength, patience and determination to continue pursuing your dreams in the face of uncertainty in this pandemic. This isn't the 4th year that you had imagined, and after at least 20 years of education, it is not the 4th year you have earned. Although we can't show you all the things we love about Carilion Children's and Roanoke in person this year, we hope we can give you some insight into the impact that the program and life and Roanoke has had on us. 
Over the past two years, we've grown to love Carilion Children's and value the experiences that we've have had here. Let's start with the basics: clinical knowledge. Everyone's goal is to leave residency feeling confident in their clinical abilities. we can tell you first-hand that whether you plan to practice general pediatrics or pursue fellowship, the academic and clinical offerings at Carilion will prepare you well to conquer whatever long-term career path you choose. We may be small, and we may be more rurally located, but we have a surprising number of "zebras" that complement our "horses," and our affiliation with the Virginia Tech School of Medicine provides a renowned academic platform for research and professional development. You will get all of the bread-and-butter pediatric knowledge you need, and you will certainly see more than enough interesting cases to solidify those "must know it for boards" disease processes or to write up as a case report.
Secondly, we have life in Roanoke. No matter what kind of day you've had (it's residency, so you'll have your fair share of hard days), walking out to the parking deck and seeing the breathtaking views of the Blue Ridge Mountains is therapeutic and restoring. Having lived in Maryland and New Jersey for many years, we can tell you that Roanoke has great restaurants, breweries and festivals so there is always something to do. Not feeling social or just trying to respect social distancing? Go out and walk or ride the roughly 20-mile greenway system of trails in the city, rent a tube and float down the river, take a short drive and hike part of the Appalachian Trail or discover one of the numerous other parks, lakes and hiking/biking trails just minutes from your door. One of the best parts is that with all the money you'll save (even on a resident salary!) from the lower cost of living, you can put towards your hobbies! 
Finally, I think that anyone will tell you that the one thing that can make or break a program is the people. If you want a cut-throat, "look out for yourself" program, we're not the place for you. We are a small, close-knit program, and we take care of each other. From co-residents to faculty to nurses and other staff, you will find a home here with people rooting for you and supporting you every step of the way.  
So, if any of the above sounds like a program you'd like, we hope you'll take some more time to get to know us, and we hope you'll reach out with any questions you may have so we can get to know you too. Best of luck in your journeys, and we hope we hear from you soon! 
Chief Resident Image or Video
Residency Life Intro
Nestled in the beautiful Blue Ridge Mountains, Roanoke is the perfect place to live during residency. The city offers an affordable cost of living in a variety of family-friendly neighborhoods, and has received numerous accolades for its livability, including being voted Top 100 Best Places to Live (Livability 2019), All-American Hall of Fame City (National Civic League 2019), and Best Place to Raise an Outdoor Family (Blue Ridge Outdoors Magazine 2019, 2020). 
Roanoke has something to offer for everyone. It has the amenities of a big city with a wide variety of restaurants, breweries, museums, farmers' markets, festivals, and more, but without the traffic. Perhaps Roanoke's best asset though, is that the outdoors is never far away. Just steps from the hospital, residents have access to the Roanoke Greenways, a network of beautiful hiking/biking trails that run throughout the region. For the outdoor lover who wants to get a bit further away, Roanoke is ideally situated with easy access to the Appalachian Trial, Blue Ridge Parkway, Smith Mountain Lake, Roanoke River and James River. Explore more of what life in Roanoke has to offer using the links below. 
Want to see what's going on now? Connect with us @vtcpediatricsresidency on Instagram, and Carilion Pediatrics Residency on Facebook! 
Insurance 
Carilion Clinic medical plan subsidized by program: employee only, employee + 1 child, employee + spouse, and family coverage available with partial premium paid by resident 
Basic dental coverage provided for resident and family (comprehensive plan available at additional low cost) 
Disability, life and malpractice insurance provided 
We offer coverage under our medical, dental, vision, supplemental spouse life insurance and dependent child life insurance plans to domestic partners of our full-time and regular part-time employees, as well as their eligible children
Counseling and support services
Other Benefits 
Travel allowance for national, regional, and local educational conferences
Travel reimbursement for approved national, regional and local presentations
Free membership for residents and family discounts to Carilion Wellness athletic facilities
Tickets to Virginia Tech football and basketball games via lottery system 
In house meal allowance 
Cell phone provided for clinical use (optional $15 charge per pay period for personal use)
Free parking adjacent to the hospital 
Graduates
Graduates Intro
Our graduates have pursued careers practicing in general outpatient pediatrics, traditional practice, community hospitalist and several subspecialties. To learn more about how their time at Carilion Children's prepared them to successful physicians, check out the Testimonials page.
Gallery Images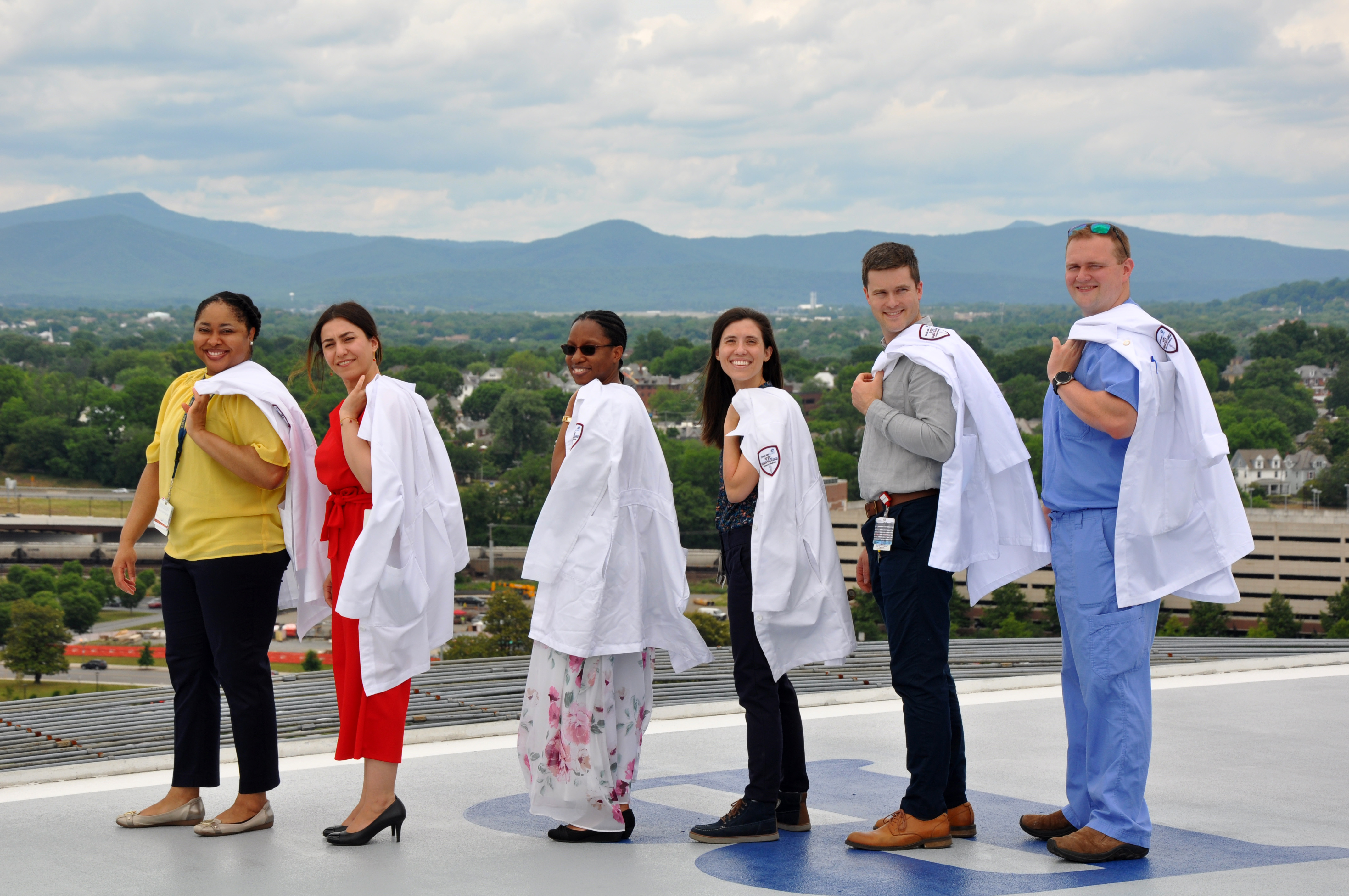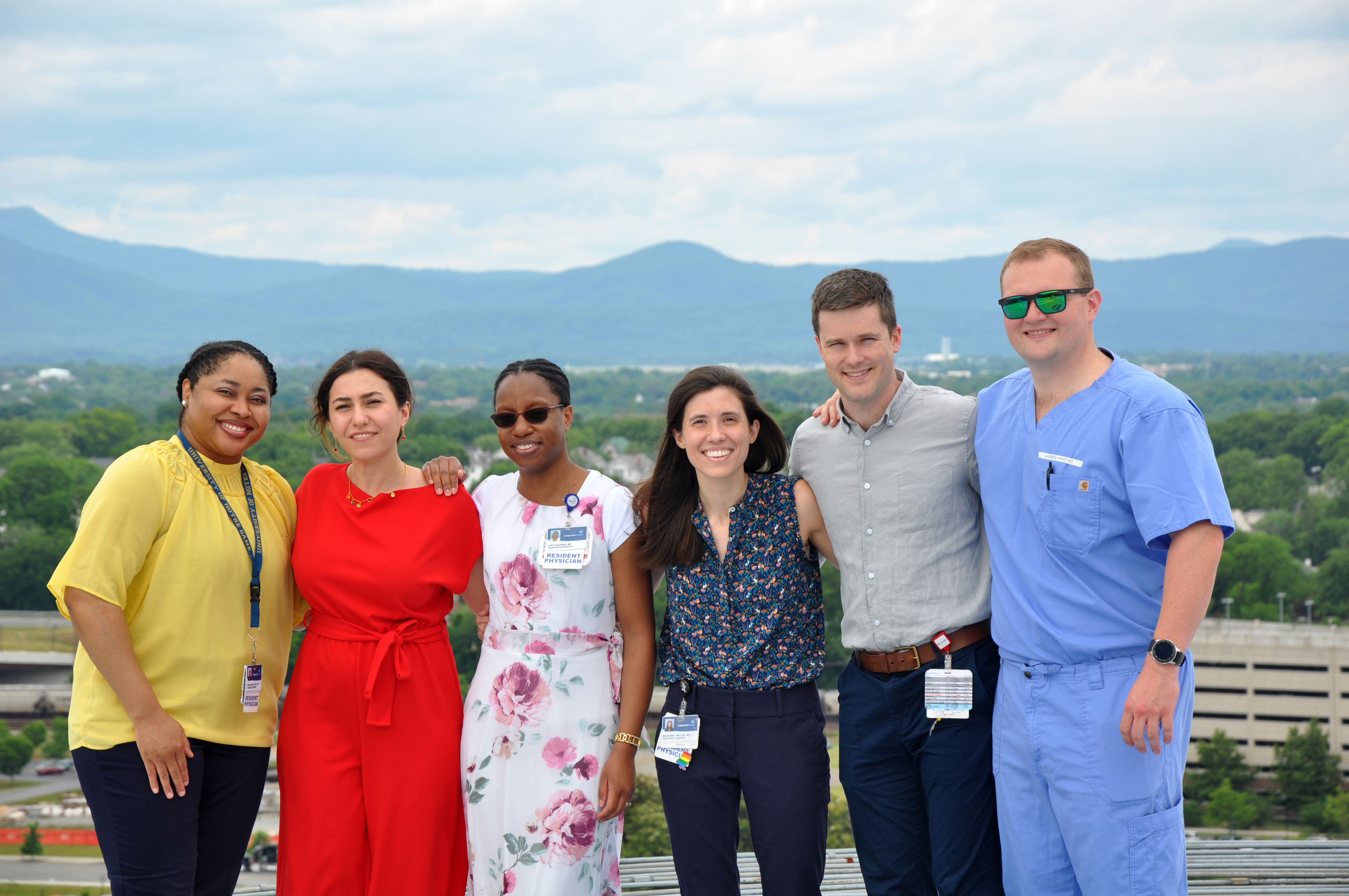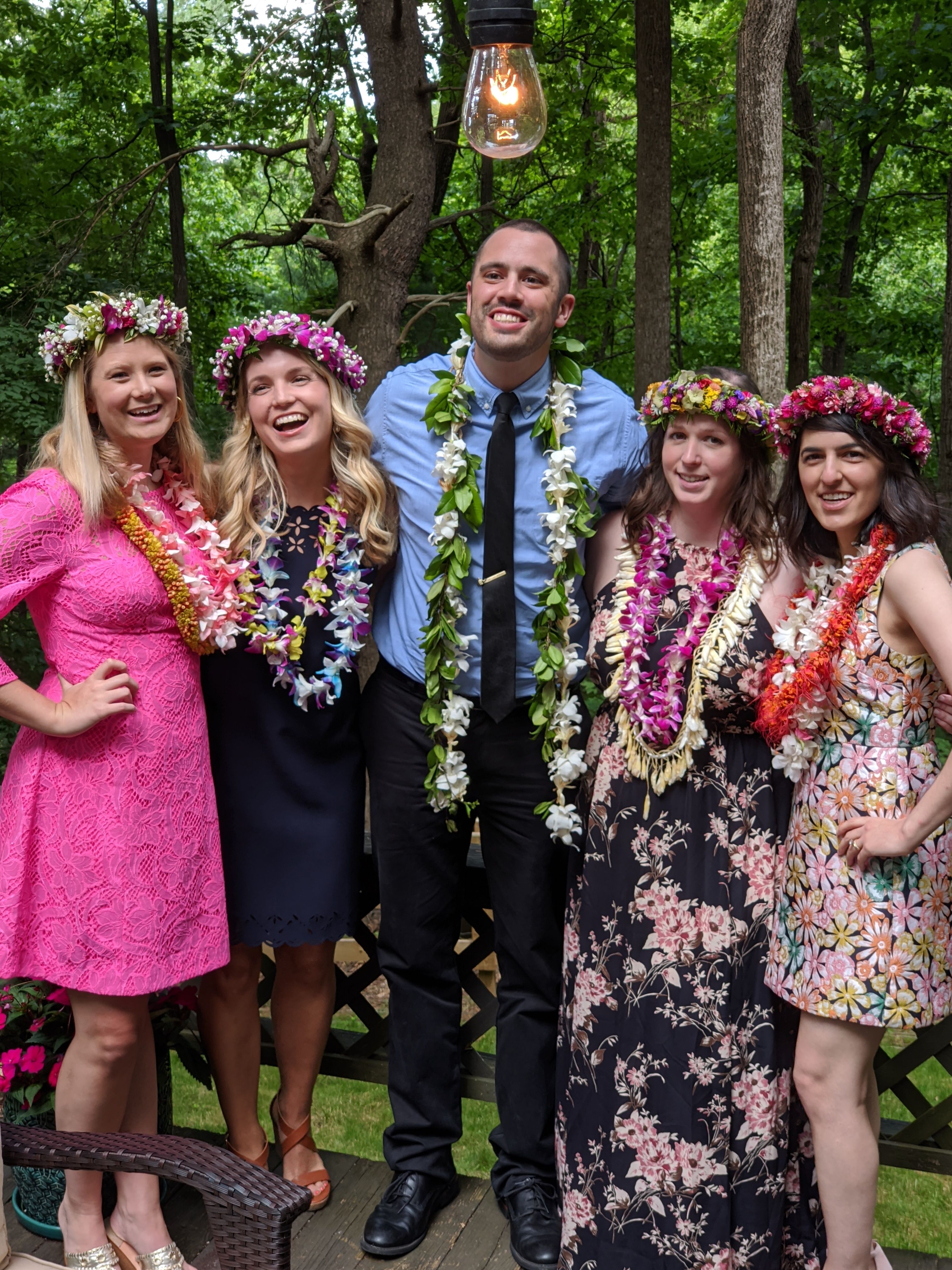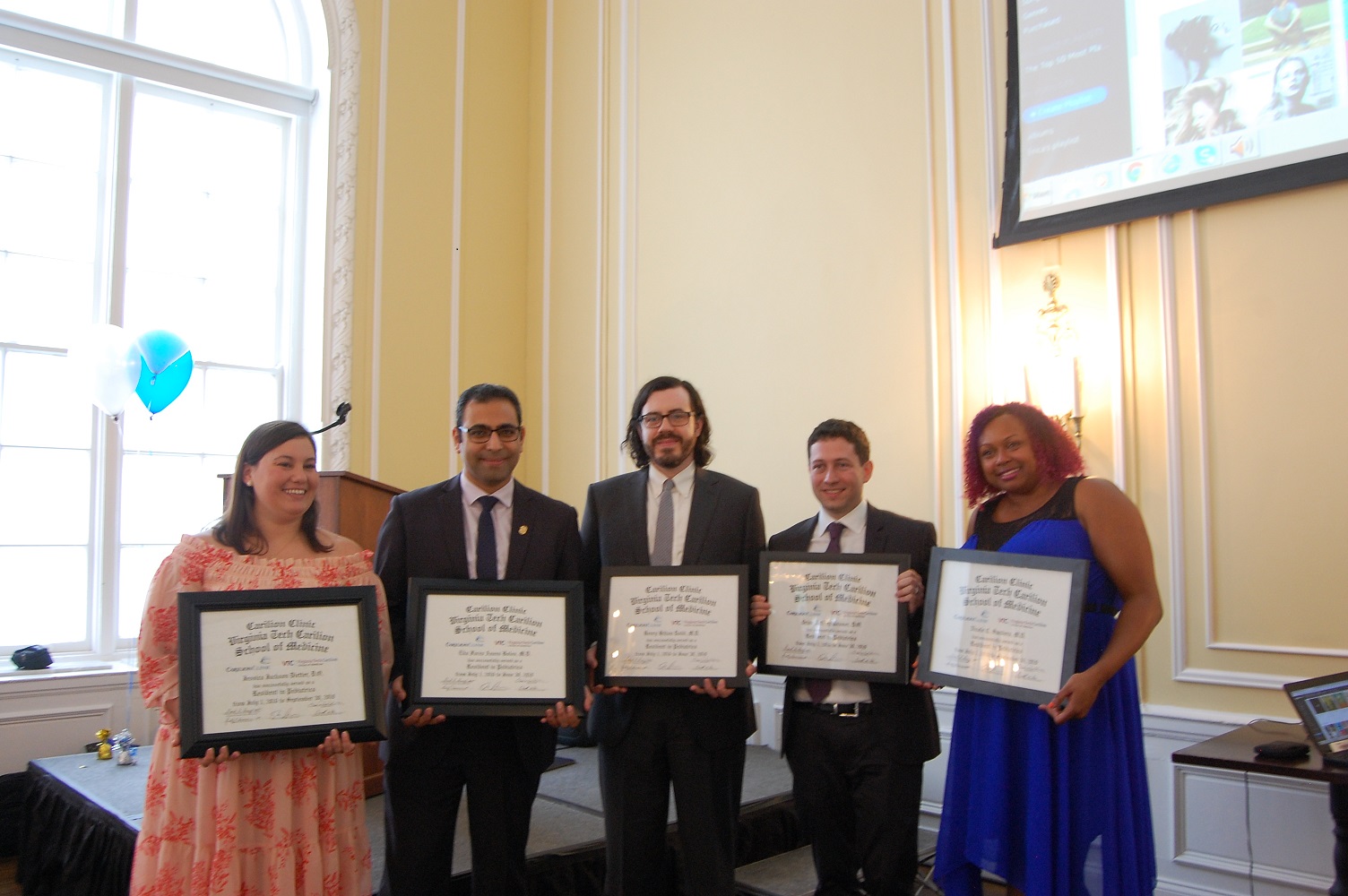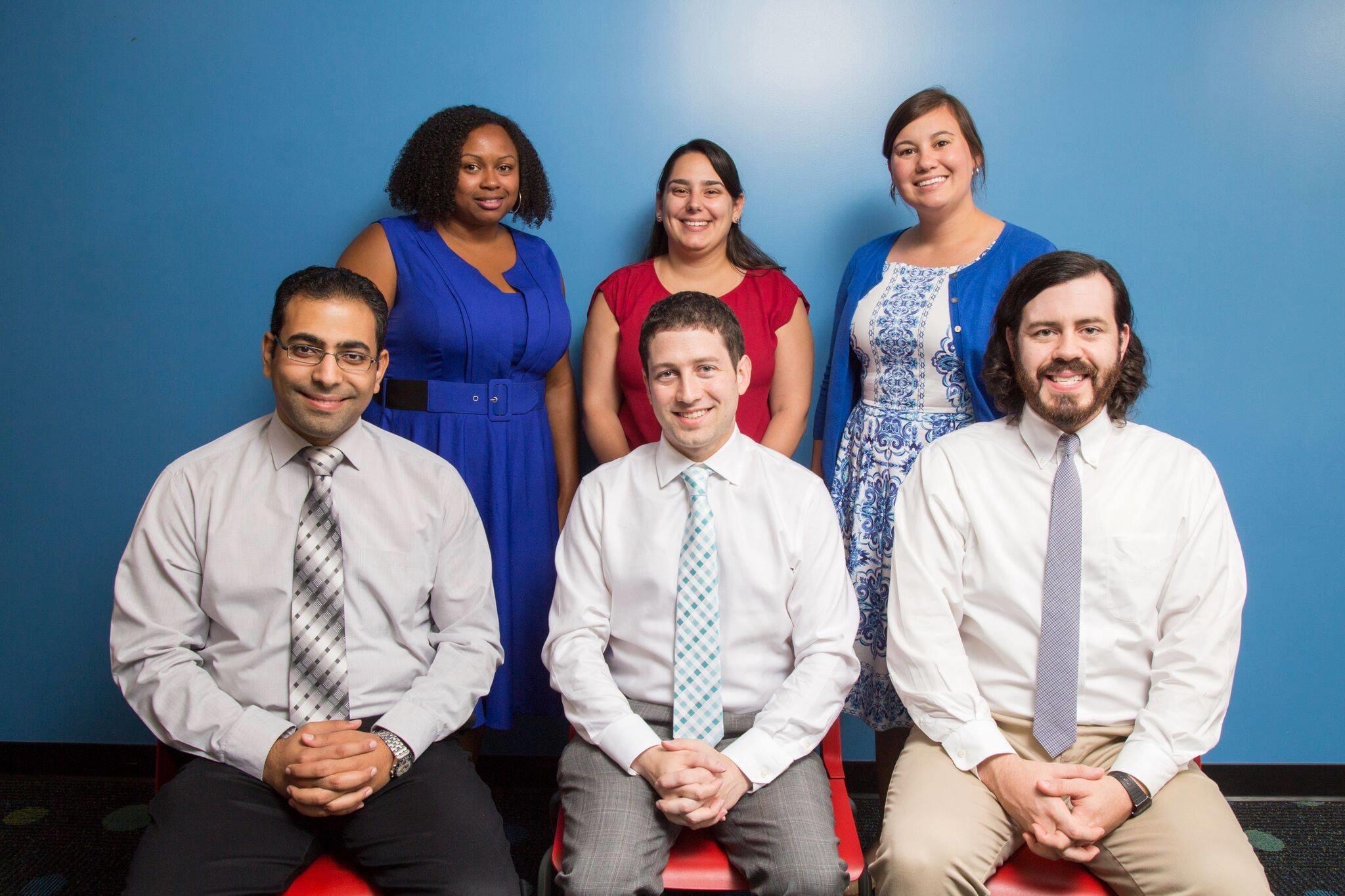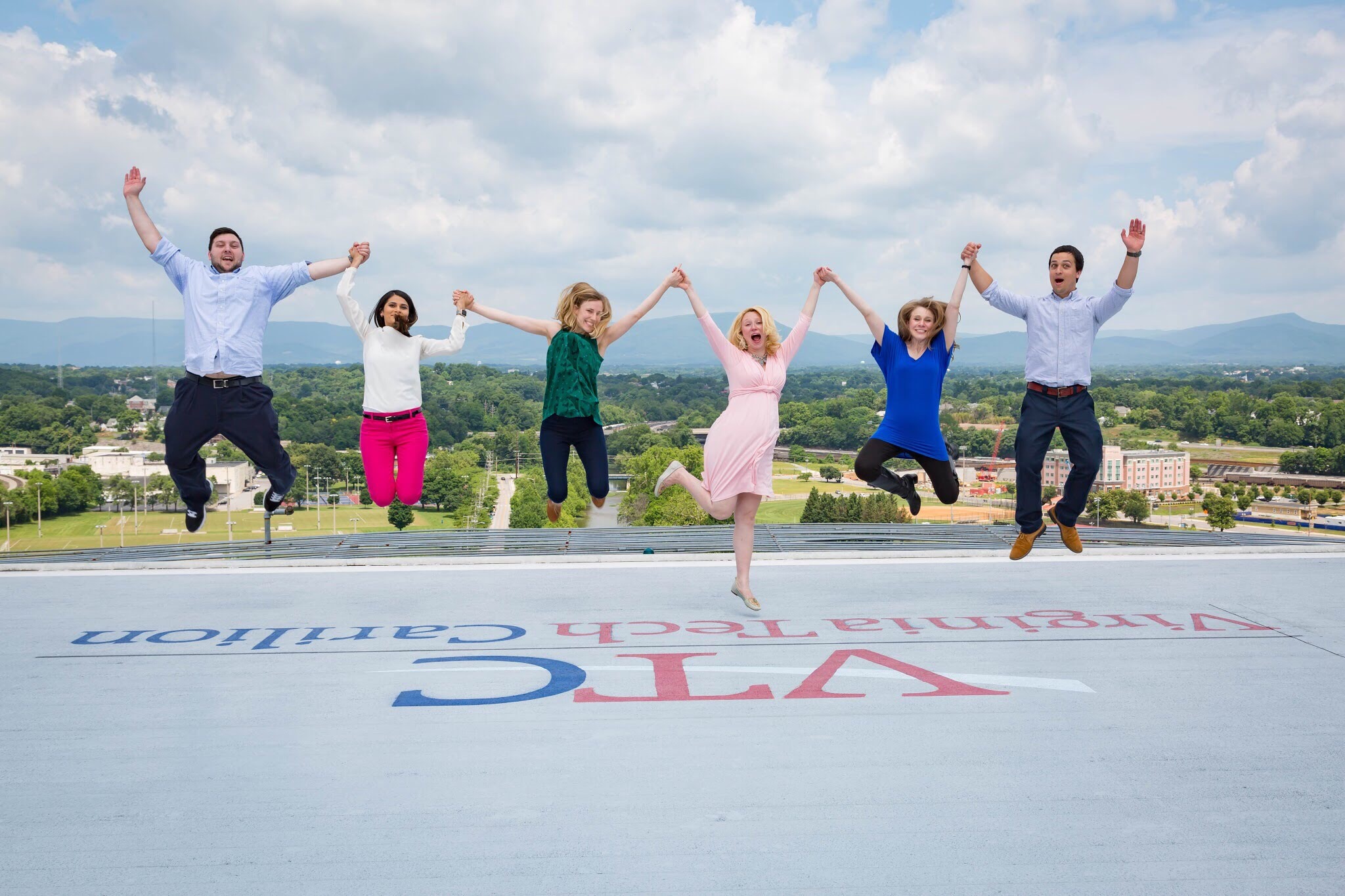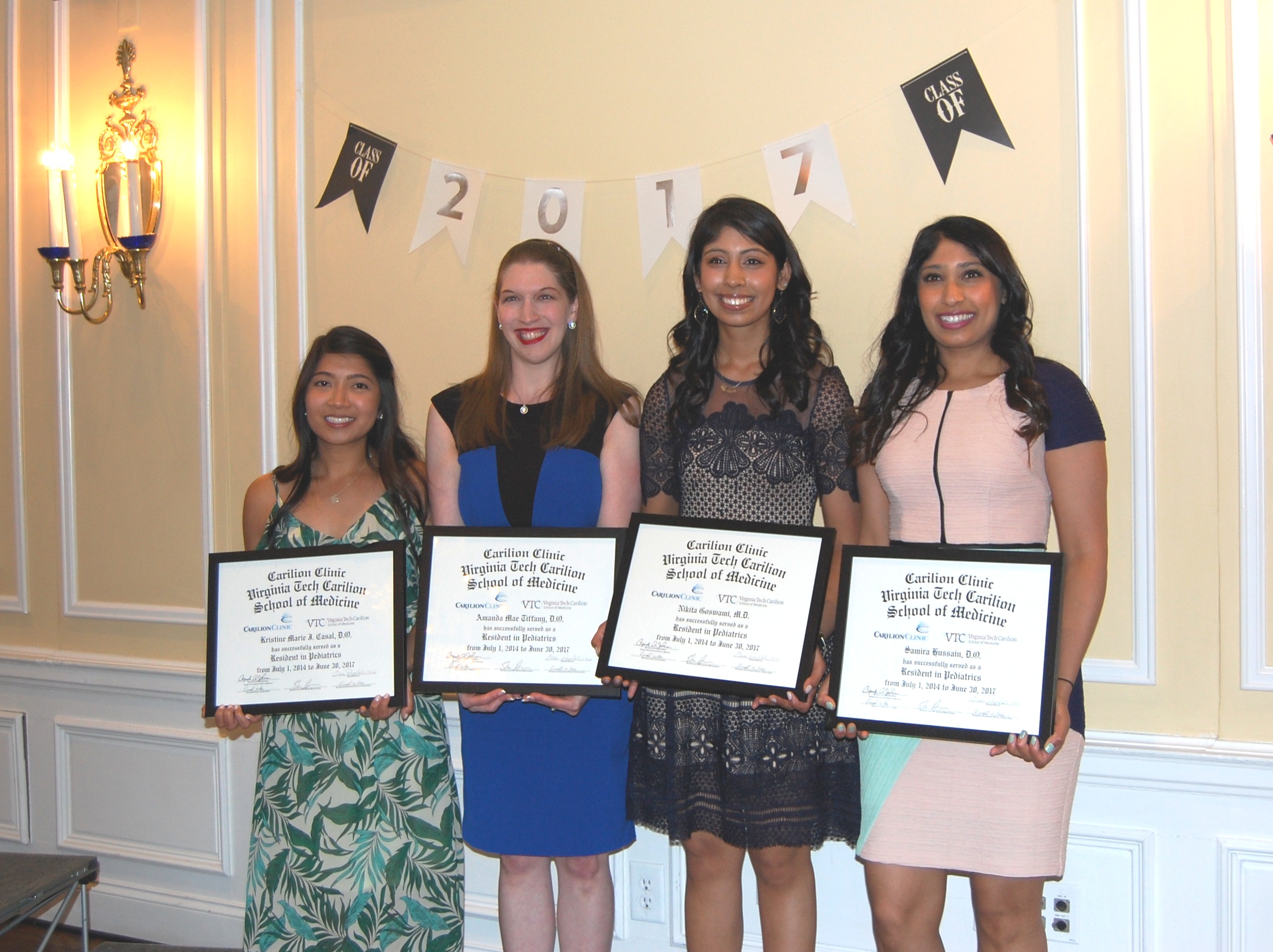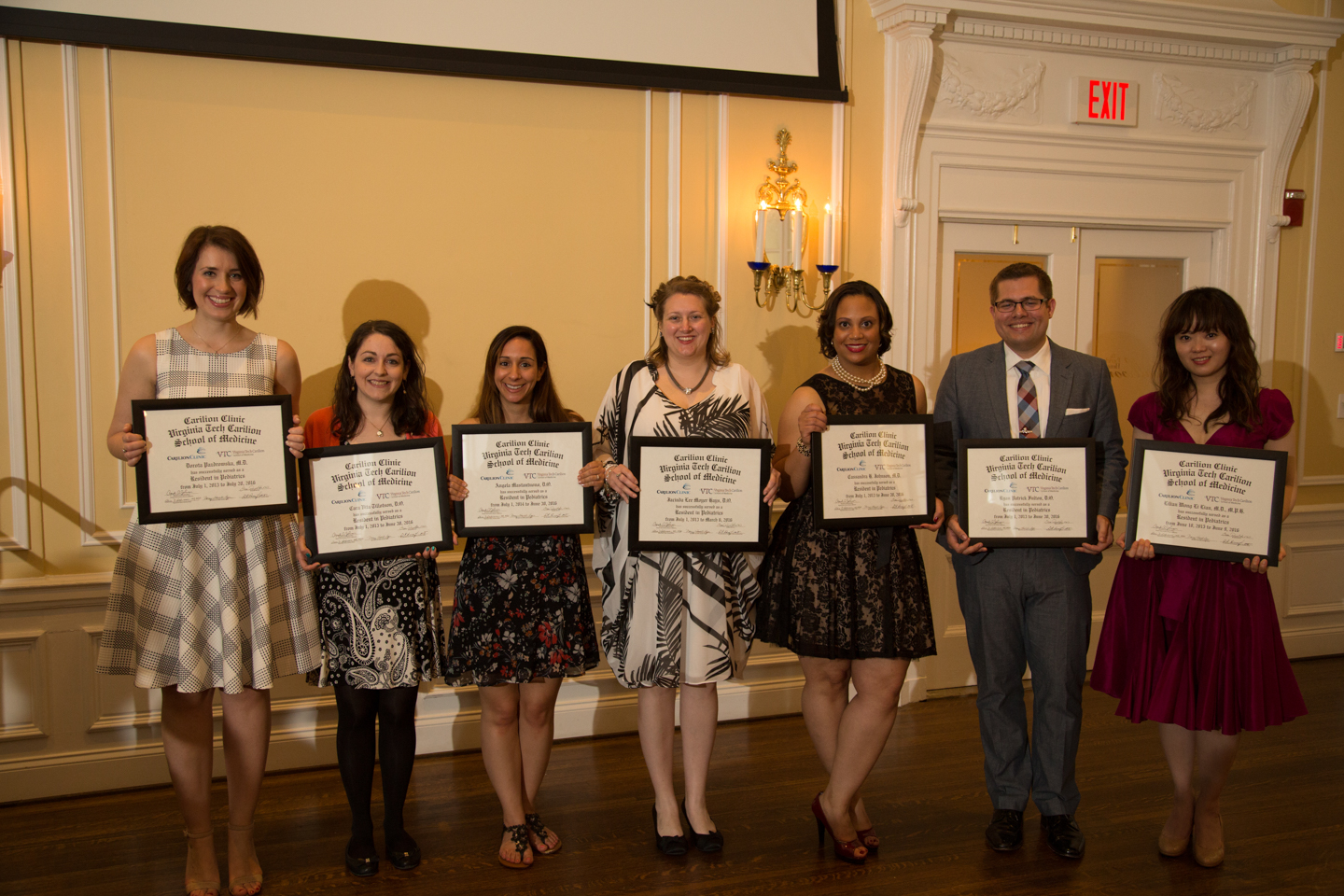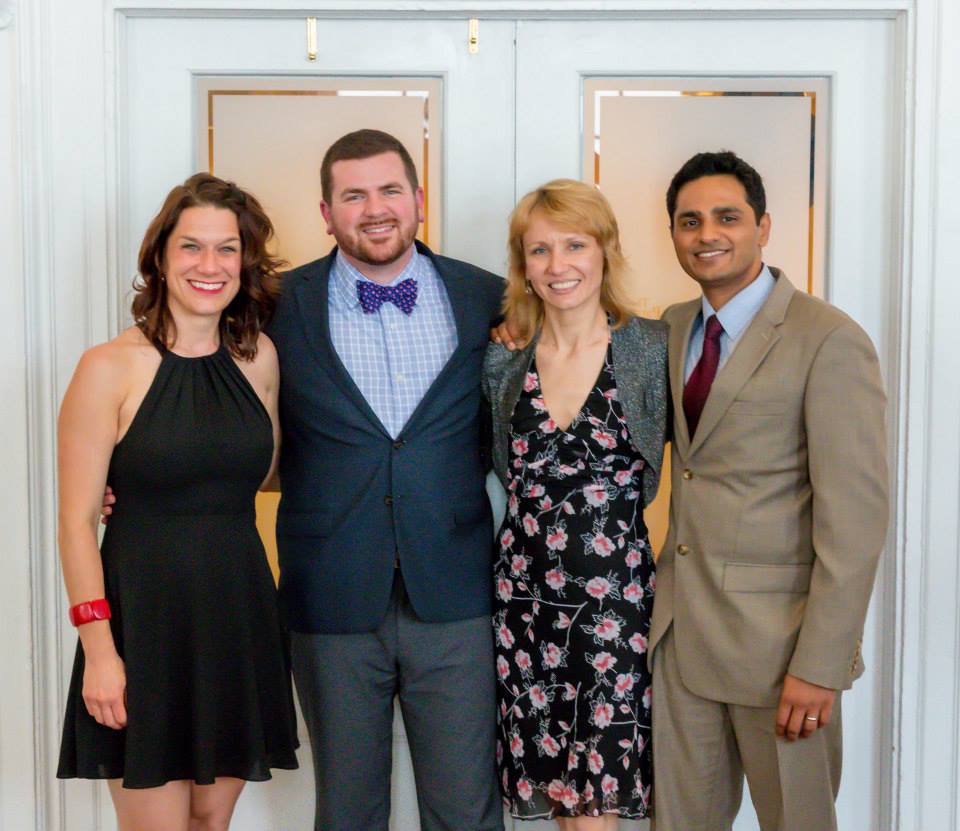 Procedural Exposure
As a program that operates without fellows, our residents have ample opportunities to be hands-on in performing procedures on their patients. Residents also utilize the Carilion Clinic Center for Simulation, Research and Patient Safety (SIM Lab), an 11,000-square-foot training facility that includes a birthing suite and neonate care area, single patient room, operating room, trauma bay, debriefing rooms, classrooms and clinical skills lab. Prior to graduation, pediatric residents are required to obtain competency in the following procedures: 
Bag mask ventilation
Bladder catheterization
Circumcision (may opt out to observe only)
Delivery room resuscitation
Foreign body removal
Incision and drainage of superficial abscesses
Immunizations
IV line placement
Intubation of neonates
Laceration repair
Lumbar puncture
Reduction of simple dislocations
Splinting of fractures
Umbilical artery/vein catheterization