Is Fellowship Accredited
Off
Hero Image Categories
Building
Hero Image Selection
Option 3
Summary
Residents will train in Carilion Clinic's Department of Psychiatry and Behavioral Medicine, which offers group and individualized treatment in outpatient and inpatient settings in the Roanoke and New River Valleys. We have been ACGME accredited since 1991.
About the Residency or Fellowship
Virginia Tech Carilion Partnership
Residents have the opportunity to work closely with medical students from the Virginia Tech Carilion School of Medicine.
Mission Goals Strengths
Our mission is to advance the mental and physical health of our communities. Our goal is to train residents who will demonstrate clinical excellence through the dedicated integration of research, education, discovery and recovery.
Message From Leadership
The Department of Psychiatry and Behavioral Medicine at Carilion Clinic and the Virginia Tech Carilion School of Medicine (VTCSOM) is helping to build a future vision of psychiatry. As an integral part of Carilion Clinic, which serves nearly 1 million Virginians including in rural western Virginia, the Department of Psychiatry and Behavioral Medicine is transforming the way care is conceived of and delivered. We reach out to our communities through our tele-psychiatry program via emergency psychiatry, inpatient psychiatry, ambulatory care, consultation and tele-therapy. Our faculty, trainees and staff provide care in schools and universities, community clinics and in public-sector settings.
As we work with VTCSOM and the Fralin Biomedical Research Institute at VTC, our clinical and research faculty and learners are building a coherent, measurement-based approach to care delivery that supports a platform of patient-centered research. Through our divisions of Child and Adolescent Psychiatry, Adult and Geriatric Psychiatry, we target each developmental stage of life, from infancy through advanced maturity. We work to integrate our services into specialty clinics and primary care as well as with community-based agencies. 
We are growing specialty clinics within psychiatry that focus on developmental stages and on severe major syndromes that encompass mental illness and substance use disorders. We work in an interdisciplinary environment while learning and providing care, and in the conduct of cutting-edge research. Our culture values collaboration, creativity and hard work, but also values a work/life balance. Our clinicians, educators, researchers and learners are each valued members of a department working to create the future of psychiatry. 
Our residency program is focused on training and mentoring the next generation of scholarly clinicians: psychiatrists well versed in clinical neuroscience and psychotherapy; able to collaboratively participate in bringing state-of-the art care to our patients; comfortable in learning and teaching environments; and able to successfully transition into subspecialty training or assume leadership roles in academic, public and private settings on graduation.
Our program is small enough that each resident becomes part of our family, nurtured and supported. It is also large enough to provide a broad and solid training experience in academically grounded psychiatry. Interested? Please contact us. You will find a warm welcome and an opportunity to grow an extraordinary career.
Robert L. Trestman, Ph.D., M.D.
Professor and Chair of Psychiatry and Behavioral Medicine
Virginia Tech Carilion School of Medicine and Carilion Clinic
Carilion Clinic Department of Psychiatry and Behavioral Medicine
Message From Leadership Image
Dept Spec Program Size
Over 35 faculty members across all clinical sites
ACGME-approved for a total of 32 resident positions
Dept Spec Population Served
We serve a diverse population of over 600,000 patients across the region
Dept Spec Teaching Opportunities
Our residents work alongside residents from other specialties, including Emergency Medicine, Internal Medicine, Family Medicine and OB/GYN, among others
They also work with medical, nursing and physician assistant students from VTCSOM, UVA, the Edward Via College of Osteopathic Medicine and Radford University Carilion (formerly Jefferson College of Health Sciences)
Dept Spec Volunteer Opportunities
Rescue Mission
Bradley Free Clinic
Dept Spec Locations
Carilion Roanoke Memorial Hospital - A 703-bed, Level 1 Trauma Center with inpatient and outpatient services
Salem VA Medical Center- A tertiary referral mental health center treating substance abuse and post-traumatic stress disorder
Multiple community sites, including Bradley Free Clinic and the Rescue Mission
Catawba Hospital, part of the Virginia public health system serving chronically mentally ill adults and geriatric patients
Dept Spec Fellowships
Child and Adolescent Psychiatry
Geriatric Psychiatry
Addiction Medicine
Overview
We offer residents high-quality experiences in a variety of settings, including Carilion Roanoke Memorial Hospital, one of the largest hospitals in the state. Our residents also rotate at the Salem Veteran Affairs Medical Center and other community sites. We are known as a leader among psychiatry residency programs for our comprehensive training in all aspects of psychiatry. Our residents are extensively trained in inpatient, outpatient, consultative and community psychiatric care for adults, children and geriatric patients. 
How to Apply
Admission Requirements
Thank you for your interest in the Virginia Tech Carilion School of Medicine (VTCSOM) Psychiatry residency program (Program #4005121267). Each year we have many inquiries about the application and selection process for our residency program. The following information will broadly address the most frequently asked questions that our team encounters:
We usually take eight to 10 psychiatry residents each year.

As with most psychiatry residency programs, our roster includes about half U.S. graduates.

We offer J-1 visas only and consider each case on an individual and limited basis. Legal fees for visas are the responsibility of the candidate.

Applying through ERAS is our preferred application method. We review each ERAS application as it comes through. The deadline to apply is Dec. 31 each year.

We consider a combination of factors in each application:

USMLE and/or COMLEX scores* and first-time passes

Professional experience and interests

Letters of recommendation

For IMGs - U.S. experience and letters are preferred

Personal statements - graduation within the last 5 years preferred

We do not offer observerships, internships, externships or research fellowships.

Applicants invited for interview are evaluated on the basis of interpersonal skill, life experiences and other personal characteristics or background.
*Factors such as outstanding recommendations or experiences may override lower USMLE/COMLEX scores. The average recommended score should be greater than or equal to 220.
We have posted all information regarding our Psychiatry residency training program application requirements and process on our program website. Unfortunately, due to the volume of inquiries, we cannot personally respond to your requests for this information via any other source. We look forward to reviewing your ERAS application.
Contact
For more information on the VTCSOM Psychiatry residency program, please feel free to contact us:
Michael Greenage, D.O.
Director of Residency Training and Education
2017 S. Jefferson St.
Roanoke, VA 24014
Fax: 540-985-9679
Mamta Sapra, M.D.
Associate Director of Residency Training and Education
2017 S. Jefferson St.
Roanoke, VA 24014
Fax: 540-985-9679
Melissa Adams, B.S.
Carilion Clinic Psychiatry Residency Program Manager
2017 S. Jefferson St.
Roanoke, VA 24014
Fax: 540-985-9679
 
Curriculum
Curriculum
First-Year Residents
The first year is based on the belief that an excellent psychiatrist must first be an excellent physician. The resident's rotations will include:
Medicine: four months (one month emergency medicine and three months primary care medicine)

Neurology: two months (inpatient and outpatient)

Adult inpatient Psychiatry: six months (divided between emergency psychiatry and acute inpatient psychiatry)

Direct supervision of acute psychiatric assessments
By the end of the first year, residents will have foundational knowledge in medicine and neurology, methods of psychiatric assessment, an interdisciplinary approach and different methods of psychiatric treatment.
Second-Year Residents
Second-year residents will receive training in diverse inpatient and outpatient settings. These will include adult, geriatric, child and adolescent and consultation liaison services. Second-year residents also participate in night float, where they cover the inpatient units on call, overnight.
By the end of this year, the resident will have achieved competency in thorough psychiatric assessments, multimodal treatment of the seriously mentally ill across the lifespan and a comprehensive understanding of the biopsychosocial approach to mental illnesses. Residents are encouraged to strengthen teamwork abilities and assume leadership roles during their inpatient rotations.
Third-Year Residents
The third year is entirely devoted to ambulatory psychiatric care. Our residents attain mastery of skills of psychiatric assessments and treatments in complex outpatient settings and work with a diverse patient population, including community, veterans, college students and homeless persons.
Residents have opportunities to work in different specialty clinics, including geriatrics, OB/GYN and addictions. Experience is provided in various treatment modalities, including medication management, case management, short- and long-term psychotherapies and manualized group therapy. Residents are also assigned a psychotherapy supervisor to meet with weekly.
During this year, residents are given more responsibility and autonomy, although a faculty member remains available at all times for trainee supervision.
Outpatient clinic assignments can be individually tailored to meet the career goals of residents.
Fourth-Year Residents
Senior residents have a diversified experience in fourth year that covers both essential skills that will enable them to transition to independent practice and the opportunity to select educational experiences to best complete their training. Fourth-year residents will complete two sub-attending months on the inpatient units, where they will run the team and treatment of acute mentally ill patients. They will receive exposure to forensic psychiatry during this time as well. Additionally, there are blocks of electives where a resident can choose or design rotational experiences they think will best round out their education.
Didactics in the fourth year are tailored towards transition to practice concepts, such as practice management, contracts, public mental health, burnout and wellness and others.
Didactic Sessions
Didactics occur across a variety of settings. Didactic learning is provided for each class individually, and is structured to mirror where our learners are educationally.
The PGY-1 year consists largely of foundational materials of psychiatry, neurology and research.
PGY-2 didactics dive deeper into disease processes and expand on treatment methodologies.
The PGY-3 curriculum is devoted largely to psychotherapeutic modalities and pairs with our residents doing the majority of their psychotherapy training during this year.
PGY-4 education is largely given to concepts related to transition to practice, where we teach our senior residents about topics such as contracts, practice management, maintenance of certification, etc.
We use a variety of teaching styles, including lecture, case discussion, seminars and case presentation. Our program holds grand rounds monthly and case conferences weekly.
Residency Life
Gallery Images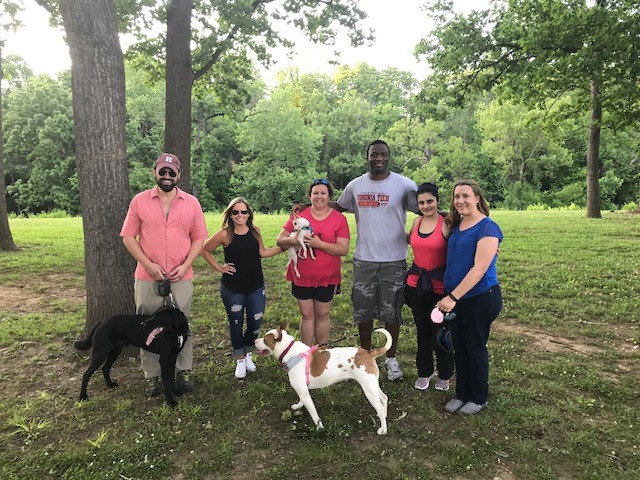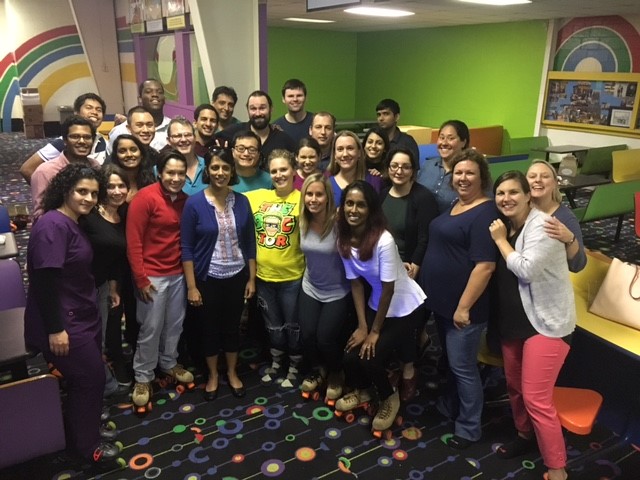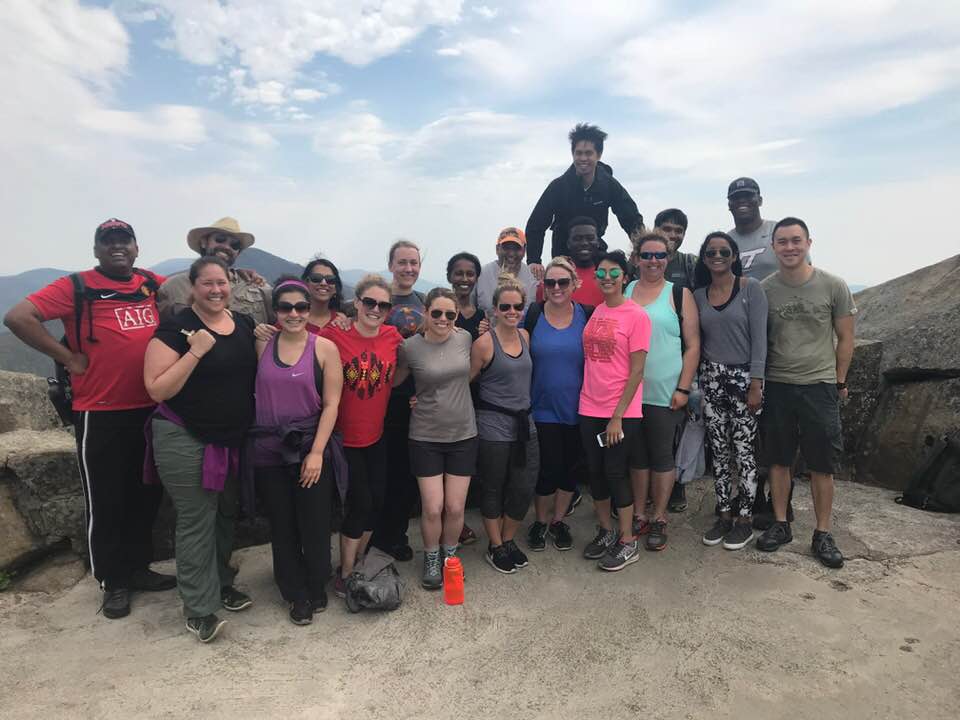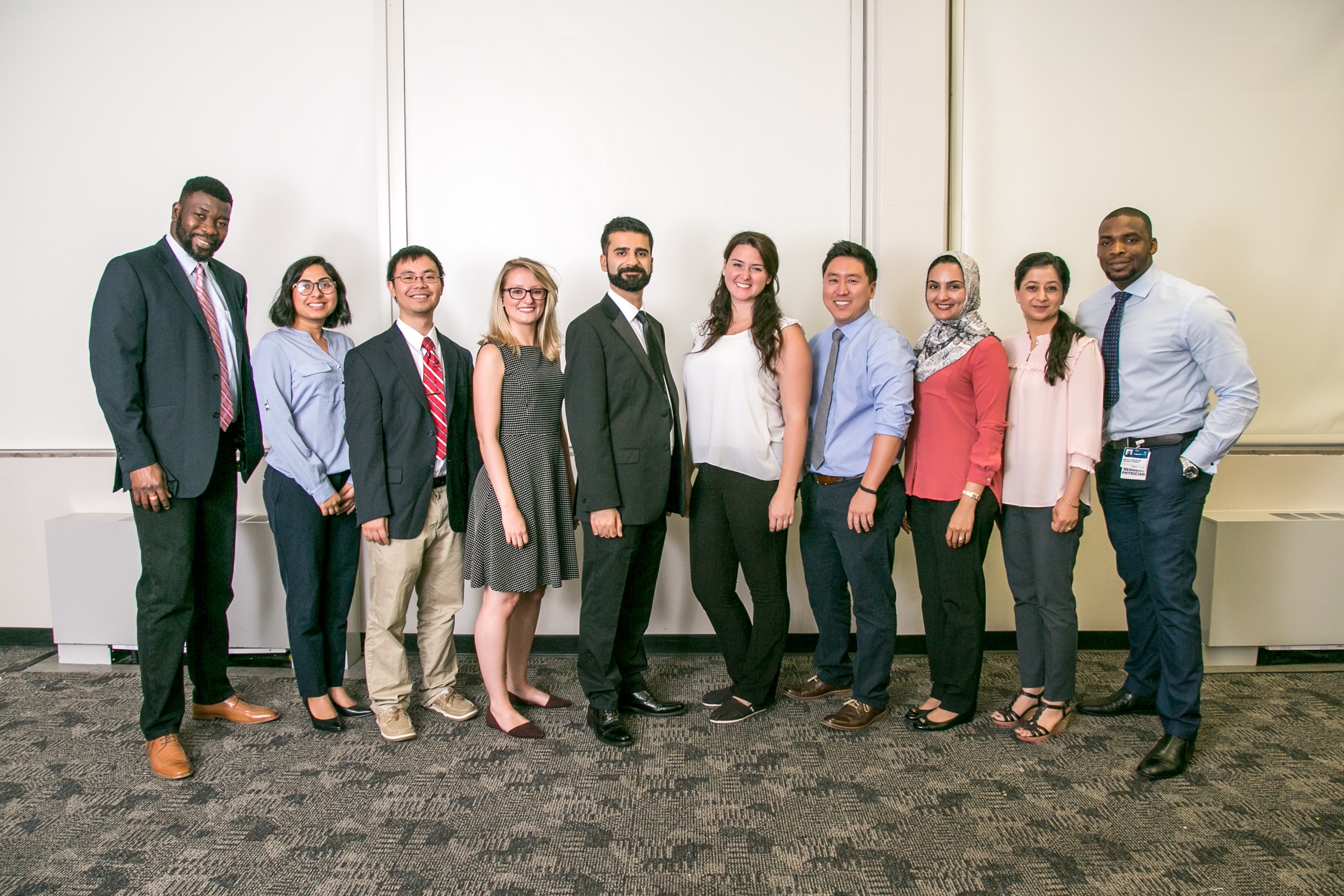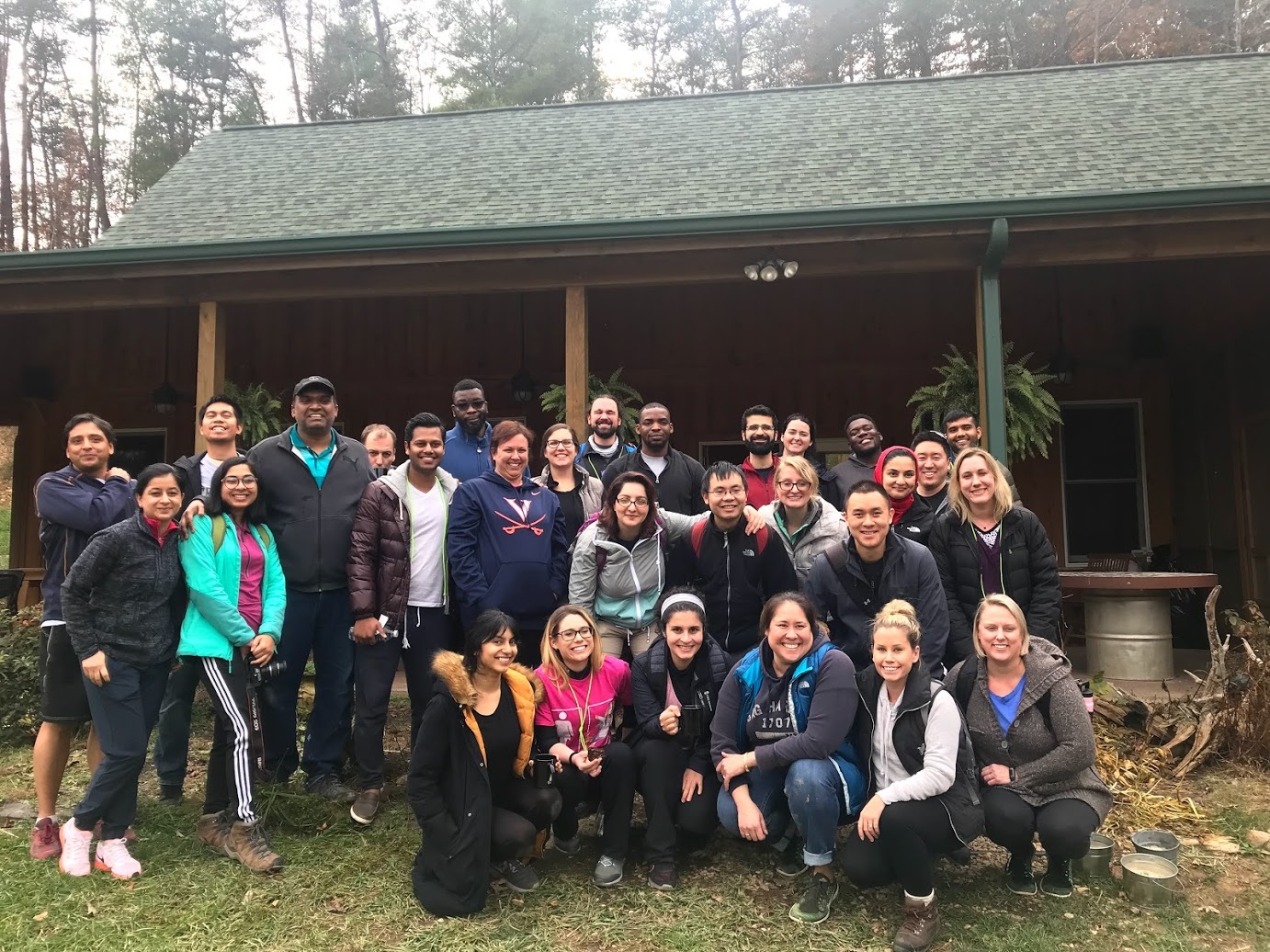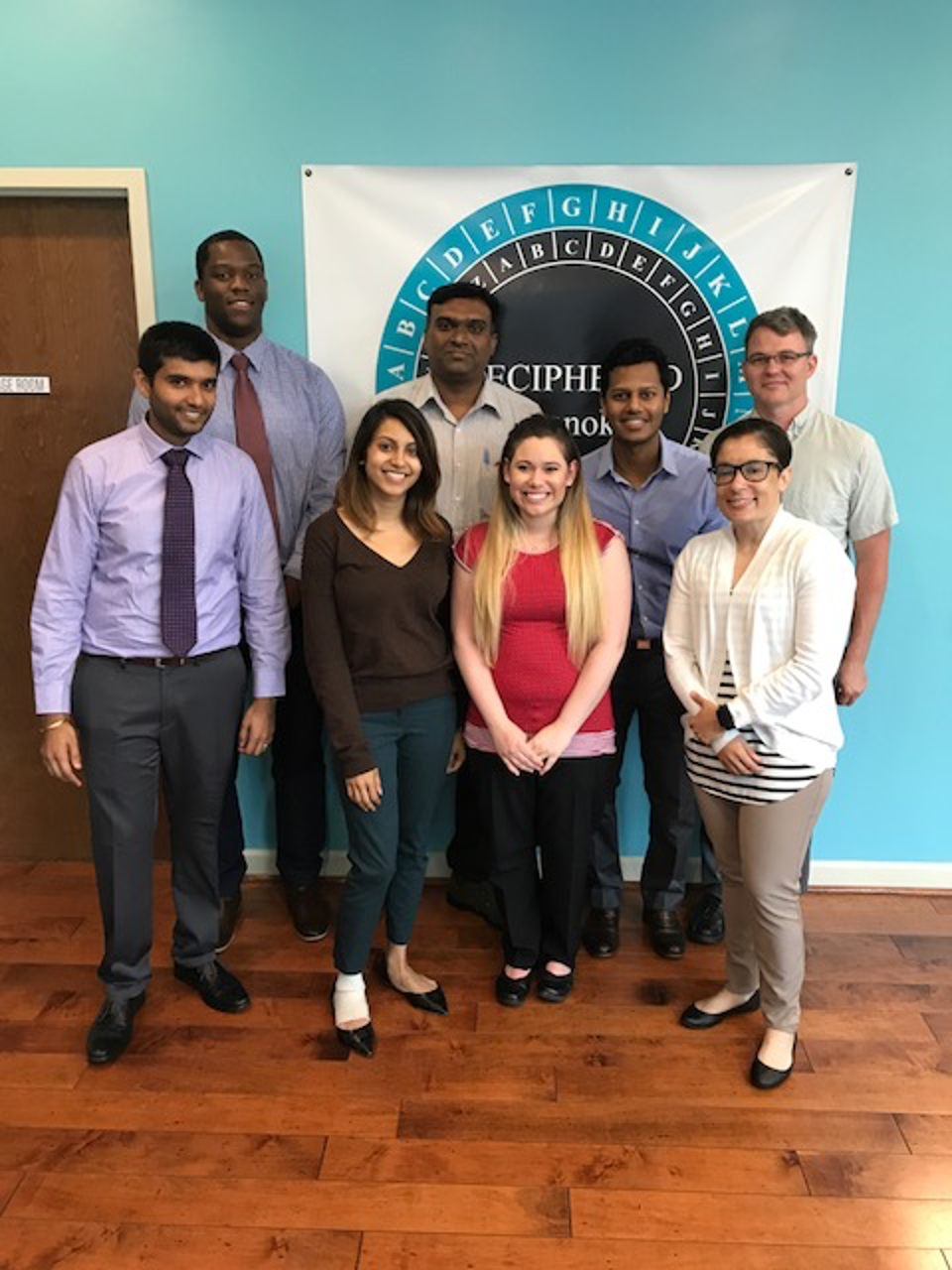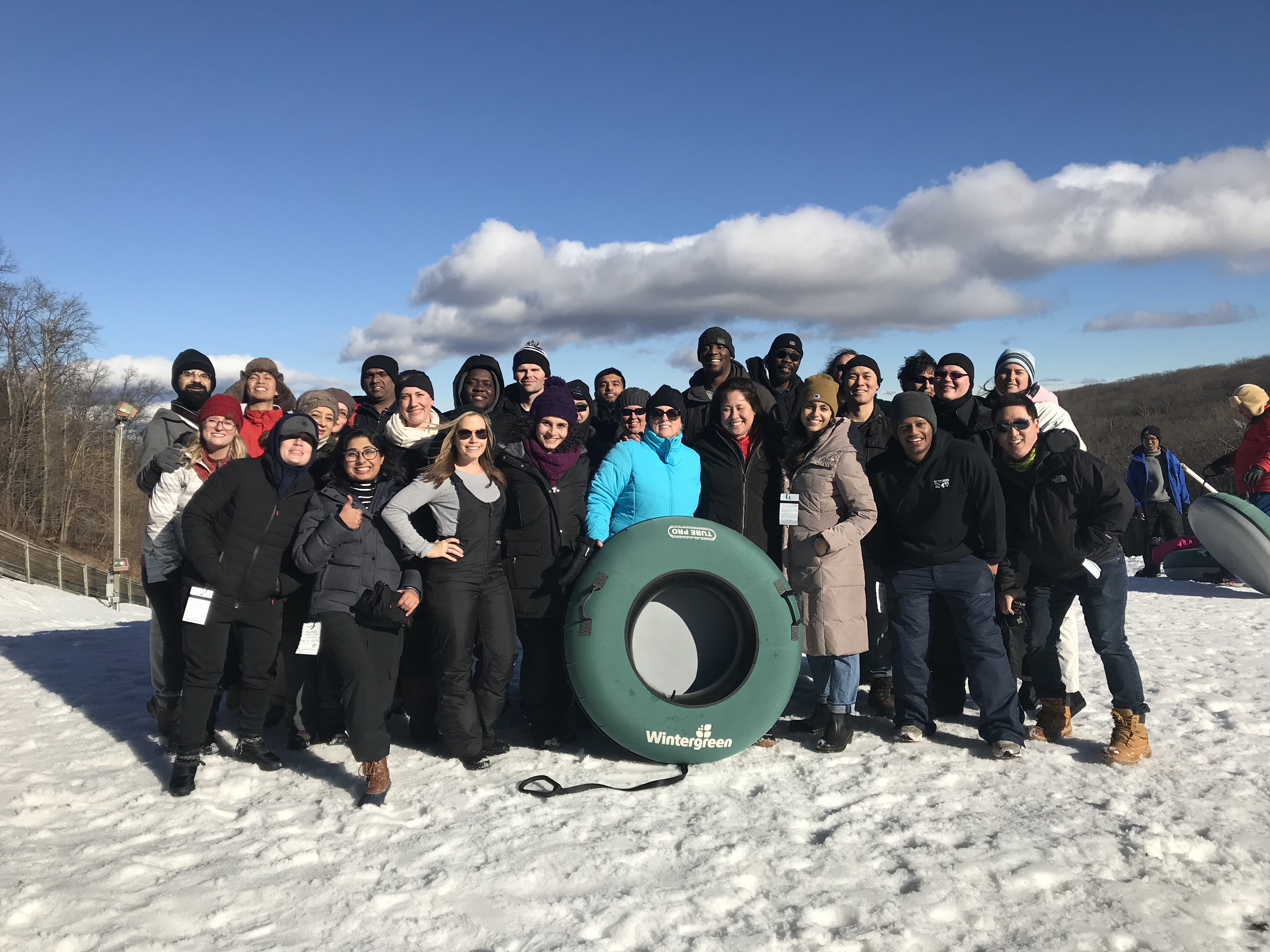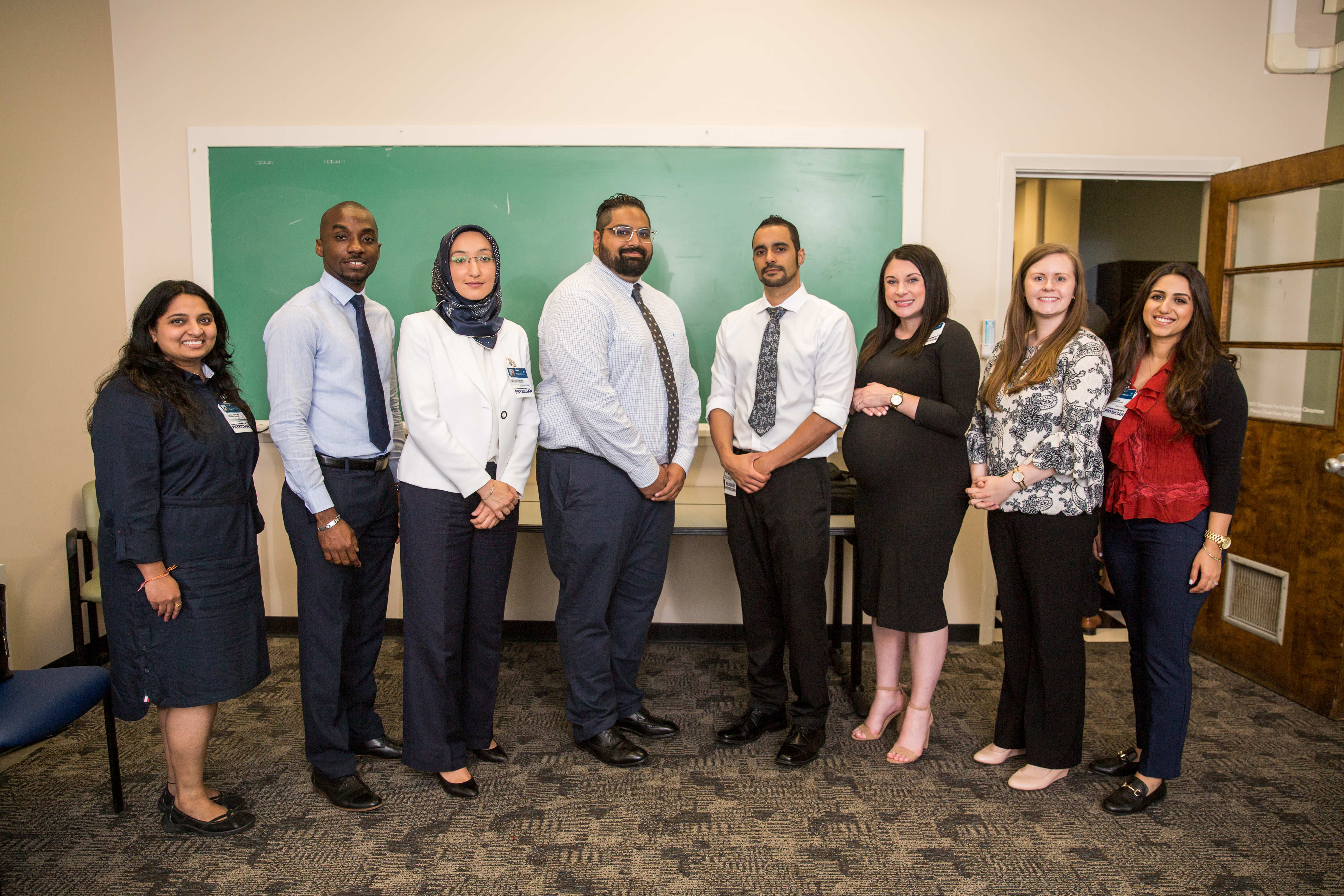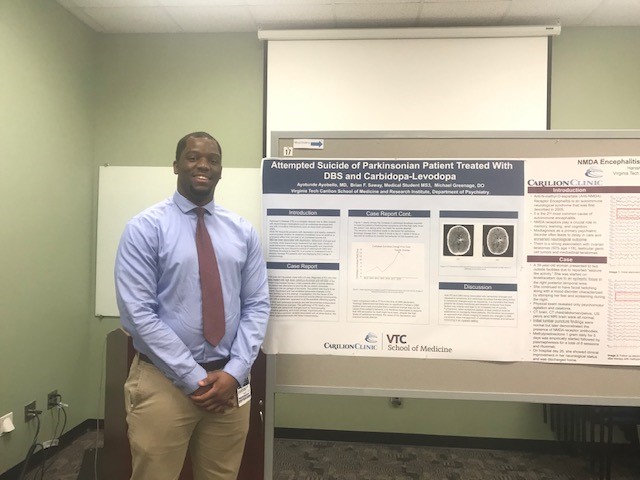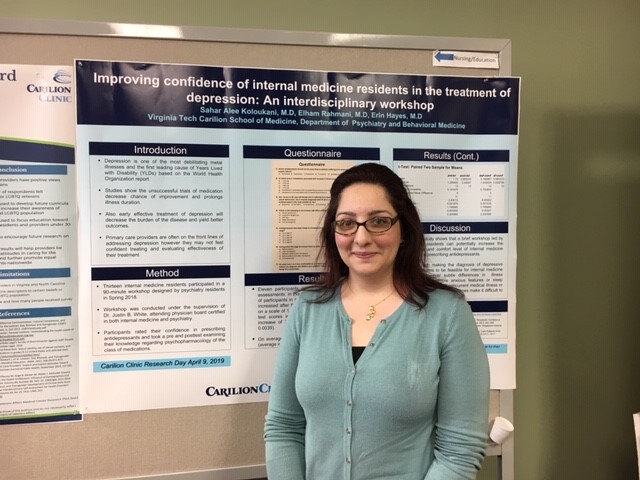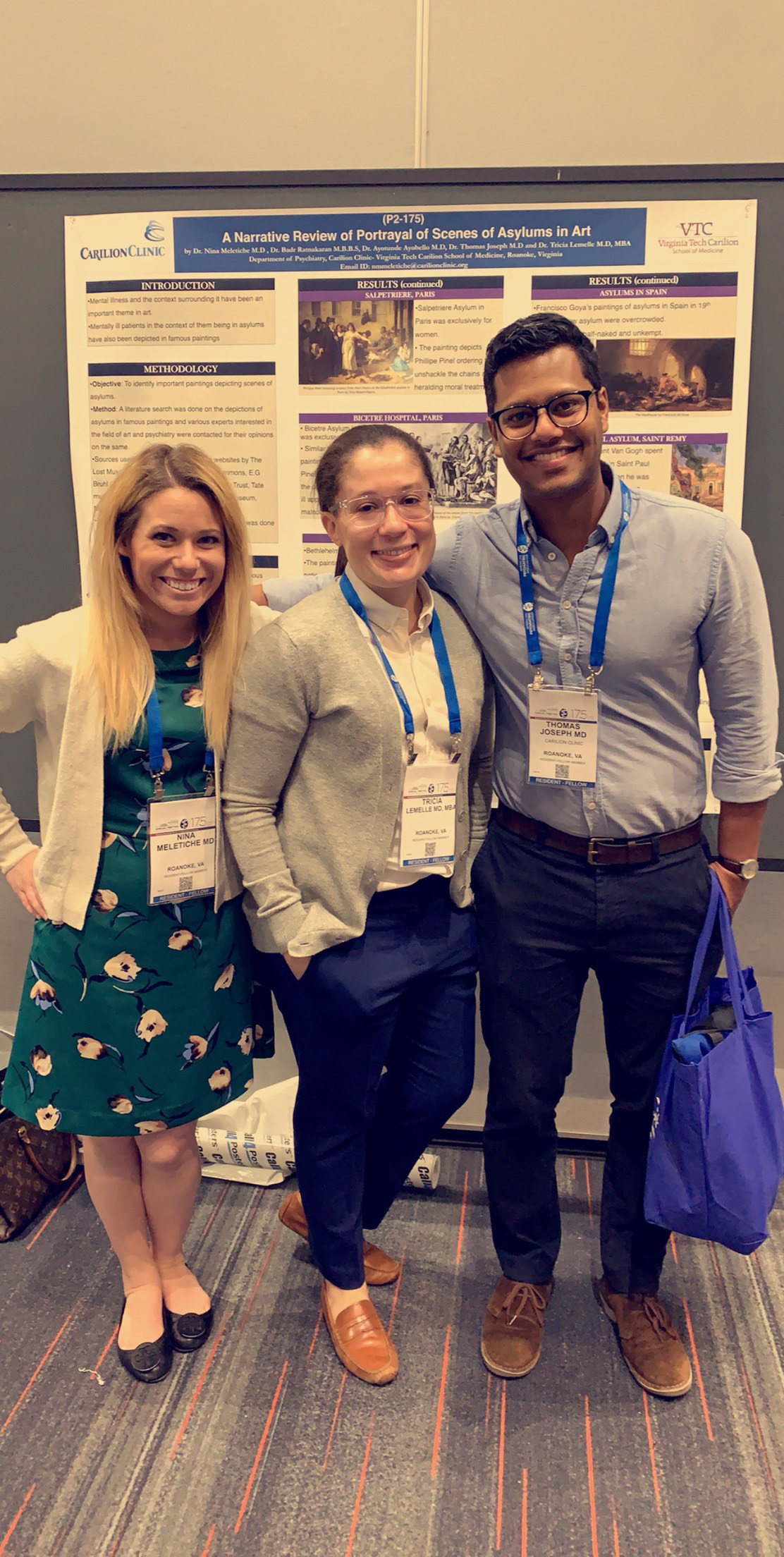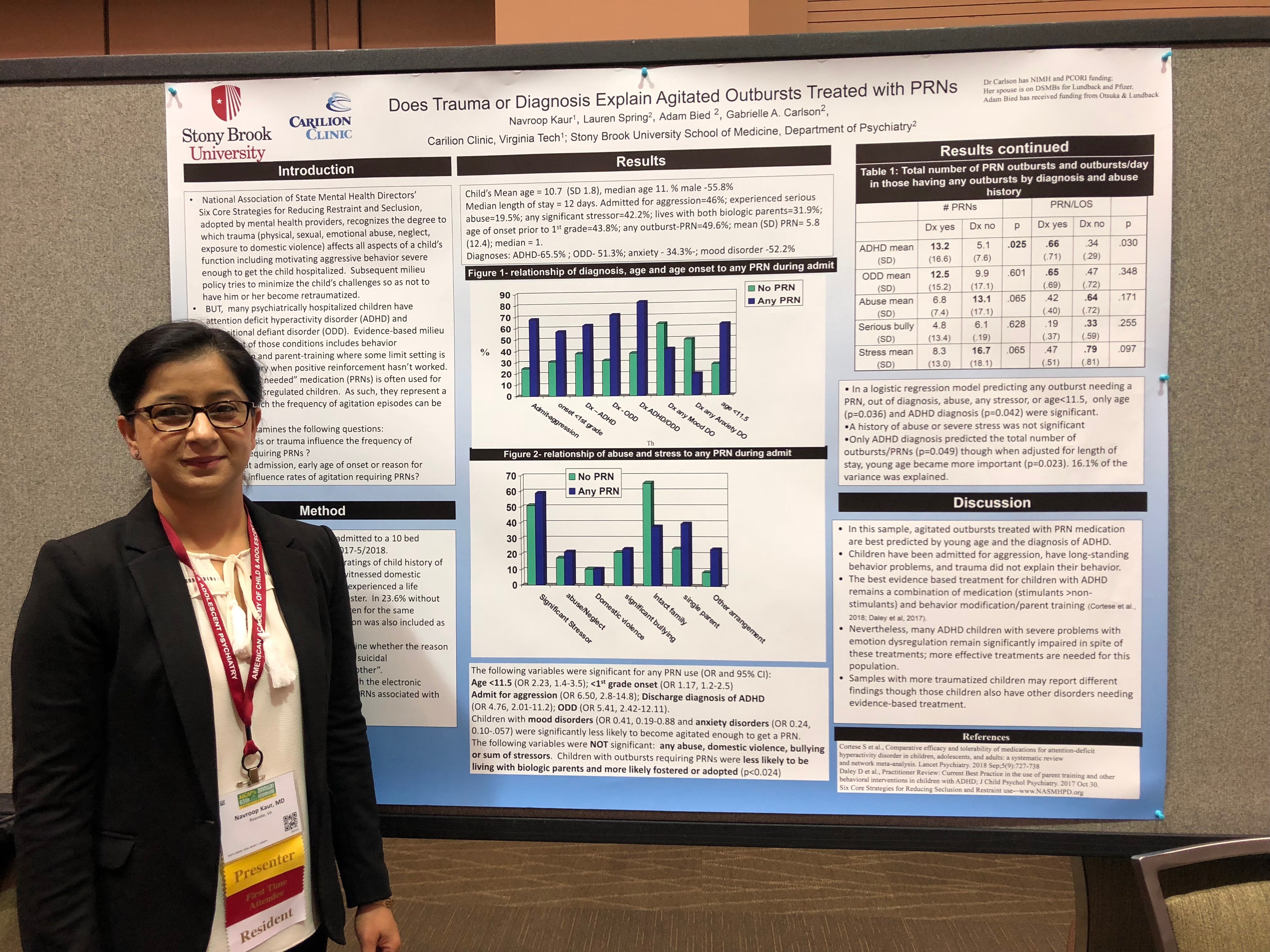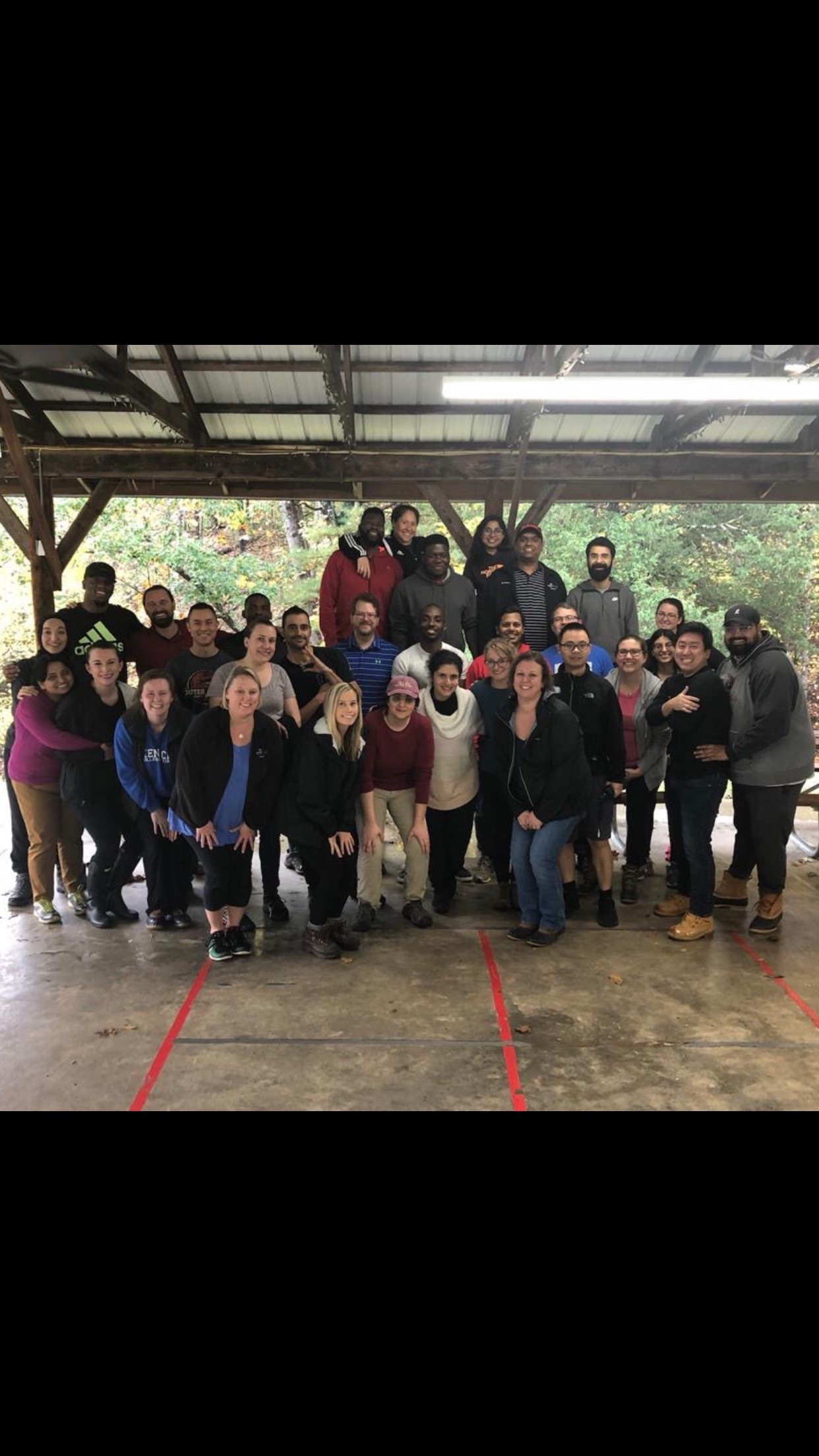 Residency Life Intro
My name is Ryan Ritch; I'm one of the PGY-2s here at Carilion. Training here in Roanoke, we're lucky to have a variety of rotation sites we spend time at: Carilion (private non-profit), the Salem VA (government) and Catawba State Hospital (state). Not only does this keep the morning commute from getting too monotonous, we also get the chance to work in a variety of different settings and cultures. One of my favorite rotations as in intern was at Catawba State Hospital. Many of the patients at Catawba struggle with serious mental illnesses, so rotating there is a wonderful opportunity to refine our psychopharmacology skills as well as to learn the course of treatment of serious psychopathologies.
Let me walk you through a typical day at Catawba on this rotation. Morning report is at 8:30 a.m. All the adult teams have morning report together, so in addition to hearing about your patients, you get nursing's perspective on the whole floor. This helps you get a feel for the peers your patients are interacting with that could be affecting their recovery.
From 9 a.m. to 11 a.m. we see new patients and follow-ups. There tend to be fewer admissions at Catawba than Carilion, but the patients are often more severely ill, so we spend a lot of time discussing differential diagnoses and psychopharmacology. Additionally, many patients have personality disorder comorbidities, so it is also a good time to start thinking about psychotherapeutic techniques during your interviews. Finally, some of the patients at Catawba are admitted for forensic reasons, so we get exposure here to the interface between the legal and mental health systems.
Team meeting is at 11 a.m. This is an interdisciplinary meeting among psychiatry, psychology, social work, and nursing. We discuss any patients that are not progressing as well as we would hope as well as plan discharges for our stable patients.
After lunch, my attending and I see any other follow-ups who need management. After this, it's time to finish notes and do any capacity evaluations. Many patients who present to Catawba are ill enough that they don't have the ability to engage in informed consent, so other teams often request an independent physician (me in this case) to evaluate their patient to confirm their lack of capacity.
At 3:30 p.m., a behavioral code is announced over the loudspeakers. Codes are called by nursing when a patient is in danger of becoming a danger to themselves or others. During a code, you often must "think on your feet" about medications to emergently give to patients to help them remain calm and safe.
At 5 p.m. my shift is over. Traffic here is almost never a problem and the Roanoke area has a lot to offer. There's almost always plenty of time after work to study, get some exercise, go out to eat, and spend time with my family.
____________
Hey there! My name is Jessica Farrell and I'm currently in my third year of training with the Carilion Clinic – VTC Psychiatry residency program. That means almost all my clinical work these days is in the clinic providing outpatient care! Exceptions to that would be the days that I'm 'on-call' and providing care in the hospital.
Although every day of the third year of training is spent in clinic (no more 4-week rotations!), things never get boring. Every day throughout the week I have a different clinic, each with its own unique patient population and attending. Some examples of the clinics I have include general adult and child/adolescent psychiatry at the Carilion Behavioral Health Clinic, veteran-focused care at the local Veterans Affairs medical center and caring for the underserved at a free clinic within the city. Most days start at 8 a.m. and wrap-up around 5 p.m. and most holidays are a day off!
When clinic is closed and I'm not working a call shift, you will most likely find me spending time with my family. My toddler and I often take advantage of the many outdoor activities and the beautiful landscapes in the area. One of our favorites is taking a walk on the greenway that follows the Roanoke River and conveniently leads to a local ice cream shop!
For a better idea of what a day in the third year of residency at our program looks like, here is my schedule on Tuesdays:

8 a.m.–12 p.m.:
This is my half-day clinic of child and adolescent psychiatry. I spend the morning usually completing one new intake and a few follow-up visits. There is protected time at the end for supervision with the attending to talk about any questions or concerns and to soak in some of their wisdom. I'm interested in pursuing child/adolescent fellowship training. The residency program does a wonderful job accommodating our interests and trying to work them into our clinical training. Some of my colleagues have clinics in geriatric medicine and addiction medicine.
12–1 p.m.:
Lunch time. Sometimes there is the occasional meeting scheduled, but they are all virtual these days (thanks to the pandemic).
1–3 p.m.:
During Tuesday afternoon, I have a half-day clinic seeing adults and working with an attending who specializes in reproductive psychiatry and addiction medicine. During these few hours, I see a mix of new and follow-up patients. While there is a full variety of patients in this clinic, there are often unique opportunities to care for special populations, like women in the peri-partum period. One of the strengths of this training program is the opportunity to work with a multitude of attendings who are experts in various topics and are phenomenal educators.
3–4 p.m.:
During this hour, I help co-facilitate a weekly therapy group for women with opioid use disorder who are prescribed medication-assisted therapy.
4–5 p.m.:
Time to wrap-up the day, respond to any patient messages/calls and finish notes. This specific clinic uses Epic EMR which helps make the documentation process much more efficient and enjoyable.
5 p.m.:
Usually done with work by this time! Which means, for me, time to pick up my son from daycare and working in a trip to the park and dinner. Within 15 minutes of the clinic and hospital is my home, the daycare, at least 5 parks, multiple grocery stores and several restaurants. A perk of living in a small city, I never have to worry about traffic and a long commute. You'll be surprised how much you can fit into your day!
____________
My name is Ehsan Samarbafzadeh (better known as Dr. Sam) and I have recently started my PGY-4 of psychiatry residency at the Virginia-Tech Carilion program. As an IMG with clinical experience only in my home country, I remember feeling nervous on my first day of residency. However, I am pleased to say that throughout my training I received the support of many great mentors who made an effort to help me learn and thrive in residency. Thanks to this program, at this point of my training, I feel quite confident in my abilities to treat psychiatric patients from different spectrums of age ranges and illness severity. Not only will the program provide you with the basics of what you need as a psychiatrist, they are also open to accommodating your specific interests and passions. My advice to you: 1) always express your interests 2) have a collaborative discussion about how they may be accommodated with your attendings or program director. These strategies sure helped me a lot!
I would add that Roanoke is a great place to live as a resident. You will live in a beautiful small city, with four-season weather and just enough going on. Abundant opportunities to get involved in sports, a variety of international restaurants, great schools for those who have kids, and awesome hikes for those who are into nature are among the perks you get living here.
My experience was so great overall that I decided to stay her as an attending after residency. I am excited and can't wait for this next chapter of my life at Carilion.
Research
Research Intro
Many opportunities exist for research. Residents are given a month in their intern year to devote entirely to research, and they are paired with a faculty mentor who serves as an advisor for their research interest.
From clinical trials on new drugs, biologics, devices and data collection registries to molecular and genetic studies of cell types, as well as quality improvement, Carilion is at the forefront of medical research that enhances patient care.
2020-2021 Articles
9/15/20 PubMed-Association Between Major Depression Disorder and Sleep Disturbances Through Inflammation in Adolescents, Reddy A, Thootkur M, Li L.
9/19/20 PubMed-Association between depression and hypertension using classic and revised blood pressure thresholds, DeMoss DS, Teigen KJ, Claassen CA, Fisk MJ, Blair SE, Bakre SA, Hurd CL, Rush AJ.
10/30/20 PubMed-Electroconvulsive therapy in a Renal Transplantation Patient: A Rare Combination of Disease and Treatment, Malaty G, Godbe K, Elmouchtari M, Malhi G, White J, Bankole A, Criss T. 
11/25/20 PubMed-The impact of the microbiota-gut-brain axis on Alzheimer's disease pathophysiology, Doifode T, Giridharan VV, Generoso JS, Bhatti G, Collodel A, Schulz PE, Forlenza OV, Barichello T.
2/2/21 PubMed-Inflammation as a Mechanism of Bipolar Disorder Neuroprogression, Barichello T, Giridharan VV, Bhatti G, Sayana P, Doifode T, Macedo D, Quevedo J.
3/16/21 PubMed-Obsessive-Compulsive Disorder Driven by Aspects of Ritual Addiction: A Case Report and Review of Literature, Kar A, Adikey A, Wells J, Kablinger A.
8/1/21 PubMed-Pharmacological Treatment of Agitation and/or Aggression in Patients With Traumatic Brain Injury: A Systematic Review of Reviews, Rahmani E, Lemelle TM, Samarbafzadeh E, Kablinger AS.
2021-Qiu and Vasudeva A Case report of satisfactory post-left knee replacement pain control after switching from oxycodone to buprenorphine. Journal of Opioid Management
2020-2021 Poster Presentations
September 2020-Bakre, S., Arsura, E., Kablinger, AS., Late Dumping Syndrome in a Patient with Severe Major Depressive Disorder. [Poster] presented at 2020 Fall meeting of Psychiatric Society of Virginia; Roanoke, VA.
September 2020-Samarbafzadeh, E., Adikey, A., Koloukani, S.A., Acute onset apathy in the context of malignancy: a case report. [Poster] presented at 2020 Fall meeting of Psychiatric Society of Virginia; Roanoke, VA.
September 2020-Kar, A., Ratnakaran, B., Greenage, M.P., Kablinger, A.S., A Nationwide Cross-Sectional Survey of Associative Stigma in Psychiatry Trainees. [Poster] presented at 2020 Fall meeting of Psychiatric Society of Virginia; Roanoke, VA.
September 2020-Kar, A., Adikey, A., Wells, J., Obsessive-compulsive disorder driven by aspects of ritual addiction: A case report and considerations for management. [Poster] presented at 2020 Fall meeting of Psychiatric Society of Virginia; Roanoke, VA.
October 2020-Eric Q. D. Trinh, MD, John E. Vance, MD; Gulafsheen Quadri, MD, MA; Kishore Nagaraja, MD; YingXing Wu, MD, MS. Effect of Youth Resiliency Checklist Score on Course of Depression in Child & Adolescent Outpatients. [Poster] presented at American Academy of Child and Adolescent Psychiatry Conference Annual meeting. Virtual meeting.
April 2021-Ratnakaran B: COVID-19: Workplace Issues and Stress" at the Association of Government Accountants (AGA) Roanoke Chapter Spring Professional Development Training Program
April 2021-Adikey, Archana, & Reddy, Abhishek., Obsessive Compulsive disorder, treatment challenges with medical disorder [ Poster Presentation] presented virtually at Research Day program, Carilion Clinic
May 2021-Adikey, Archana., Kerman, Ilan M.D., & Kablinger, Anita., Delusional Parasitosis- antipsychotics to treat, "Bugging" [ Poster Presentation] presented virtually at the 174th American Psychiatric Association Annual Meeting, APA 2021
May 2021-Vadukapuram, R., Trivedi, C., Reddy, A., Mansuri, Z.N., & Thootkur, M.R., Pimavanserin in the Treatment of Parkinson's Disease Psychosis: Meta-analysis of Randomized Controlled Trials. [Poster] presented at the 2021 American Psychiatric Association Annual Meeting
May 2021-Vadukapuram, R., Trivedi, C., Reddy, A., Motiwala, F., & Thootkur, M.R., Increased Suicidality and worse outcomes in MDD patients with OSA: A Nationwide Inpatient Analysis of 11 years from 2006-2017. [Poster] presented at the 2021 American Psychiatric Association Annual Meeting
May 2021-Qiu, S., Hartman, C., & Hartman, C., One-Year Retention in Comprehensive Care Office-based Opioid Treatment Model versus Traditional Medication-Assisted Treatment. [Poster] presented at the 2021 American Psychiatric Association Annual Meeting
May 2021-Qiu, S., & Vasudeva, S., A Case Series About Perioperative Management of Buprenorphine. [Poster] presented at the 2021 American Psychiatric Association Annual Meeting
Current research includes these studies:
Adolescent Major Depressive Disorder (LVM-MD-11)
A double-blind, placebo- and active-controlled evaluation of the safety and efficacy of levomilnacipran ER in adolescent patients with major depressive disorder.
Autism in Children (CUREMARK-AT)
A double-blind, randomized, placebo-controlled study of CM-AT for the treatment of autism in children with all levels of fecal chymotrypsin.
Bipolar in Children and Adolescents (ZIPRASIDONE)
A phase-3, multi-center, four-week, randomized, double-blind, placebo-controlled, parallel- group efficacy and safety trial of flexible doses.