Carilion Dermatology treats common skin problems including acne, rosacea, warts, eczema and moles. We also diagnose and treat more complex skin conditions including vitiligo, psoriasis and cutaneous lupus. 
We specialize in the detection and treatment of all forms of skin cancer, including melanoma. Treatment methods include cryotherapy, curettage and electrodessication, excision, Mohs surgery, narrow band UVB therapy, blue light photodynamic therapy and pulse dye laser therapy.
paragraphs
Image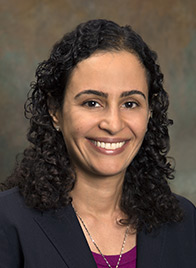 html blurb
Mariana A. Phillips, M.D.
Chief and Residency Program Director
paragraphs
html blurb
Our dermatology residency training program is accredited through the American Council of Graduate Medical Education. The program is supported by two fellowship trained dermatopathologist and provides learning opportunities for physicians training in plastic surgery, internal medicine and family medicine. Our physicians teach at the Virginia Tech Carilion School of Medicine and are committed to educating the next generation of physicians and furthering the understanding of skin disease across all medical specialties.
Section Title
Residency Program
Display as a single page
Off